Best Moto G Pure screen protectors 2022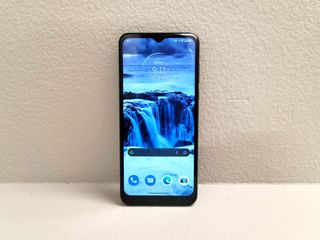 (Image credit: Derrek Lee / Android Central)
Even though it's not particularly exciting, the dirt-cheap Moto G Pure can still be considered among the best Android phones under $200 you can buy. One of the standout features of this budget device is the big, 6.5-inch display that works well for content consumption. That said, a panel this large definitely needs protection, which is why we've rounded up some of the best Moto G Pure screen protectors available.
Protect your Moto G Pure's display from damage
Priced well under $200, the Moto G Pure is certainly a far cry from the best Android phones available in the market. That said, it's a very good option for anybody who just wants an affordable smartphone that can handle the basics and nothing more. If that includes you, a good screen protector can help you squeeze even more value out of this device. And to make things even better, make sure you also get one of the best Moto G Pure cases for complete protection.
As great as all of the options listed above are, my top vote goes to Supershieldz's tempered glass screen protector. Its durability makes it capable of withstanding all kinds of scratches and abrasions, while the protective coating works well to keep smudges and fingerprints away. You also get a pack of three screen protectors at a very reasonable price.
On the other hand, IQShield's matte screen protector is perfect for anyone who doesn't like a (somewhat) thick layer of glass on top of their phone's display. The TPU material is quite flexible and provides full coverage of the screen, while also eliminating glare.
When Rajat got his first PC—a Pentium III machine with 128MB of RAM and a 56kbps dial-up modem—back in 2001, he had little idea it would mark the beginning of a lifelong love affair with gadgets. That fascination, combined with a penchant for writing and editing, ultimately led to him becoming a technology journalist. Some of Rajat's other interests include Photography, Hand Lettering, and Digital Typography. He's also somewhat obsessed with wrist-worn timepieces, and appreciates a Casio just as much as a Jaeger-LeCoultre.
Android Central Newsletter
Get the best of Android Central in in your inbox, every day!
Thank you for signing up to Android Central. You will receive a verification email shortly.
There was a problem. Please refresh the page and try again.