Best Media Streamers for Plex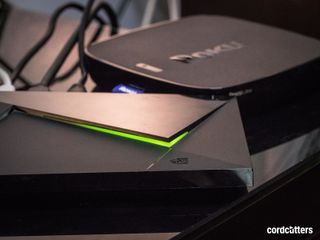 Plex isn't the only way to set up a home media server but it's certainly one of the most feature-packed and simplest methods around. And one of its ultimate strengths is how many different platforms it supports.
Plex is all about the experience, though, and where better to enjoy your content than on the largest screen in your house? Some of the latest smart TVs have Plex built in, which is great, but in many cases you'll be wanting a streaming box.
And that's where these come in.
NVIDIA Shield TV
When it comes to a set-top box for any purpose, the NVIDIA Shield TV should be at the very top of considerations. It may have been around for a few years now, but it's still one of the most powerful boxes out there and it's a perfect companion for Plex.
Not only can you run your Plex Media Server from a Shield, but its codec support is excellent which becomes more important than ever when you're streaming a variety of content from your collection.
Powered by an NVIDIA Tegra X1 processor, the Shield TV runs the latest version of Android TV, has Google Assistant built right in, will handle 4K and HDR video as well as being a pretty handy games console. It's simply one of the best value packages around. Pick one up with a remote and game controller for around $200.
OSMC Vero 4K+
OSMC has quickly become very popular home theatre software, in no small part thanks to its support for the Raspberry Pi. OSMC is built on top of Kodi but with a completely customized interface that's both beautiful and easy to navigate. OSMC allows anyone to build a very cheap but capable home media center.
But, the best OSMC experience comes on its own hardware, the Vero 4K+. The latest model adds Gigabit Ethernet and faster performance than ever. It's also very affordable, shipping worldwide from the UK for £99 ($130).
The Kodi platform allows you to add the official Plex add-on, and the hardware supports a wide range of video formats and codecs, with h.265 now in the mix alongside handling 4K video and HDR10. The kit includes everything you need to get going with a remote and TV mounting kit in the box, and you're promised five years of OSMC software updates.
Google Chromecast
Google Cast is built into Android TV devices like the Shield, but if you're looking for something more affordable and you primarily interact with Plex on your phone, a Chromecast might be your best bet.
The Plex app for Android and iOS supports the Google Cast system so you can literally browse your server from your phone and then ping your content over to your TV.
You don't currently get all Plex features supported over Chromecast, Live TV is a notable absentee, but if you're looking for a basic, inexpensive way to get your Plex content onto your TV, the Chromecast is just $35. Or you can also indulge in the 4K-capable Chromecast Ultra for just $70.
Roku Ultra
The Roku Ultra is another fantastic option if you're looking to Plex up your TV while saving some cash. At around $85 it offers affordability while still having features you'll be looking for like 4K and HDR10 support. In most cases you'll be relying on your server to do the transcoding, especially for 4K content.
Plex is also probably the best way to get live TV on a Roku Ultra since it doesn't support native MPEG-2 decoding, leaving HDHomeRun and other such products off the table.
Roku also offers a neat private listening feature with a 3.5mm headphone jack on its remote control. It's pretty simple to use, well priced and a good way to get started with Plex on your TV.
Apple TV 4K
If you thought you'd need to use a Mac, iPhone or iPad to be able to use an Apple TV you're thankfully wrong. While Android TV is a little more cross-platform friendly, the Apple TV can now be used fairly well on its own. Apps and content are available natively on the box, which includes Plex.
For $180 you get the 32GB model and an included (highly breakable) Siri remote, and all you need is an Apple ID to begin buying content and downloading apps. The latest model also supports 4K video and HDR10 as well as Dolby Vision, so it's covering the main bases a 2018 video buff would want.
To get the very best Plex experience on Apple TV, many folks go with the third-party MrMc Media Center application which costs $7, but also acts as a conduit to other local content and generally makes the Apple TV more useful.
The official Plex app is decent, though, but you'll really be relying on your server to do most of the heavy lifting. As it's iOS though, Plex is usually very quick to update its Apple TV app with the latest features.
Amazon Fire TV Cube
An Android-powered TV box that doesn't run Android TV, Amazon's Fire TV and the new Fire TV Cube do at least reap the benefits of the underlying OS. While there's no Google Play, Amazon's Fire TV offering is well stocked and Plex is naturally available officially.
The Fire TV is a pretty powerful little box capable of delivering 4K, HDR10 and Dolby Atmos, be that the Cube or the 'dongle' style Fire TV. It also supports the latest h.265 format and MPEG-2 for natively decoding live TV from something like a HDHomeRun.
Of the two latest Fire TV devices, unless you really want Alexa (think of it as a Fire TV with an Echo Dot included) then you're better off getting the $70 Fire TV.
Your streamer of choice
Why you can trust Android Central Our expert reviewers spend hours testing and comparing products and services so you can choose the best for you. Find out more about how we test.
How do you watch Plex? Let us know in the comments below!
Get the Android Central Newsletter
Instant access to breaking news, the hottest reviews, great deals and helpful tips.