NVIDIA Shield Android TV (2019) specs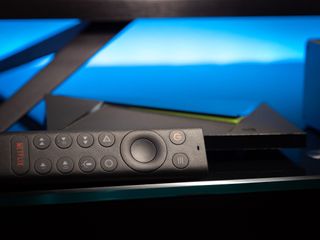 (Image credit: Android Central)
The Android TV marketplace isn't the most diverse, but there's a clear winner in the high-end here with the NVIDIA Shield Android TV. Its success and superiority start on the inside with its top-notch specs. They blow the competition in the Android TV world out of the water, and it's no surprise that they're capable of handling all of your media tasks but also higher-end gaming. Here's everything that's inside the Shield Android TV, in both its standard and Pro version.
Swipe to scroll horizontally
Category
Shield Android TV
Shield Android TV Pro
Operating system
Android TV 9.0 Pie
Chromecast 4K
Android TV 9.0 Pie
Chromecast 4K
Processor
NVIDIA Tegra X1+ processor
256-core NVIDIA GPU
NVIDIA Tegra X1+ processor
256-core NVIDIA GPU
RAM
2GB
3GB
Storage
8GB
Expandable storage over microSD
16GB
Adoptable storage over USB Flash or hard drives
Video output
4K HDR at 60fps
Dolby Vision HDR and HDR10
AI-enhanced upscaling for 720p/1080p uto 4K up to 30fps
4K HDR at 60fps
Dolby Vision HDR and HDR10
AI-enhanced upscaling for 720p/1080p uto 4K up to 30fps
Audio output
Dolby Atmos and DTS-X surround sound over HDMI
High-resolution audio playback up to 24-bit/192kHz over HDMI
Dolby Atmos and DTS-X surround sound over HDMI
High-resolution audio playback up to 24-bit/192kHz over HDMI
Gaming
NVIDIA GeForce Now
NVIDIA GameStream
Android gaming via Google Play Store
NVIDIA GeForce Now
NVIDIA GameStream
Advanced Android gaming via Google Play Store
Connectivity
Wi-Fi 802.11ac dual-band, 2x2 MIMO
Bluetooth 5.0 LE
Wi-Fi 802.11ac dual-band, 2x2 MIMO
Bluetooth 4.1 LE
IR receiver
Ports
microSD card slot
Gigabit Ethernet
HDMI 2.0b w/ HDCP 2.2 and CEC
USB-A 3.0 (2)
Gigabit Ethernet
HDMI 2.0b w/ HDCP 2.2 and CEC
Dimensions
40 x 40 x 165 mm
137 g
98 x 159 x 26 mm
150 g
Our pick
(opens in new tab)
The best balance of price and features
The non-"Pro" NVIDIA Shield TV is a compact new design that still delivers outstanding performance and improved AI-powered upscaling. A great choice if you want the best Android TV experience.
Subtle upgrade
(opens in new tab)
For hardcore streaming enthusiasts
The Shield TV Pro is the better choice if you care about expandable storage, using your Shield TV as a Plex server, and care about making the most of NVIDIA's gaming offerings. It offers more connectivity options and can be used as a hub for SmartThings.
Get the Android Central Newsletter
Instant access to breaking news, the hottest reviews, great deals and helpful tips.
Andrew was an Executive Editor, U.S. at Android Central between 2012 and 2020.
Is 16gb enough storage? Posted via the Android Central App

I'd imagine the 16GB is for OS installation and apps... Meaning you'll have a few GB to use. YouTube, Netflix, Sling TV (maybe?). Most data would likely be kept on external storage.

Considering that Lollipop improves the support for SD cards, and especially considering the support for 128 GB SD Cards, I'd say that the internal storage might probably not be a long-term problem.

it'll be a barebone stock version of lollipop just like the version on the Shield Tab, no bloatware or any randomly added crap so their will be plenty of free space (probably about 10gb)

With Grid game streaming, Internet streaming, music streaming, etc, would you really need more storage?

To be fair, it does support microSD card expansion Posted via the Android Central App

.... also, I'm assuming that game info is cloud saved like all other games, so storing local game data won't be as big of a deal as it is on the major consoles Posted via the Android Central App

storage should have been 64 Gb minimum

why, when its streaming games not downloading them!

exactly, they need to keep the cost low for this to do well, once you start adding all the fluff that you don't really need for modern streaming services, you'll get closer to the price of an XBOne and then well... make the system cheaper) and then you can always add what you want to it, fine 16gb isn't enough, well then usb a slim 500gb hard drive right next to it.

It has microSD support and *two* USB 3.0 inputs. Storage will not be an issue.

There is also a pro version that has a 500gb drive, but the console has a microSD card slot which can expand up to 128gb.

Well crap. Wanted to throw it in my bag to take on the road like my chromecast, but 5.1 by 8.3 by 1 is huge. Back to waiting on the razer forge I guess. Too bad for me.

When is the Razer Forge even coming out? Posted via the Android Central App

The Forge wouls be somewhere in between a typical android tv box and this Nvidia box at best.

Razer uses Snapdragon 805, not very powerful in comparison.

I think the big appeal (to me anyway) is that it can stream from any PC to the TV. I don't need to swap out my Radeon cards for the Razer to work.

Valve announced a cheap streaming box.

The new 16 GB one is tiny. It's also thin, so it can easily slip into a bag. Just remember the controllers, HDMI cord and power supply.. Lol.

I would have paid more for a model with a hard drive in it and make it into a real gaming console... NVIDIA missed a golden opportunity here. Even at $250, if it came with a 500GB 2.5" HDD, I'd be more than happy to get one. Though they would also need more console ports and worthwhile games too.

I suppose that would make the console bigger on size, and as you can see there is already people complaining about it being "too big".

It wouldn't be $250 with a hard drive in it, more like $280+. Then you have you deal with drive crashes being more likely. Depends on how the deal with SD/external storage feature, but 16gb could be annoying.

a golden opportunity lol the SD port already has support for 128gb microSD cards plus it has 2 USB 3.0 ports on it, you can connect external HDD's though why would you need to as no games from the streaming service need to be installed and android games barely take up any space, a 64gb microSD card will be more than enough storage.

Missing the specs on the internal HDD. Posted via Bacon or Shamu

200 bucks for all that. Wow. For storage I'll just go OTG if need be. Posted via OnePlus One.. For now.

Nope, only 1 HDMI. No one gets my money until they include HDMI pass-through...

Agreed. No pass-through is a deal breaker.

why does it even need pass through! it's a console not a crappy TV box that can also play games!

It's an Android TV box that happens to be specialized for gaming. I'm not interested in the latter but the first company to build an Android TV box (specialized for gaming or not) with HDMI-Passthough will get my money.

Nagrace sells a STB worth looking at. It's called the HPH NT-v6. That one has HDMI pass through, option of 2 or 4 GB DDR 3 RAM, also option of 8, 16, 32, or 64GB eMMC ROM, 3 USB ports and 1 micro USB OTG port. Could be that some of the features I mention are only on the B model which I am pretty sure has 802.11ac as well as dual band 2.4ghz/5ghz. In all versions the CPU is 1.8Ghz cortex a17 RK3288, which is a formidable CPU! The GPU is an ARM MALI T764 quad core 3D graphics accelerator. Has on SOC, built in hardware decoders for pretty much all popular video codecs including hardware h.265/HEVC . I think on the original model HDMI in is v1.4 (maybe on both). Output is HDMI v2 and fully supports 4K on all. Most likely you'll be able to play many of the same games released for the shield (might require some extra effort ;-) Cheers!
-SS

Consider me sold. When can I preorder? Posted via the Android Central App

I don't see enough to upgrade from a Nexus Player? Am I wrong?

It sounds like you didn't watch the entire two hour event last evening. It makes the Nexus player look like an abacus.

Well I don't have 2 hours to watch the event. Can you name some new must have features? I see a faster CPU and more storage. Incremental specs is all with no new features, save for game streaming via Nvidia's service. So if I'm not into gaming and I find my Nexus Player fast enough and I don't need more storage I can do the same things with my Nexus Player. And if you get this new Shield set top box you are not guaranteed Android OS updates because it isn't a Nexus. With Google IO around the corner there is bound to be some new stuff for Android TV. I'd rather ensure I get the OS updates than be stuck with a the Shield running an old version of Android TV. I've been burned with two prior versions of Google TV (Revue and Sony NSZ-GS8) without OS updates. I'm not going down that path a third time. After Google announces the next Android TV version and if the Shield upgrades within a month then it will earn my trust in updates as Motorola has gained my trusts with the Moto X phones and their timely updates (save for the carrier branded Moto X which I would never buy). So nope....I don't think the Sheild is a worthy upgrade from the Nexus Player if you are not into gaming. Unless I missed something....which is why I posted my original comment....I was asking to be informed without having to watch a 2 hour event. So exactly how is the Nexus Player an abacus?...because it runs the same Android apps (save for the Nvidia game streaming I suppose). I would have liked to have seen new features. But I suppose that it is hard to do new features if the OS doesn't support the new features. I wanted to see HDMI passthrough, I wanted to see Skype camera, I wanted to see the Chrome browser with a keyboard brought back from the Google TV days, I wanted to see some new feature and I see none....just more usual hardware performance upgrades which aren't really a problem in the Nexus Player. If the Nexus Player gets an OS update and the Shield doesn't then it is likely that the Nexus Player will soon have more features than the Shield....making the Shield a bad purchase decision (if you aren't into gaming).

You would not be the use case for this product. I would say there is no reason to upgrade from your Nexus Player. Nvidia isn't hiding the fact that their Shield products are focused at gamers. If you don't care about Tegra optimized gaming, don't own a GTX graphics card on your PC that supports game streaming, or care about GRID gaming then there are better options available for you. I won't get it because I own a shield tablet that I can plug into my TV for the same console effect as this Android TV Box. Also, updates for my Shield Tablet have been as fast as a Nexus device. Nvidia pretty much offers an unskinned version of Android with just a few added features. I got Lollipop almost the same time the Nexus 6 was released. So, I'd keep what you got.

You should have led with this instead of the 'I didn't watch it can someone give me the readers digest version?' I just assumed you watched it and were passing judgement based on that. The Abacus statement is a joke. It means the Nexus Player does one thing and that's it. If you're happy with the Nexus Player "counting" then stick with it. No harm in that. I'm not going to rattle off the other things the Shield does that many, if not most, Android gaming enthusiasts are looking for in a set-top box. The details are in the video and there for everyone's consumption.

The main video difference is 4K latest CODECs for viewing and recording 4k. I can't think of another set top box with 4K support aside from the older Tegra 4 one.

Amazon Prime Video is one feature that the Nexus player doesn't have and won't. I don't know if Google Assistant is coming to the Nexus Player either. Plex Server on Shield TV is quite awesome. I have Chrome installed on my Shield TV and you can hook up a mouse and keyboard. To be fair, it needs to be side loaded, but it does work. I would like some native support for it as well. Also don't forget about 4k support for the Shield TV. Nexus player doesn't have this and never will. Edit: Also, the Shield TV has an ethernet port. May not be important to some, but I stream on my Shield TV and Wifi isn't always great. I really like the gigabit port.

This makes me want a Shield Tablet 2 even more. All the abilities of the Shield console but in a portable tablet form factor. But please Nvidia, make sure the Tablet has a minimum of 32gb of internal storage this time with a 64gb option.

And a bigger battery. I've been very happy with my Shield Tablet in all respects except for the terrible, terrible battery life.

You both bring up excellent points.

I already have the Nexus Player, which I'll move to the bedroom when I get either the Forge TV or this for my living room. I'll get whichever comes out first. Yes, I know that Razer said the Forge TV would be out by end of 1Q 2015, but they previously said it would ship in Fall 2014. Razer has never met a release window they couldn't miss. If Nvidia says this will be out in May, it will be out in May. I wouldn't be at all surprised to see this beat the Forge TV to market. My only disappointment is still the internal storage. Not all apps support the MicroSD, even if it is included. But the 8GB in my NP is serviceable, so 16GB + MicroSD should address the vast majority of my concerns.

That's true, but with root you can move pretty much anything over to the microSD. My ENTIRE Android folder is less than 100MB in size while the microSD Android folder holds 15GB. Though I have nearly every high-end game installed, apps only take up 5GB/32GB on my Shield Tablet. So 16GB + microSD + USB 3.0 support is fantastic and definitely enough storage IMO.

Adoptable storage means that this looks like 1 storage solution to all your apps. They won't even know that it is microSD. I do this with my old Shield TV with a 2 TB external drive.

You responded to a post made prior to May 2015, nearly 2 years old. Adoptable storage came about in Android 6, released October 2015, AFTER my post. Adoptable storage on both my Shield and my Nexus Player works the same way - I can see the base storage and the adopted storage as two banks. I have 16GB + 64GB SD in the Shield, and 8GB + 64GB USB Drive in my Nexus. The OS does a good job of managing it, but they are still listed as two storage banks.

AC Just updated and reposted pretty much the same article. Seeing a lot of 2 year-old posts with replies from the last 24 hours. Posted via Android Central App

If you have a ps4 or Xbox one this is just a waste of $200 bucks.. To play not that great of games. And stream netflicks that any other device out can already do. Gee great. Posted via Android Central App

I have a ps4 and a wii u and the funny thing is I am considering getting this for my other room. Posted via the Android Central App

If you already have a game PC or newer console you wouldn't be the main audience for the product. Mostly this is people who don't spend time posting on forums. Apple TV, Roku, and Amazon TV boxes have sold 10s of millions, so people are buying set top boxes. Projected sales of set top boxes is about 50 million 2-3 years from now. If you have a PS3 or Xbox360, or older game PC, then this is an alternative option for people who don't want to spend much on a newer device and don't play all that many games.

It really shows how little you really know about what this device is capable of. Truly unfortunate

I'm not a gamer, but I'm looking for something that includes Chrome Browser. I need to replace an aging Vizio Co-Star. (streaming blacked-out NHL games).

Two words ARMv8 + Maxwell = Muscle.... and as far as storage is concerned better go for a 64GB SD card then unreliable HDD.

Best thing I ever bought!!!!!

Thanks Andrew for this. Very helpful.

I just want my 7.0 update.

Does the Roku 4 (or whatever the newest flagship model is called) have any advantages over the Shield?

Good to know. Currently using a Roku 3 on main TV and Roku Stick on a second. A new 4K something is probably in the buying plan in the next 12 months and the second TV will likely end up in the bedroom or something. I'll look at a Shield for the new TV when I get one.

The only thing is my Roku 2 ran Sling TV and other live tv streaming apps better than my Shield for a while but recent updates helped the Android TV apps catch up. So definitely take the Shield over the Roku.

I just wish Guild Wars 2 was available for the streaming service/feature. This is pretty much the only PC game I play.