Best Lens Covers for Oculus Go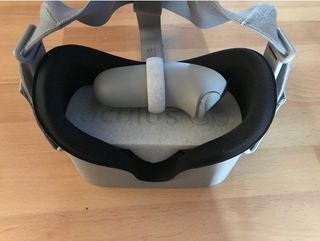 While the Oculus Go is a great device for entertainment and playing some games, it's going to spend most of its time on a shelf or not in use. Lens covers protect your headset from dust, sun damage, and other issues that can arise from leaving it unprotected. These lens covers will keep your device looking its best and also help prevent scuffs and other damage.
Good Fit
(opens in new tab)
Geekria Stretchable VR Lens Cover
This cover stretches to create a snug fit around your headset. It's inexpensive and can also be purchased with a wall mount to make a complete storage solution. It's also a generic cover with some wiggle room so you can use it for other headsets if you decide to get a different cover on this list for your Oculus Go in the future.
Best Budget
Universal VR Headset Cover
This is just a simple cotton cover that slides over your headset. It's the cheapest entry on this list and an easy way to protect your device without breaking the bank. It fits around the side of your device where the lenses are and looks better on the Oculus Go than many generic covers because it isn't baggy when covering the device.
Most decorative
(opens in new tab)
Snakebyte Storage Stand
This storage stand will look great on a shelf and also cover your headset's lenses. It's a great way to spruce up a shelf or desk while also keeping your Oculus Go in good shape. If you want to add a touch of class to your office or create a professional look for your VR room, having a few of these stands for each of your headsets is a great choice.
Make your own
3D-printable cover by Chimaera
This 3D-printable cover fits snuggly onto the inside of your headset and has a hook to keep your Oculus Go controller in place. It's custom-designed to fit perfectly into the Oculus Go and has an attractive logo across it. The only downside is that you need to print it yourself, which costs extra.
Lens covers are the type of accessory that's easy to forget about, but they make a difference when it comes to protecting your hardware. These options are an inexpensive way to protect your Oculus Go from esthetic damage and from sun damage.
While any of these lens covers will work for the Oculus Go, I recommend making your own using the plans on Thingiverse. You can get access to 3D printers at some libraries or pay to have people make models for you. The 3D printable lens cover is custom-built for the Oculus Go and also helps you keep track of your motion controller.
Android Central Newsletter
Get the best of Android Central in in your inbox, every day!
Thank you for signing up to Android Central. You will receive a verification email shortly.
There was a problem. Please refresh the page and try again.