Best Oculus Quest 2 face covers 2023
It's best to invest in a higher-quality face cover for your Quest 2.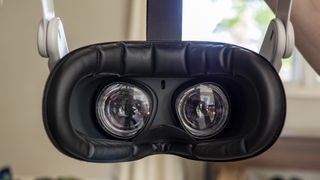 (Image credit: Nick Sutrich / Android Central)
The Oculus Quest 2's absorbent foam pads will inevitably become sweat-stained and dirtier the longer you use them. Worse, the foam causes skin irritation, to the point that Oculus recalled the Quest 2 and is offering a replacement silicone cover.
While you can get that for free, there are other options on the market that are worth considering. Alternative third-party covers made of leather, silicone, or other more comfortable materials are easier to clean and have better venting to prevent lens fogging. Starting with our personal favorite, the KIWI Design Facial Interface, here are the best Quest 2 face covers when it comes to coziness and cleanliness.
The best Oculus Quest 2 face covers
Why you can trust Android Central Our expert reviewers spend hours testing and comparing products and services so you can choose the best for you. Find out more about how we test.
KIWI Design Facial Interface for Oculus Quest 2
Best overall
Reasons to buy
+
Minimizes lens fogging
+
More vents than rivals
+
Easy to remove pads for cleaning
+
Comfortable PU leather material
Reasons to avoid
-
Minor light bleed can be distracting
One of the biggest Oculus Quest 2 issues is excess lens fogging. The basic facial interface traps your heat and sweat inside the headset, which inevitably fogs up your POV — especially when playing active games or exercise apps. Thankfully, several third-party replacement covers include vents to allow more air circulation, which daily VR users will find incredibly useful.
Of those alternatives, the KIWI Design Facial Interface wins because it gives you four vents: two pairs on the top and two pairs on the bottom. This allows cool air to flow in from below and warm air to escape up top. In our tests, it did the best job of preventing fogged-up lenses, no matter the temperature of your room. Yes, that includes both sweaty summer days and cold winter nights, if you can believe it.
KIWI even sells an optional glasses spacer that's designed to work with the special shape of this face pad replacement, too. You'll definitely want to make sure to pick this one up, as the default Quest 2 glasses spacer that comes in the box doesn't work super well with KIWI's design.
While I found the KIWI face cover padding to be extremely comfortable, note that its noseguard does let in some decent light leakage. If that does prove to be an issue, the KIWI Design Facial Interface uses velcro strips that are compatible with other face covers! I often use the KIWI interface in addition to padding from VR Cover — another pick on this list — which helped close the gap.
Razer VR Facial Interface for Quest 2
Best for light blockage
Reasons to buy
+
Lush padding
+
Super soft, supple material
+
Anti-fogging ventilation
+
Completely blocks light
Reasons to avoid
-
Might be too cushy for some faces
-
Anti-fogging isn't as good as Kiwi's
-
Non-removable padding
Every gamer knows the name Razer, so when it decided to enter the Quest 2 accessories market, we had high hopes for its products. While the head strap leaves a lot to be desired, the facial interface is perfect for anyone looking to completely block out light and be fully immersed in VR. Seriously, it's pitch black when this thing is on your face!
Razer worked with ResMed to co-design the material used and, boy, oh boy is this ever some seriously nice, soft, and supple material. It's sort of like silicone but a lot softer and cushier, and the padding underneath the actual facial interface is pillow soft and fascinatingly cold to the touch.
That extra padding means you're absolutely going to get a tight fit which can also be a negative for the product. My son loves this one — it's his new favorite facial interface for the Quest 2 — but I find that it's a little too tight on my face.
Image 1 of 4
Razer outfitted the facial interface with vents that help reduce lens fogging but they might not be enough to help folks like me who tend to have hot faces. That means I sweat a lot and do a lot better with Kiwi or XROS's facial interfaces.
Razer's facial interface is also a one-piece kit that can't be separated, unlike most other facial interfaces you'll find for the Quest 2. That means it's likely going to be best for just one person but, on the bright side, you won't have to worry about Velcro wearing out over time as you constantly detach and reattach the foam padding as might happen with other facial interfaces.
XROS VR Face Cover
Best for heavy sweaters
Reasons to buy
+
Pad is thick and wide to reduce pressure
+
Designed to improve airflow to reduce fog
+
Easy to clean and machine washable
+
Trade-in program has 50% off replacements
Reasons to avoid
-
May absorb too much sweat for some
The best VR experiences happen when you're so immersed that you completely forget you're wearing the headset at all. The XROS VR Face Cover is designed with comfort in mind starting with four layers of materials with a thick and wide pad to comfortably distribute the weight of the headset as much as possible. The material is easy to clean and XROS says that you can even machine wash it.
The breathable fabric helps you to keep cool and comfortable during fitness games. This fabric also allows for enough airflow to reduce the amount of fog buildup inside the headset. Having fog constantly build up on your lenses can be a pain to deal with and can make it that much harder to get into a game quickly. An extra rubber flap also reduces the amount of light coming in by your nose.
One of the more interesting features XROS includes is a trade-in program to improve sustainability. This program allows users to trade in their XROS VR Face Cover for a new one in 6-12 months following the purchase. This will also come with 50% off a replacement unit. While it's hard to be sure if shipping a used foam face pad away to be recycled is actually a net positive for the environment, it can be for your wallet.
If you sweat a lot, this is the one to get.
VR Cover Silicone Covers For Oculus Quest 2
Best for affordability and ease of installation
Reasons to buy
+
Affordable
+
Comfortably cool on forehead
+
Sweat-repelling
+
Can go on top of other padding
+
Easy to clean
Reasons to avoid
-
Not as padded as other alternatives
-
Will cause sweat drip
-
No venting or light blockage
Leather replacement covers typically win the day for comfort but require taking apart your headset to install a new gasket, and removing the leather covers to clean them can be tricky; you may want to invest in a few silicone covers instead. They slide directly over the stock Quest 2 foam interface, then come off in a flash when you want to wipe off sweat and germs from your intense Beat Saber session.
Another reliable VR Cover accessory, these silicone covers will provide a cool, sweat-wicking surface for playing active games. In our tests, they stayed secure on your face better than some of the leather pads when moving around fast, so you don't have to readjust your headset constantly.
You can buy three of these for the same price as any of the above options and swap between them after every session, so you're confident it's thoroughly sanitized. Or you can buy these in addition to any of the above picks; a silicone cover will slide over a leather cover in a pinch.
If silicone covers have a downside, it's that their sweat-repelling material will cause sweat to drip down your face and into the headset, so you'll want to pair this with some absorbent headband and other Quest 2 workout accessories. But overall, there's very little downside to stocking up on a few of these. You can even change up the headset color to match your mood!
Which is better, Kiwi or VR Cover facial interface?
While VR Cover is the OG regarding VR accessories, Kiwi Design has risen to the top since the Quest 2's release. Kiwi makes some of our favorite Quest 2 accessories, from the best Quest 2 head straps to the best Quest 2 hand straps. But you'll notice one thing in these guides: Kiwi and VR Cover are almost always listed because each company's products are excellent.
We've used both Kiwi and VR Cover's facial interface replacements and Kiwi's simply works better. It has more efficient ventilation and keeps the lenses from fogging up. Plus, you can use other companies' face pads with it if you don't like Kiwi's pad design.
If you need a couple of extra simple silicone covers, VR Cover makes the best ones you'll find. And if you pick up the Kiwi facial interface above, you can pick up a pair of VR Cover XG Cooling Foam Pads to use with that interface. They offer excellent cooling cushioning while taking advantage of Kiwi's superior ventilation design.
What is the best facial interface for Quest 2?
Kiwi makes the best Quest 2 facial interface not just because of the comfortable, easily removable material that's easy to clean, but also because it's the only company that seems to have been able to 100% negate lens fog. Anyone who has put a Quest 2 on when using the default facial interface will know how quickly the lenses fog up.
Lens fog is one of the most frustrating parts of wearing a VR headset but, thankfully, Kiwi solved the problem completely.
If you're looking for another great option and want to prioritize light blocking, Razer is going to fit the bill best. Razer might be the new kid on the block when it comes to Quest 2 accessories but it took its time to develop a truly excellent facial interface that ensures you won't be seeing any of the outside world when you've got a VR headset on.
How should Quest 2 fit on my face?
The facial interface is designed as a way to provide proper padding and support so that the Quest 2 headset's hard plastic parts aren't pushing into your skin. While the best Quest 2 head straps should help reduce the weight of the headset on your face, you still want some comfortable padding to ensure play sessions aren't unpleasant.
You'll want to make sure the facial interface touches your skin and is fairly tight, but not so tight that it's uncomfortable. After all, wearing a watch too tightly on your wrist isn't comfortable, so you shouldn't wear a VR headset too tightly, either.
Many facial interfaces are made with a silicone-type material that's designed to wick away sweat. This means that you'll likely be dripping sweat quite a bit if you're playing an active game like Beat Saber, so be sure to pick up a pack of workout headbands to keep the scalp and forehead sweat from dripping down into your face.
Get the Android Central Newsletter
Instant access to breaking news, the hottest reviews, great deals and helpful tips.
Senior Editor, VR/AR and fitness
Michael spent years freelancing on every tech topic under the sun before settling down on the real exciting stuff: virtual reality, fitness wearables, gaming, and how tech intersects with our world. He's a semi-reformed Apple-to-Android user who loves running, D&D, and Star Wars. Find him on Twitter at @Michael_L_Hicks.