Best Galaxy Tab S5e Cases 2023
The best cases around to protect your Galaxy Tab S5e.
The best Galaxy Tab S5e cases enhance the use of your tablet as you surf the internet, watch shows, use important apps, and interact with those Super AMOLED displays. One of the worst things that can happen to a brand new device is dropping it and getting permanent scratches on the casing. To protect your tablet, you're going to want to invest in a quality covering. Here are the best Galaxy Tab S5e cases.
The best Galaxy Tab S5e cases
Why you can trust Android Central Our expert reviewers spend hours testing and comparing products and services so you can choose the best for you. Find out more about how we test.
Supcase Unicorn Beetle Pro Case
Armored protection
For the best all-around protection, you can't go wrong with a rugged case and screen protector duo. The case will protect against any accidental drops or bumps and it also features a kickstand, making it easier to use your apps or watch shows. The included screen protector will keep the display safe without affecting touch sensitivity.
WWW Samsung Galaxy Tab S5e case
Chic in pink
This case is sure to protect your Tab S5e considering that it's made of premium PU leather. Simply slide your tablet into place and you're good to go. The beautiful design comes in either black or pink so you can choose the look you prefer.
Members of the board
If you foresee yourself typing up documents for work or simply want to make it more convenient to surf the web, you should consider getting this awesome keyboard case. The folio is made of PU leather and comes in 10 different colors. You can even choose whether or not to have backlit keys, which have the option of displaying seven different colors.
Skycase Canvas Folio Case
Wallet case
This gorgeous case is made of canvas material and comes in three colors — purple, blue, and black. When opened, you'll find three slots where you can place your credit cards, driver's license, work ID, or other important cards. There's even a pencil holder on top so you can bring a pen or stylus with you wherever you go.
BRAECN Ruggen Case with Shoulder Strap
Get a grip
This case is perfect for when you go on trips or if you have to lug your S5e around with you all day. The handle allows you to firmly grasp it while the strap allows you to be hands-free. It comes in several different colors and features a rugged case as well as a kickstand.
Child-proof
If you plan on allowing your child to use the Tab S5e, you should consider getting this protective case. It's made of shockproof EVA to protect from drops and bumps. Plus, that handle makes it a lot easier for little hands to clutch the tablet securely. What's more, you can fold the handle over to turn it into a kickstand when your child watches a show or plays a game.
Precise fit
If you prefer cases that snuggly wrap around your tablet for a perfect fit, you should consider this Soke Stand Folio Case. It comes in six different colors and provides drop protection without making your tablet bulky. The cover is made of PU leather and doubles as a stand so you can easily watch your favorite shows, play games, or surf the internet.
Why these are the best Galaxy Tab S5e cases
We love Samsung tablets, but they aren't the cheapest devices out there and those large screens make them prone to damage. The best Galaxy Tab S5e cases fit your device securely, actually protect your tablet, provide a few added conveniences, and don't cost too much.
We highly recommend the Supcase Unicorn Beetle Pro Case since it provides a built-in screen protector to prevent scratches from penetrating that gorgeous AMOLED display without affecting the touch sensitivity. The case itself snuggly fits the tablet and provides a rugged exterior to protect from drops and bumps.
If you're looking for something a bit sleeker, you should consider the Soke Stand Folio Case. It's made of PU leather and comes in some gorgeous colors. What's more, the casing fits your tablet securely and doesn't make it bulky.
Those of you who either plan on sharing your tablet with a young child or intend to give the Tab S5e to them should consider purchasing the Dadanism Case. That EVA makes it look like a child's toy while providing a much better way for little hands to securely grasp the tablet. The best part? Since the handle doubles as a kickstand, children can easily use the tablet without needing to ask you to prop it up for them.
Get the Android Central Newsletter
Instant access to breaking news, the hottest reviews, great deals and helpful tips.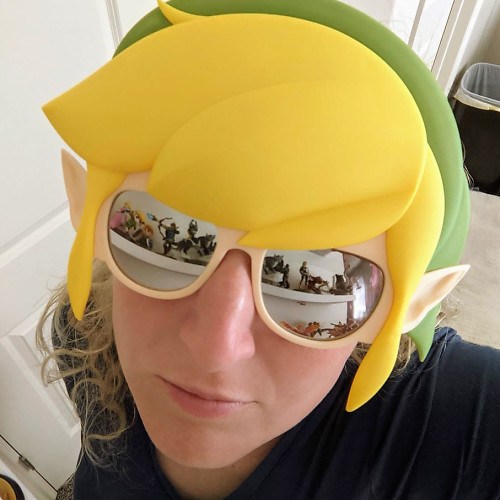 Rebecca Spear is a staff writer for Android Central who loves following the latest tech, drawing with her Wacom, and playing video games. You can find her posting about her pets, art, and video game preferences on Twitter @rrspear.