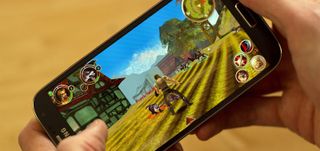 Meet the best Android RPGs on the Google Play Store!
If you're in the market for the best Android RPG available, you've come to the right place. These are games that put the focus on slaying bad guys, amassing experience points, levelling up, and getting decked out in killer gear.
You'll find some really compelling storylines in Android RPGs, though there's a few good old-fashioned hack-and-slash role-playing games in the batch too. If RPGs aren't your bag, we've got plenty of other round-ups of the best Android games available.
Keep losing your twenty-sided die? Tired of hauling sourcebooks over to your buddy's place across town? Getting screwed on loot drops in your raids? You'll definitely want to check out our top ten best Android RPGs below.
READ NOW: The Best Android RPGs
The Bard's Tale
The Bard's Tale is a polished port of a popular tongue-in-cheek action-RPG. Players control an irreverent bard who shirks classic heroic responsibilities for the joys of ale and women. He still, somehow, gets roped into saving the world, but uses his abilities to get others to do his bidding along the way.
The Bard's Tale has a full complement of Bluetooth controller support, if you're looking to play RPGs the old-school way. You can snag The Bard's Tale from the Play Store for $1.99 with in-app purchases available for accelerated progress, though they're entirely optional.
For those that have fun being bad, The Bard's Tale is a top-notch Android RPG.
Battleheart Legacy
Battleheart Legacy is an action RPG for Android with especially touch-friendly controls. Players drag and release their character about the battlefield in order to move, pick spell targets, and attack enemies. After chewing through encounters, levelling up, and unlocking new abilities, players can deck out their characters in a bewildering array of equipment. As icing on the cake, the writing is pithy and full of humor.
Battleheart Legacy is $4.99 with no in-app purchases. The original Battleheart is more 2D in nature, but still very polished. Overall, Battleheart Legacy is a charming, challenging Android RPG with a control scheme you'll quickly fall in love with.
Galaxy on Fire 2
Galaxy on Fire 2 is a sci-fi RPG for Android that has players blasting through a beautifully-rendered universe. Missions range from hunting down space pirates to mining asteroids and everything in between. There's plenty of trading to do, and you can always upgrade your ship and buy new rides with the credits you amass. There's a lengthy storyline to enjoy, or you can explore any number of side missions.
You can download this gorgeous Android RPG for free, and there are two expansions available through in-app purchases. In-game cash can be bought outright as well, if you feel the need to get the biggest, baddest spaceship available. Galaxy on Fire 2 is a rich, exciting, wide-open RPG perfect for sci-fi fans.
Joe Dever's Lone Wolf
Lone Wolf is a gamebook-style RPG based on the world of fantasy author Joe Dever, and shows equal amounts of literary and graphical polish. Players make decisions through an ongoing narrative based on character traits they pick at the onset, and engage in exciting turn-based combat with a variety of enemies. Combat mechanics require timing, finesse, and smart resource management to get through alive.
Sorcery! and Sorcery! 2 are also great picks if you're into this gamebooks. They're a bit more text-heavy. The first chapter of Lone Wolf is available for free, with other acts available as individual in-app purchases of around $6, or as a batch for all four chapters. Overall, Lone Wolf provides both richly-textured story as well as intense RPG action.
Order & Chaos Online
Order & Chaos Online is about the closest thing you'll get to World of Warcraft on your Android device. Players pick their class, race, and faction, embark on quests, party up with others online, hoard loot, and progress their character with new abilities. Like any MMO, there are tons of social elements, like tournaments and guilds, and a lively chat section to keep you occupied between quests.
Despite being an obvious WoW knock-off, Order & Chaos is a franchise that has expanded into MOBA and card game genres. If you're a people person and an fan of the Warcraft style, give this Android MMORPG a shot — you won't even have to deal with a subscription fee.
Ravensword: Shadowlands
Ravensword: Shadowlands is a lot like the Elder Scrolls series. The single-player RPG for Android features a vast, open fantasy world with stellar graphics and all the questing you could ask for. Players earn reputation with various factions, slay all manner of beasts with steel and magic, while evolving their character based on their playstyle.
Ravensword: Shadowlands is $6.99 with optional in-app purchases for currency. For RPG fans that need a big world with lots of back-story to chew into, Ravensword: Shadowlands has you covered.
Shadowrun Returns
Shadowrun Returns is the long-awaited revival of a cyberpunk classic. Players embark on a good old-fashioned single-player adventure with lots of meaty back story, and launch into tactical turn-based combat against some nasty characters. The heavy RPG elements of Shadowrun Returns will keep players invested in the stories of its characters, not to mention enthralled with a setting that ties together magic and machine in a really memorable way.
Shadowrun Returns is available for $2.99 with no in-app purchases. Try out the sequel, Shadowrun: Dragonfall, if you're looking for more. Shadowrun Returns brings deep strategic combat and in-depth storytelling to Android.
The Banner Saga
The Banner Saga is a highly polished RPG steeped in Viking mythology. The gods have abandoned the world, leaving it sunless and helpless to the violent whims of an ancient mechanical race. Giants and humans are forced into an unlikely alliance to survive the ordeal. Players jump between meaningful dialog sessions and turn-based combat with 25 different characters spanning five different classes. Failure in crucial battles or tending to your caravan of survivors leaves lasting results through the rest of the game.
The Banner Saga costs $11.99 with no in-app purchases. The hand-painted art style is reason enough to pick up The Banner Saga, but it also strikes an excellent balance between strong, character-driven story and classic tactical RPG combat.
Pixel Dungeon
Pixel Dungeon is one of the most popular roguelikes available on Android, offering extremely challenging turn-based action in a cute, pixellated package. Players only have one life to find keys to each level of a randomly generated dungeon, descend further, gather coins and loot, and retrieve the amulet in one piece. The menaces you encounter will grow more and more challenging as you progress, but you can't dawdle either; every step takes a toll on your adventurer's hunger.
For those that like to tinker, the game is open-sourced, allowing players to enjoy variant versions and the ability to make their own roguelike. The only in-app purchase is the option to donate to the project.
Final Fantasy VI
Final Fantasy VI is a classic JRPG that has made its way to Android with a handful of refinements since its 1994 SNES debut. The classic storyline of a mysterious girl with no memory and an oppressive regime bent on harnessing a new magical force remains faithfully intact. Turn-based combat, amazing creatures, and a wide world full of original stories are hallmarks of the Final Fantasy franchise that keep players coming back.
Final Fantasy VI is a somewhat arbitrary pick since it happens to be our favorite of the series, but Square Enix has done a fine job porting every Final Fantasy before it, as well as the classic Dragon Quest games, Chrono Trigger, and Secret of Mana. Their made-for-mobile Chaos Rings games are pretty good, too. Check out the entire Square Enix collection here.
Final Fantasy VI for Android is a premium title with no in-app purchases, available for $15.99. Old-school gamers won't bat an eyelash before picking this up.
Your favorite Android RPG?
There are new Android role-playing games coming out all the time, and we intend to keep this list up-to-date with them, but we're eager to hear what you're playing. Let's hear your suggestions in the comments!
Be an expert in 5 minutes
Get the latest news from Android Central, your trusted companion in the world of Android
Simon has been covering mobile since before the first iPhone came out. After producing news articles, podcasts, review videos, and everything in between, he's now helping industry partners get the word about their latest products. Get in touch with him at simon@futurenet.com.