Best Android Apps for Your Chromebook 2020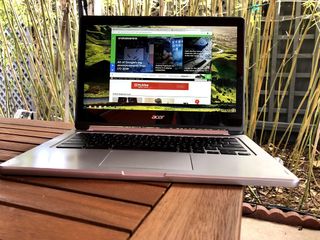 (Image credit: Android Central)
While Chrome OS on the whole was a fantastic idea, especially for those wanting a computer on a budget, it was hampered for quite some time. Then, Google decided to enhance the experience by bringing the Google Play Store to Chromebooks. Now, you have access to more apps than you know what to do with. While not every app from your phone is available on a Chromebook, we still found some of the best that you'll need beyond just the best Chromebook apps and Chrome extensions.
Keep in touch with everyone
Communication is key, especially with something like a Chromebook and the Play Store, which makes it so you don't have to rely on the browser. Some messaging apps are available in the browser, but you don't get all of the same benefits as the Play Store version. Whether you're trying to collaborate or catch up with family, these are the apps to keep in contact with everyone.
Stay on top of your tasks
Task management is an annoying necessity, even if it's for something as simple as a packing or grocery list. Thankfully, with these to-do apps, you'll be able to manage any project, big or small, easier than ever from your Chromebook.
Passwords protected
The internet is a wonderful place to be, but with all of the different accounts you need, it's impossible to remember all of your passwords. You never want to use the same password twice, and with these password managers you'll not only be able to create unique passwords and manage them, but you can also be notified if one's been involved in a data breach.
Easiest to use
Simplicity is the name of the game when it comes to keeping your passwords managed and secured. No other company does it quite like 1Password. In addition to the Android app on your Chromebook, you can install and use the 1Password X Chrome extension for even faster logins.
Step it up
Dashlane offers a beautifully-designed service to keep track of all of your passwords and then some. If your password is part of a security breach, you are notified and can change it immediately. With Dashlane Premium, you'll also get access to a built-in VPN, secure browser, and Dark Web Monitoring.
Solid overall
LastPass excels at being one of the more well-rounded password management apps, along with offering quite a robust free option. There's also a family plan available, capable of being used with a total of six members. When it comes to passwords, using Security Challenges ensures you're creating the best password possible.
Keep it social
It's no fun having a slew of browser windows open when you're hopping between social media networks. With the Play Store, you can now download the accompanying app for your favorite network, then browse and share to your heart's content.
The front page
Reddit is the "front page of the internet." You can end up in a rabbit hole rather quickly, or find an answer to a question you may have that hasn't been solved elsewhere on the web. Subreddits are communities where you can share your thoughts, opinions, or find some new wallpapers to download on almost any topic.
Quick hitters
When it comes to keeping up with what's going on every day, there's no better way to do so than with Twitter. Companies have taken to announcing new products, updates, and more on Twitter, and you can follow as many people as you'd like.
Share your pics
While it's possible to take photos from some Chromebooks and upload them to Instagram, it's not the greatest experience. However, with the Android app on your Chromebook, you can do that or just keep up with your friends and what they ended up doing last weekend.
Relax with some movies or TV shows
There's nothing like sitting back with a good movie at the end of a long day. Thankfully there are quite a few streaming services for you to pick and choose from. Some make it possible to watch live TV, while others give you access to some classics you may have forgotten.
Edit those photos and videos
Regardless of if you are taking pictures with your smartphone, DSLR, or your Chromebook, you'll likely want to run them through a photo editor. Maybe you just need an app to manage and back all of them up. These are the best apps to manage and edit your photos and videos.
Try a different browser
If you're working from a Chromebook, it's unlikely that you would realize that there are other browser apps available. So no, you are not just "stuck" with Chrome and the Play Store opens the door for you to use many popular third-party browsers on your Chromebook.
Privacy first
For as great as the web is, there are a lot of people out there who wish to do bad things with your information. Brave helps to combat that by offering protection and blocking for ads and other online trackers. All of this is done in a streamlined UI that's much quicker than other browsers.
Ole' reliable
You can sync with other devices running Firefox, have the same privacy settings that you have on any other version of Firefox, and can use the same extensions across every installation. You can run the Android version of Firefox full-screen and set things to always serve the desktop page instead of mobile.
Still hanging around
Once upon a time, Opera was the de-facto choice as a secondary browser. Browsers have evolved and the developers have done everything they can to keep Opera chugging along. The app offers a slew of customizable features along with a built-in VPN and adblocking.
Triage those emails
If you've had the same email for years, there's a pretty good chance that it's turned into a digital junk drawer. But you don't want to completely ignore all of your emails if something important arrives in your Inbox. These are our favorite email apps that you can download and use on your Chromebook, instead of being relegated to a browser window for every email address you have.
The best
If you're willing to pay for this client, Newton Mail is arguably the best app to manage your emails. There are quite a few great features baked in, and now it's under new management. This app continues to go away and come back with a vengeance, and for good reason.
Better than you think
Outlook used to be the laughing stock of email clients and was extremely frustrating to use. As time has passed, Microsoft put more of a concerted effort into its email app and now Outlook is one of the better options out there. And no, you don't need to sign up for Office 365 to take advantage of it.
The obvious choice