Best Android Apps for Your Chromebook 2020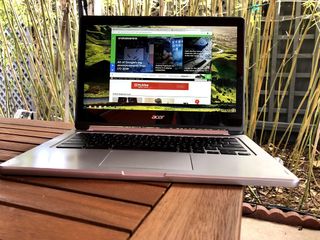 (Image credit: Android Central)
While Chrome OS on the whole was a fantastic idea, especially for those wanting a computer on a budget, it was hampered for quite some time. Then, Google decided to enhance the experience by bringing the Google Play Store to Chromebooks. Now, you have access to more apps than you know what to do with. While not every app from your phone is available on a Chromebook, we still found some of the best that you'll need beyond just the best Chromebook apps and Chrome extensions.
Keep in touch with everyone
Communication is key, especially with something like a Chromebook and the Play Store, which makes it so you don't have to rely on the browser. Some messaging apps are available in the browser, but you don't get all of the same benefits as the Play Store version. Whether you're trying to collaborate or catch up with family, these are the apps to keep in contact with everyone.
Stay on top of your tasks
Task management is an annoying necessity, even if it's for something as simple as a packing or grocery list. Thankfully, with these to-do apps, you'll be able to manage any project, big or small, easier than ever from your Chromebook.
Passwords protected
The internet is a wonderful place to be, but with all of the different accounts you need, it's impossible to remember all of your passwords. You never want to use the same password twice, and with these password managers you'll not only be able to create unique passwords and manage them, but you can also be notified if one's been involved in a data breach.
Easiest to use
Simplicity is the name of the game when it comes to keeping your passwords managed and secured. No other company does it quite like 1Password. In addition to the Android app on your Chromebook, you can install and use the 1Password X Chrome extension for even faster logins.
Step it up
Dashlane offers a beautifully-designed service to keep track of all of your passwords and then some. If your password is part of a security breach, you are notified and can change it immediately. With Dashlane Premium, you'll also get access to a built-in VPN, secure browser, and Dark Web Monitoring.
Solid overall
LastPass excels at being one of the more well-rounded password management apps, along with offering quite a robust free option. There's also a family plan available, capable of being used with a total of six members. When it comes to passwords, using Security Challenges ensures you're creating the best password possible.
Keep it social
It's no fun having a slew of browser windows open when you're hopping between social media networks. With the Play Store, you can now download the accompanying app for your favorite network, then browse and share to your heart's content.
The front page
Reddit is the "front page of the internet." You can end up in a rabbit hole rather quickly, or find an answer to a question you may have that hasn't been solved elsewhere on the web. Subreddits are communities where you can share your thoughts, opinions, or find some new wallpapers to download on almost any topic.
Quick hitters
When it comes to keeping up with what's going on every day, there's no better way to do so than with Twitter. Companies have taken to announcing new products, updates, and more on Twitter, and you can follow as many people as you'd like.
Share your pics
While it's possible to take photos from some Chromebooks and upload them to Instagram, it's not the greatest experience. However, with the Android app on your Chromebook, you can do that or just keep up with your friends and what they ended up doing last weekend.
Relax with some movies or TV shows
There's nothing like sitting back with a good movie at the end of a long day. Thankfully there are quite a few streaming services for you to pick and choose from. Some make it possible to watch live TV, while others give you access to some classics you may have forgotten.
Edit those photos and videos
Regardless of if you are taking pictures with your smartphone, DSLR, or your Chromebook, you'll likely want to run them through a photo editor. Maybe you just need an app to manage and back all of them up. These are the best apps to manage and edit your photos and videos.
Try a different browser
If you're working from a Chromebook, it's unlikely that you would realize that there are other browser apps available. So no, you are not just "stuck" with Chrome and the Play Store opens the door for you to use many popular third-party browsers on your Chromebook.
Privacy first
For as great as the web is, there are a lot of people out there who wish to do bad things with your information. Brave helps to combat that by offering protection and blocking for ads and other online trackers. All of this is done in a streamlined UI that's much quicker than other browsers.
Ole' reliable
You can sync with other devices running Firefox, have the same privacy settings that you have on any other version of Firefox, and can use the same extensions across every installation. You can run the Android version of Firefox full-screen and set things to always serve the desktop page instead of mobile.
Still hanging around
Once upon a time, Opera was the de-facto choice as a secondary browser. Browsers have evolved and the developers have done everything they can to keep Opera chugging along. The app offers a slew of customizable features along with a built-in VPN and adblocking.
Triage those emails
If you've had the same email for years, there's a pretty good chance that it's turned into a digital junk drawer. But you don't want to completely ignore all of your emails if something important arrives in your Inbox. These are our favorite email apps that you can download and use on your Chromebook, instead of being relegated to a browser window for every email address you have.
The best
If you're willing to pay for this client, Newton Mail is arguably the best app to manage your emails. There are quite a few great features baked in, and now it's under new management. This app continues to go away and come back with a vengeance, and for good reason.
Better than you think
Outlook used to be the laughing stock of email clients and was extremely frustrating to use. As time has passed, Microsoft put more of a concerted effort into its email app and now Outlook is one of the better options out there. And no, you don't need to sign up for Office 365 to take advantage of it.
The obvious choice
We would be remiss if we didn't mention Gmail. This app has evolved greatly over the years, including the inheritance of some great features from the beloved Inbox email app. Best of all, you don't have to only use it for your Gmail accounts.
It's time to get some work done
For many, productivity is the name of the game and it's extremely important to have all of the right tools to get the job done. On every Chromebook, you already have access to Google's suite of tools, but the Play Store is home to so many others that you'll be able to turn your Chromebook into a digital Swiss Army knife to get stuff done.
Necessary Utilities
Chrome OS has evolved to include many features and utilities without the need to download something new. However, the beauty of the Play Store is that you can download something different if Google's option isn't great for you. Or maybe you need to turn your Chromebook into a second display — you can do that easily now.
Manage files
For many, the stock Files app will do just fine when it comes to managing your files. However, some like the idea of using something a bit more customizable and that's where Simple File Manager Pro comes in. You can make your file manager as robust or simple as you want while customizing the color theme throughout.
Add a display
If your Chromebook is not your only device, or if you have multiple Chromebooks, you might enjoy having some extra screen real estate. Duet Display turns your Chromebook into a secondary monitor while allowing you to take advantage of the touchscreen (if you have one).
Shortcuts for text
Some may not think that they need a text expansion app, but if you use a lot of the same characters or send cookie-cutter emails, having an app like this is convenient. Texpand allows you to create shortcuts for your most-used phrases, including your address, name, email account, and practically anything else that you can think of. And you can create and customize these shortcuts to your liking so you never forget them.
Your own portable radio
Almost nobody likes to sit in silence throughout the day, and whether it's music or podcasts, you'll want to listen to something. These apps give you the ability to have your own portable radio and listen to whatever suits your mood at that time.
Digital Radio
Pocketcasts is one of the best ways to download and listen to the latest episodes from all of your podcasts on Android, and it works the same way on your Chromebook. You can let your list play in the background while you're doing anything else, and a click in the notification tray brings up media controls if you need to skip ahead or backward.
Up and comer
Now that Google Play Music is on its way out, YouTube Music is taking its place. This streaming service is still experiencing some growing pains but is a great option for those coming from GPM. You'll get recommendations based on what music you like, where you are, or what time of the day it is, while also being able to view live performances.
Listening pleasure
Music streaming services have come and gone, and Spotify continues to be the de-facto choice. In addition to housing more than 60 million songs, Spotify is also turning its focus onto podcasts. This gives you a single app to listen to your favorite music or your favorite internet radio show.
Android Apps on Chrome OS are amazing
Why you can trust Android Central Our expert reviewers spend hours testing and comparing products and services so you can choose the best for you. Find out more about how we test.
The importance of having the Play Store on your Chromebook has never been higher. This is especially true considering Google announced that the Chrome Web Store for Apps would be going away beginning in 2020 and being closed completely by the end of 2022. So now with the Play Store, you can download many of the same apps that are in the Web Store, along with some new ones that you have been using on your phone or tablet.
And while you might think that Android apps may not work properly on your Chromebook, you'd want to think again. Many of these apps work right out of the box and work the same way that they do on your phone. The reason for that is because they are the same apps!
Android Central Newsletter
Get instant access to breaking news, the hottest reviews, great deals and helpful tips
Senior Editor — Google Ecosystem
Jerry is an amateur woodworker and struggling shade tree mechanic. There's nothing he can't take apart, but many things he can't reassemble. You'll find him writing and speaking his loud opinion on Android Central and occasionally on Twitter.
I love Pocket Casts but I disagree that it's a good app on Chromebooks. It does not sync well with the Chrome and app versions at all. It is something that has never been fixed.

Unclouded is a bad choice. Dropbox integration has been broken for a long time and the developer has not been replying to all the people complaining or posted a fix. Read the app reviews. Basically it's broken and the money gone.

ES File Explorer does this pretty well. I have my Drive, Dropbox, and Box accounts set up and I can move files around just as Jerry described for Unclouded.

Don't care for Android on Chrome OS, so far. Not great scaling. Somehow I got a bunch of photos displaying on my Chromebook as view only. I had no way to take them off until adding Adroid file app, then deleting them. Not sure how the images got there to begin with, as they seem to be some from another Cloud service, but I may have accidentally synced them somehow on my Windows PC to Gdrive. Anyway, for the most part using Android on Chromebook, such as Outlook mail & calendar, renders very tiny fonts.
If they are going to add Android, they should also add Android Files Manager as standard. I have removed Google Play which removes Android on my Chromebook. Once Chrome OS gets the scaling for OS, this may change. Overall, I find I can do the most simply using browser extensions or apps, such as Polarr, which works great.

No games? Final Fantasy 9 works awesome on my chromebook plus. I for one am waiting for reicast to update for modern versions of android.

I personally haven't found any use for it yet.

I tried running Firefox on my Chromebook, but when I tried accessing one of my other Google accounts, it froze.

Better to enable Linux beta, open terminal and do the sudo apt-get install iceweasel thing ...

Lots of good advice in this article but one glaring error. The Android Zoom app is very poor compared to the Zoom app in the Chrome Web Store. For instance, the Android app will only display four participants in Gallery View whereas the CWS version shows 16.

And even the version in the Chrome web store is disgustingly inadequate. Unless you have one of 3 conditions. 1. You're having a one on one.
2. You have nothing (and I mean NOTHING) running in the background.
3. You have a high end CPU and plenty of RAM. Running on a Pixel Slate i5 should be sufficient for this app, but guess what? It stinks! There's no reason for you this day and age that Zoom can't get it's act together.

I've heard the Slate has lag issues in general compared to similarly spec'd alternatives.