Best Chromebook Apps and Chrome Extensions in 2023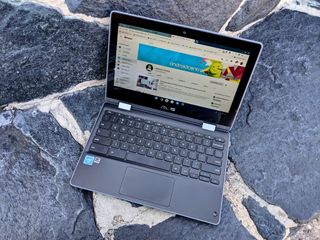 (Image credit: Ara Wagoner / Android Central)
Your Chromebook is a safe, inexpensive, and simple portal to the internet but it can do so much more. Whether you want to get productive, have a little fun, or keep in touch you'll find an app to help do it in the Chrome Web Store or through a Progressive Web App (PWA). Here's the short — and ever-changing — list of ones we think you have to try whether you have one of the best Chromebook models out there or an entry-level one. There are also a bunch of great Android apps for Chromebook that you'll want to check out as well.
Categories
Hunker down and get some work done
Everyone needs some type of task management system. The days of just putting sticky notes everywhere are long gone, but thankfully, there are plenty of apps to pick and choose from to make sure you don't forget the milk. There are also new and extremely useful tools for those who need more than just a list and want to focus more on "project management" instead of individual tasks.
Tools you didn't know you needed
Chrome OS is an interesting adventure for everyone, and unless you dive into every nook and cranny, there are still tools that you didn't know you needed. We've found some of the most useful options which range from showing basic system information to annotating those screenshots you keep sending your buddies.
Edit those photos
Chrome OS offers so much versatility now, especially with recent updates and the ability to use the built-in touch screen on certain Chromebooks. That makes photo creation and editing much easier to use, and there are plenty of options to pick from if you need to do some touch-ups, or are editing a library of pictures from start to finish.
Surprisingly powerful
Pixlr Editor is a popular web browser photo editor that you can use without needing to sign up for any subscriptions. You'll get an array of surprisingly powerful tools so that you can tweak your images to look perfect. Plus, if you sign up for a free account, Pixlr provides users some free storage space so that your precious Chromebook space can be saved.
Photoshop who?
Polarr Photo Editor is beautifully done, is filled with features, and is extremely lightweight. It's an offline app so you can work without an internet connection and it's one of the best ways to edit photos on your Chromebook. Whether you need to turn RAW files into great photos or just touch up something before you share it on Facebook, Polarr can handle the job.
BeFunky with your photos
Instead of trying to sift through the library of tools that you'll never use, BeFunky Photo Editor simplifies the photo editing process. There are certain pre-sets that can be applied to your photos, and the different editing tools can be found in big and easy-to-see buttons. BeFunky may be one of the most robust and easiest photo editors that you can find.
Keep in touch
While RCS continues to roll out to more Android users, the rest of us are stuck using different platforms for keeping in touch with friends and family. There are plenty of messaging services to meet the needs of just about everyone, and there is a great selection of apps and PWAs that assist with keeping in contact.
All-in-one
Multi Messenger does just that; it gives you access to multiple messaging platforms all in one app. Think of something like Franz, but for your Chromebook. This app allows users to link platforms like Slack, WhatsApp, Facebook Messenger, Telegram, and more, all from one app.
For work or play
Slack is one of the more popular messaging platforms, regardless of whether you're using it for work or your friends. You can create multiple channels based on multiple topics, along with the ability to have private conversations. With the Slack app, you can even go so far as to create customized emoji and have them show up when you're ribbing your buddies.
Messages everywhere
Telegram has quickly grown in popularity, especially with the fall of Google's Hangouts and Allo messaging apps. Based on your cell phone number, Telegram syncs between all compatible devices, and you can even use it as a group messaging platform — that is, if you can convince your friends or family to switch messaging apps.
Catch up on the news that matters most
Nobody likes to just sit in front of a TV waiting for some new story to make its way across the tube. Plus, you have to wait through different coverage angles until the news piece that you care about arrives. With the plethora of "news" and RSS apps available, you'll never have to wait again — just refresh the page.
News, your way
It's one thing to be able to view all of the news that happens on the day, but chances are, there are a few headlines that you don't care about. That's where Feedly comes in. This RSS reader gives you the ability to finetune and create your own personal newspaper. From the Feedly Chrome App, you can even quickly share some of your favorite articles across Facebook, Twitter, or even Evernote.
For the tech-minded
When Hacker News launched, it became a different type of community for like-minded tech enthusiasts. Since then, the service has exploded and is still one of the "go-to" sources for reading up-to-date news and headlines. With this PWA, you can quickly install it on your Chromebook giving you even quicker access to those headlines.
Save it for later
As the day goes on and you're browsing Reddit, Twitter, or Facebook, you'll likely come across an article you'd like to read. Then you realize that your lunch break is up and you don't want to forget about it. That's where Pocket comes in. You can save articles, videos, and more to view at a later time, even if you don't have internet access.
Sit back and let the words flow
Not everyone is a writer, but the art of pen and paper is slipping further and further out of grasp for many. That's why word editors, markdown editors, and other word processing apps are so popular. All of them have something different to offer, and in some cases, you can use one in your browser, without downloading anything, and have your documents synced in the cloud to pick up at a different time or different computer.
Digital spiral notebook
Evernote is still one of the most popular note-taking applications, as it gives its users an endless, digital notebook. Whether you want to use it as a journal, use Evernote to take basic notes, or save webpages for later, this app does it all. After your notes are entered, they become easily accessible across just about every other platform you can imagine.
For the code writers
Finding the right text editor to work on some code, or just to write a long-form piece can be rather difficult. With Material Neutron, you not only get a simple and easy-to-use text editor, but it works offline, offers syntax highlighting and saves files directly to your Chromebook. Plus, multiple built-in themes make it easy to further customize this editor to your liking.
In-browser Markdown
Writing in Markdown is semi-mainstream and semi-enthusiast, but if you write in Markdown you'll need a good editor. StackEdit's PWA offers an in-browser Markdown editor, with a customizable and flexible layout and a live preview. As you progress through your article, post, or note, you can sync those documents with an array of services like Dropbox and Google Drive.
Don't forget to entertain yourself
Whether you work 60 hours a week or just the standard 35-40, you need time to sit back and relax. Regardless of which format you prefer (music or video), there's an app for you to either download from the Chrome Web Store, or install from your favorite streaming service. There are even dedicated Chrome OS apps that allow users to watch movies stored locally or in a server on the network that you're connected to.
Keepin' it social
Social media leads the world today and it would be a difficult task to find someone who doesn't use it in some capacity. Some of these apps used to be available in the Web Store but were transitioned to becoming a PWA in favor of being lightweight and fast. Nonetheless, you'll be able to keep up with your favorite social media platform with the following apps.
Lighter Twitter
Twitter's PWA app is also known as Twitter Lite and offers a much faster experience when browsing through your Twitter timeline. Not only is the overall experience faster, but the PWA will help to make sure you never bump up against your data caps. Plus, you will still get all of your notifications and can compose and reply directly from the PWA.
It's on the 'Gram
Currently, there are no dedicated first-party Instagram apps, leaving us to rely on the company's PWA. This is great if you are connected to the web and want to peruse your timeline or respond to some DM's. However, you will not be able to access the PWA if your Chromebook is offline.
Share your inspirations
Pinterest is not just for saving recipes, as the service allows you to "pin" different inspirations, share them with friends, and find new things all the time. With this PWA, you will get faster load times, while cutting down on the amount of data used both physically and through the internet.
The list will continue to grow
Why you can trust Android Central Our expert reviewers spend hours testing and comparing products and services so you can choose the best for you. Find out more about how we test.
As of this writing, Google announced that the Chrome Web Store for Apps would be going away with the transition beginning in 2020. Google states that it is aiming to close up shop on the Web App Store by the end of 2022, which will force more of the aforementioned apps to transition into a Chrome extension or a PWA.
There are already a plethora of new Progressive Web Apps for you to take advantage of, without worrying about taking up too much storage space. Plus, there are some cases where you can use a PWA on your Android smartphone so you get the same experience across all of your devices.
You may notice that there are no mentions here of Android apps, despite them already being available thanks to the introduction of the Play Store on Chrome OS. Well, the reason for the absence of Android apps is because we have already published our favorite Android apps for Chromebooks and you can find them at the jump!
Chrome App or Progressive Web App?
For years, Google has been giving everyone "warnings" that Chrome Apps, downloaded from the Chrome Web Store, would be going away. The move is to bring Progressive Web Apps (PWAs) into the forefront, as they are quicker, more versatile, and easier to update.
Google has continued to move back the timeline for the deprecation of Chrome Apps on Chrome OS, before settling as an EOL time-frame of 2022. Starting in March of 2020, Google will stop accepting new Chrome apps, with education and enterprise users having a longer extension, ending in December of 2020.
Between Chrome Extensions and Progressive Web Apps, there is little need for Chrome Web Apps to truly "exist" past a further point. As the days go on, many of your most-used apps and services have lightweight and easy-to-use web apps already.
How do you install a Progressive Web App?
Now that you understand the difference between a Chrome app and a Progressive Web App, let's get started on installing those PWA's. There are a couple of different ways to install a PWA on your Chromebook, as Google has made it easier than ever.
The first method is the easiest, as there is a new icon that can be found in the URL bar itself on the PWA's landing page. Here are the steps that you need to take:
Navigate to a website that offers a PWA, such as YouTube Music.
From within the URL omnibar, there will be a new "+" icon on the right-hand side. Tap on this icon.
After pressing the icon, click Install to confirm the installation of the PWA.
Once installed, the new PWA will automatically open.
In some cases, you will be on the correct website to install a PWA, but do not see the "+" icon to add it to your Chromebook. For those instances, you will need to follow these steps:
Navigate to a website that offers a PWA, such as Twitter Lite.
On the right-hand side of the Chrome window, click the three-dot overflow button.
Select the install option.
After pressing the icon, click Install to confirm the installation of the PWA.
Once the Progressive Web App has been installed, it will be added to your app drawer and can be pinned to your dock at the bottom. However, there may come a day where you want to uninstall the app in favor of something else. Here are the necessary steps for uninstalling a PWA from your Chromebook.
Open the Settings app on your Chromebook.
Tap on Apps in the sidebar near the bottom.
Click on manage your apps.
Tap the search bar, enter the name of the app, and select it.
Next to the title, tap the Uninstall button.
Select Remove from the dialog box.
As you can see, installing a PWA is extremely quick, and is sometimes faster than even installing an app from the Chrome Web Store or the Play Store.
Android Central Newsletter
Get instant access to breaking news, the hottest reviews, great deals and helpful tips
Senior Editor - Chromebooks, tablets, and wearables
Andrew Myrick is a Senior Editor at Android Central. He enjoys everything to do with technology, including tablets, smartphones, and everything in between. Perhaps his favorite past-time is collecting different headphones, even if they all end up in the same drawer.
Android Central Newsletter
Get instant access to breaking news, the hottest reviews, great deals and helpful tips
Thank you for signing up to Android Central. You will receive a verification email shortly.
There was a problem. Please refresh the page and try again.