Tech and travel: What's in my backpack
Make smart decisions when packing your gear.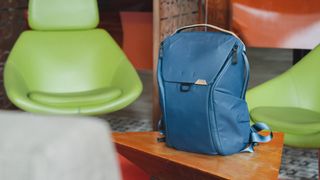 (Image credit: Android Central)
Tech takes its place front and center in our lives. It's impossible to head out the door without at least your phone in hand and one or two gadgets in hand. When it comes to longer journeys, certain accessories are essential companions that we simply can't live without.
As a person who makes her living writing about gadgets, my tech backpack is always packed to the brim when traveling. Non-essentials aside, there are several items that I find imperative to have on my person on the go. Through trial and error, I have picked up a few tips and tricks over time. To make your lives easier, I am here to impart my wisdom about tech and travel.
The right backpack makes a world of difference
I've had my fair share of travels, whether by land, air, or sea. As obvious as it sounds, picking the right backpack is the first and foremost step to transporting your gear correctly.
Having juggled between purses, hiking backpacks, sling bags, and carry-ons with wheels, I know from experience that the lack of a proper bag can lead to massive headaches. You don't want to fish around looking for your charger at a crowded airport or a luggage-ridden car. Once I'm all strapped in and ready for a road trip, I prefer to have easy access to my accessories.
Naturally, a fantastic tech backpack comes with plenty of pockets, compartments, protective padding, and preferably a USB outlet. Bear in mind that the backpack itself should have comfortable straps and just the right size. It can't be too big or too small. Let's also not forget the importance of features like theft protection and waterproofing so your electronics don't get fried.
Personally, I like to use the Bange Smart Backpack since it has everything I've mentioned and it's reasonably priced. A lot of our staff here at Android Central also swear by the Peak Design Everyday Backpack V2.
Peak Design Everyday Backpack V2
Ultimate backpack
Peak Design's Everyday Backpack V2 has it all: anti-theft measures, plenty of compartments, loads of space, a water-resistant coating, and adjustable dividers. It's a tad expensive for just a backpack, but the quality and adaptability is worth paying for.
Bange Business Smart Backpack
Affordable alternative
No need to bankrupt yourself over a simple tech backpack. The Bange Business Smart Backpack looks snazzy and comes with all the premium features found in Peak Design's bag. You even get a USB out port and the laptop compartment is lined with fleece to cushion your valuables.
Keep your phone at 100
Phones can literally save lives when traveling. Setting emergency situations aside, it's undeniable that going anywhere without your phone is close to impossible these days. Starting from tickets to itineraries, everything is digital now. Can you imagine a holiday without Uber, Google Maps, and Airbnb at your fingertips? Me neither.
Of course, having just your phone isn't enough. You need to carry a compatible charger and cable at the very least. USB cables are pretty straightforward, but chargers, not so much. I lean towards GaN chargers with at least one USB-C and one USB-A port, high wattage, as well as foldable prongs for better portability. GaN chargers are half the size of regular adapters so they're easy to slip into pockets.
If your mode of transport doesn't allow you to plug in a wall charger anywhere, it's a good idea to be prepared ahead of time. Power banks are more versatile than car chargers and they can go wherever you do. If your phone supports wireless charging, you can grab a wireless portable charger for your convenience.
Portable power banks with higher capacities are better suited for longer trips, such as the 30,000mAh RAVPower Pioneer Series and the 10,000mAh Anker PowerCore Slim. For light packers, I suggest the teensy 5,000mAh Anker 622 Magnetic Battery (MagGo) that comes with a built-in kickstand and MagSafe support. Voltme offers a great dupe with the same capacity, wireless charging, and a stand on the back for a little less and you even get to choose from five colorways just like Anker.
Anker 622 Magnetic Battery (MagGo)
No wires, no problem
Anker's 622 Magnetic Battery (MagGo) battery pack is adorable and extremely handy — quite literally since it fits in the palm of your hand. This 5,000mAh portable battery pack tops up compatible devices wirelessly and supports Apple's MagSafe technology.
Anker alternative
Voltme's MagPak 5K comes in a mix of light and dark shades. This 5,000mAh power bank supports wireless charging, MagSafe charging, and sports a flap-like kickstand on the back.
Holding boredom at bay
They say that life is about the journey, not the destination, whoever they are. Anywho, this doesn't ring true if you're stuck in an uncomfortable seat for hours upon hours on end with no means of recreation or mental relief. Excessively long routes can be mind-numbingly boring, but thankfully you can save yourself from this sad state of being with some gadgets.
Depending on your personal hobbies, pick one or two electronic companions to entertain yourself on trips. For me, this would be my beloved e-reader. If you're into reading like me, pre-load your Kindle or whatever e-paper display you favor with an assortment of e-books and audiobooks. Thrillers and mysteries in particular help pass the time.
I recommend Amazon's 6-inch Kindle as its compact nature makes it perfect for travel. The Kindle's legendary uptime is a lifesaver since you don't need to worry about charging it on your trip.
Reading isn't for everyone, and to those people, I say download a buttload of your favorite music, movies, and TV shows on your phone. Bring your comfiest pair of Bluetooth earbuds along for the ride to supplement that and you'll be all set for a decent amount of time.
Lastly, portable Bluetooth speakers make for excellent vacay buddies if you're traveling for leisure. You can't be the life of the party without some tunes to set the mood. When picking the best Bluetooth audio accessory, think lightweight, portable, robust, and long-lasting. Edifier's tiny but mighty MP100 Plus speaker is my personal favorite.
Crowd favorite
The Amazon Kindle (2022) is a smart way of carrying thousands of books with you without sacrificing luggage space or weight allowance. It lasts forever and the e-ink display is a delight to look at.
Expect the unexpected
Edifier does a great job of blowing your mind with the palm-sized Edifier MP100 Plus portable Bluetooth speaker. This is a must-have audio accessory for frequent travelers.
Workation made easy
Maybe you're traveling for work, or maybe you're taking advantage of being able to work remotely. Whatever the case, you can't lug a chunky laptop around everywhere. Depending on internet cafes is out of the question usually, considering the potential security risks and added hassle.
Facing a similar conundrum? Fear not for Chromebooks are made for the job. Not only are they small, light, and versatile, but they also charge via USB-C. These flexible machines can perform most basic tasks and perform surprisingly well. They also cost next to nothing compared to full-blown laptops and computers.
Chromebooks are easy to set up and use by design. Chrome OS supports most of the apps you'd need to access for light work on the go and you get all the necessary connectivity and ports. Choosing the right model is entirely subjective. We have an excellent guide that recommends the best Chromebook for your needs.
Pro tips for tech and travel
Before anything else, my number one pro tip is this: get yourself a universal travel adapter with surge protection. You can thank me later. Any decent travel adapter worth its salt comes with plenty of plug points that work in the US, EU, and UK. Some of the more advanced ones also feature various USB ports, like the amazing EPICKA Universal Travel Adapter.
Whether it's a pair of earbuds, a Kindle, a power bank, or a Bluetooth speaker, try to get everything USB-C. This eliminates the need to carry more than a single Type-C cable, so you don't lose yourself in a tangled mess of a million different cables that have somehow formed the most complex sailing knot at the bottom of your backpack.
Having a powerful dual-port charger is wise because you can charge anything off of it. The best course of action is to get a compact 60W or 65W USB-C charger, so you can tap into the fastest charging speeds across all your devices. Less is usually more, but not in this case.
Lastly, make use of the fact that all the best Bluetooth trackers now come in creative shapes. It's a smart idea to slip them into your bags or luggage. This makes it easy to locate your belongings. No one enjoys playing "spot your luggage" after a 16-hour flight and lousy airplane food. In the event that you misplace something, a tracker can save you a lot of trouble.
These are just some of the tips and tricks that I've picked up over the years. Hopefully, you learned something that will make your future travels a much more pleasant experience. Stay safe and have fun!
EPICKA Universal Travel Adapter
All. The. Prongs.
The incredible EPICKA Universal Travel Adapter has adjustable prongs that can be rearranged on demand for the US, UK, and EU. It also comes with one USB-C and four USB-A ports as well as surge protection built in.
Get the Android Central Newsletter
Instant access to breaking news, the hottest reviews, great deals and helpful tips.
Editor — Accessories, speakers, and tablets
Namerah enjoys geeking out over accessories, gadgets, and all sorts of smart tech. She spends her time guzzling coffee, writing, casual gaming, and cuddling with her furry best friends. Find her on Twitter @NamerahS.