6 things Samsung needs to do better in 2021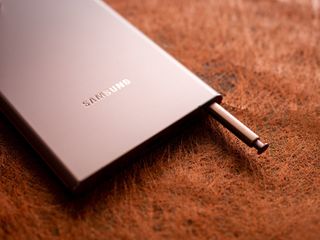 (Image credit: Apoorva Bhardwaj / Android Central)
If there's one company that's regularly the most interesting and important in the Android space, it's Samsung. Between bleeding-edge foldables and maintaining its dominance as the largest smartphone company on the planet, there's always reason to closely monitor what Samsung is doing.
2020 proved to be a pretty big and successful year for Samsung. It released excellent top-tier flagships with the Galaxy S20 and Note 20 series, pushed further into the foldable market with the Galaxy Z Flip and Z Fold 2, and took the value flagship world by storm with the unexpected Galaxy S20 FE. Add all of that together with fantastic accessories and a new commitment to three years of OS updates for many of its devices, and 2020 had a lot of wins for Samsung.
That's not to say that Samsung had a perfect year, though. There are still plenty of areas in which the company can improve, and as we head into 2021, these are the biggest things we want to see Samsung do better at.
1. More durable glass for folding phones
Over the past few months, we've heard talk that Samsung is going to kill off the Galaxy Note family in 2021. This is a rumor that pops up basically every year, but it really does look like the hammer is finally going to come down this time.
In place of the Note, Samsung is instead going to offer S Pen support across its other devices — including the Galaxy S21 Ultra and Galaxy Z Fold 3. The idea of having a Z Fold that works with the S Pen is incredibly exciting, but in order for that to be a good experience, Samsung needs to find a way to improve the durability and strength of its Ultra Thin Glass (UTG).
The UTG used on the Z Fold 2 is a considerable improvement over the plastic screen of the original Galaxy Fold, but it's still a far cry from the durability you get on a traditional smartphone display. While technically glass, it's very easy to scratch and dent the Z Fold 2's display if you aren't being careful with it. Samsung throws in a factory-installed screen protector to try and mitigate that from happening, but you then end up with a much worse-feeling touch experience.
If Samsung expects us to draw and navigate on the Z Fold 3 using the hard point of an S Pen, it needs to find a way to further improve the strength of its UTG. It's difficult to say just how much can be improved without throwing physics out the window, but we have to hope that progress is made on this front.
2. Offer a true Pixel 4a competitor
One of Samsung's biggest wins of 2020 was the Galaxy S20 FE. Being able to get 90% of the Galaxy S20 experience for hundreds less turned out to be a really enticing offer, but with a retail price of $700, the S20 FE isn't exactly the low-cost Android phone that a lot of people are looking for. That market was dominated by the likes of the Pixel 4a and Moto G Power in 2020, and in 2021, Samsung should try and claim some of that niche for itself.
Sure, we had releases like the Galaxy A51 and A71 5G, but neither one captured the same magic that Google pulled off with the 4a. Whether it uses A or S branding, we'd love to see a $300 - $400 Galaxy phone that's compact, has a great camera system, and reliable specs across the board. Google's done it for two years between the Pixel 3a and 4a, and it's about time Samsung try and do the same.
Samsung can keep on keeping on with its larger smartphone offerings like it's been doing, but having at least one genuinely small and affordable option to choose from would be great to see.
3. Bigger focus on sustainability
If you've followed product releases from Apple and Google over the last couple of years, you've probably noticed their big push for greater sustainability. Many of the components in the iPhone 12 are made out of recycled rare earth elements, Google's Nest Audio smart speaker is made from 100% recycled plastic bottles, and both companies are making tangible efforts in all aspects of their business that are centered around protecting the planet as much as possible.
Samsung has made some efforts around having its products be more sustainable, but it's nowhere near the same level that we've seen from its competitors. Heading into 2021 where the state of our planet's well-being is more important than ever before, that lackadaisical approach cannot continue.
Samsung needs to be seen as an example of how to do sustainability right, not the outlier — especially given its dominance in the smartphone landscape. There's so much more the company can be doing in these regards, and we really hope Samsung takes action on this front in the coming year.
4. Ditch curved displays once and for all
Samsung had a weird relationship with curved displays in 2020. The Galaxy S20, S20+, and S20 Ultra all technically had curved displays, but the curvature was so subtle that they might as well have been flat. The regular Note 20 and S20 FE both shipped with totally flat screens, but the Note 20 Ultra decided to bring back those drastic curves.
Those curved edges of the Note 20 Ultra ended up being one of our least favorite things about the phone, putting an annoying damper on an otherwise fantastic device. To avoid something like that from happening again, Samsung needs to fully commit to flat screens on all of its devices.
Things are looking hopeful so far, with the current Galaxy S21 leaks hinting at flat edges for the S21, S21+, and S21 Ultra. We can also assume that the Galaxy Z Fold 3 and Z Flip 2 will stick with flat displays as their predecessors have, so we could very much be headed into a year with no curved screens on any major Samsung phone. Yes, yes, please.
5. A quality Chromebook that isn't $1,000
Way back in 2018, Samsung released something called the Chromebook Plus V2. It was a successor to the original Chromebook Plus from 2017, and at the time, it was one of the very best Chromebooks you could buy. With a premium build quality, great display, and fast performance for just $499, it was an incredible value.
Since then, however, we've yet to see a proper sequel. Samsung showed off its fancy Galaxy Chromebook at the beginning of 2020, but with a starting price tag of $1000, it was far from the value-focused Chromebook Plus we still hold near and dear to our hearts. 2021 is the year for Samsung to finally fill that void.
Given the big push this year of everyone working and learning from home, Chromebooks got their chance to shine in the spotlight. People saw them as affordable alternatives to Windows laptops and MacBooks, bought them up in droves, and we're still dealing with stock shortages as a result. While that hunger for Chromebooks may die down a bit come 2021, this is the time for Samsung to get back out there with a sleek, powerful, and value-focused Chromebook offering that can appeal to everyone.
6. Three years of updates for more phones
When we think of companies that offer fast and reliable Android updates, Samsung hasn't typically been one of the first brands that comes to mind. That's something the company's worked to improve over the years, with its biggest push yet happening this past August. Alongside its Note 20 unveiling, Samsung made a promise to deliver three years of major Android updates for many of its smartphones and tablets.
The current list of phones backed by this guarantee is rather lengthy, including things like the Galaxy S10 and S20 series, the Note 10 and Note 20 lineups, the Galaxy A51, Galaxy A71, and more. Noticeably absent from this list, however, are many of Samsung's lower-cost phones. That three-year update promise doesn't apply to any of the Galaxy M or Galaxy F phones (which there are a lot of in other markets), the A21s, A31, and others.
Samsung taking software updates seriously was great to see this year, but as it currently stands, you need to buy a mid or high-tier smartphone if you want to benefit from that. If Samsung wants to do right by its customers that rely on its less expensive handsets, that three-year guarantee needs to extend to even the cheapest of Galaxy phones.
What do you think?
Now, we want to pass the question on to you — how do you want to see Samsung improve in 2021? Whether it be a change to the Galaxy S21, something with the Galaxy Watch, or anything else in between, drop a comment below and let us know!
Get the Android Central Newsletter
Instant access to breaking news, the hottest reviews, great deals and helpful tips.
Joe Maring was a Senior Editor for Android Central between 2017 and 2021. You can reach him on Twitter at @JoeMaring1.
The regular Note20 is a bust. The S20 FE, maybe phone of the year according 🤔 to Marques Brownlee, 😬 yikes! One of the top reviewers on you-tube?

What they need to do is get the features they advertised pushed through on their wearable. Blood pressure monitoring is becoming a joke bullet point. For those of us who sideloaded it, the forced update intentionally broke it. Either make it happen or stop breaking work around. Coming soon no longer flies.

Tracking blood pressure through your watch? Your issue sounds serious. Move to Korea and you can use that feature!

Why is it so hard for you to except this fact that we can use this feature with our watch?. I guess Apple watch series 6 allows this feature and it works fine. Why do we have to move to Korea for having a simple feature like this?. We love our gadgets and we buy them with big amount of money so why we cannot expect these little features from our gadgets?.

I've tried Samsung phones. Tired of hearing that the S20 FE is the very best ever in the entire galaxy! It is a piece of JUNK! For God's sakes...just Google it already!
Samsung (I believe) started the whole mess called CURVED SCREENS! Another piece of crapola! I hope all OEM's put all curved screens in the toilet where they belong!
Bring back the headphone jack..and don't tell it can't be done, or it wont fit...just bring it back on ALL phones.

Hey dude! Don't take it so personal, if samsungs innovation bothers you so much, go buy from another vendor.

So you call it innovation?, I suppose the word innovation is only applied if something is made foe the first time. So please be careful with what word you are using.

The FE is the phone of the year And nobody cares for a headphone jack in 2020. Get with the times fella

Many people do, including myself. Wireless headphones are inferior to wired headphones in every way besides convenience

Convenience and no stupid wires driving you nuts. 2 of 3 most important factors to the vast majority of people

Today's digital audio is $h!t, don't worry about the sound.

They need to improve their biometrics. I honestly hate their under screen fingerprint reader. I recently bought the s20+ and I found it so unreliable I returned the phone. No improvement from the S10+. Either fix the under screen scanner or put it on back; and not in the janky samsung way.

I returned my note 20 due to the finger printreader, and I have the same problem with my galaxy tab s7 plus....I've still got 20 days to return this thing, thanks to bestbuys elite plus return policy...I'm trying to decide if putting up with this fingerprint reader is worth the cost of the tablet...

For me, it works 80-85% of the time. That sounds not so bad, but that is terrible in my book. I look at my phone a hundred times a day, yeah its a lot, what can I say. So that means 20 times its not working for me. Unacceptable. My Pixel 5 success rate is about 99.5%. My Iphone 12 pro max is about the same, maybe slightly lower if Im being lazy with it. Not to say face ID is great in a pandemic, but that's not Apple's fault. First Samsung put the fingerprint reader on the side of the camera, worst location ever! Then they went directly below the camera, second worst location ever. Now they have had this same underscreen reader for two years even though a second gen product was released by Qualcomm. I dont understand what they are doing.

No problems on my Note 20 Ultra works very well... My Tab S7 fingerprint reader is great too...

Don't stop putting chargers in your ridiculously overpriced phones. At those prices a good charger, good quality ear buds, and a nice case should all be included for free. Lol on the free.

Yes you are absolutely right, at those prices even the wireless air buds should come with the phones. I do not know how many more business policies would they bring up to rip us off. Now we have to buy chargers and after 10 years who knows what we have to buy to make out phone run?. Will it be the battery?, will they sell batteries and phones apart?.

The FE is awful. Touchscreen issues galore that Samsung refuses to fix. Next year's version might be great though.

One of my biggest fears before buying mine and can honestly say it hasn't shown on mine once in the month I've owned it

#1 for all phone. I sick of paying 400$ to fix a cracked screen

Updated model of s10e, tired of these oversized phones falling out of my pockets or so big it hurts my hands. I may have big hands, but screend 6 to 8 inches is ridiculous.

Maybe I got a lemon, but the camera on my S20 Ultra is crap. Even my S5 took better photos. If the S21 camera doesn't improve, my Sammy days are over. I am also over the curved screens. So many accidental touches that it got to the point that I no longer put app icons on the outer columns.

Camera on my S20 Note Ultra is really good especially night mode... Zooming over 5 times is pointless though with respect to image quality... Have to agree regarding curved screens however I have not suffered any miss touch issues so guess Samsung have improved their software... Flat screens from now on however please Samsung...

Streamline the phone settings menu, offer less ads in apps, sell premium phones with eSIM capabilities in the U.S to compete with Pixels and iPhones, continue to improve haptics, bring back the MST tech to watches, improve customer service, make all apps, except system apps (Facebook has no business being a system app), easy to uninstall and get rid of the horizontal scrolling of the app drawer.

Yup. Can't believe AC didn't mention the freaking ads!

'but the curvature was so subtle that they might as well have been flat' That is utter rubbish! The kind of curved displays on the S20 series is just like the old Lumias - perfect. Not too curved, like their older Edge-models, where keeping a good grip was as big a problem as avoiding accidental activations, and not flat, so the finger keeps swiping across a hard ridge.

Baloney on the flat screens. The tech media industry bought into curved screens and glass backs and shoved them down the throats of weak minded as "advances" and many got suckered. You can't retract now...no way. It was never anything but a marketing ploy and the media went along with it.

Software updates also need to go further back in models. I own a perfectly fine Note 8 that no longer receives updates. I also find it funny that when curved screens came out it was all the rage, not so any more. Same thing with using plastic, I had a great Galaxy S5, made with plastic and Samsung was "*****-slapped" for not using metal. Now the latest rage is to use plastic again.

Samsung really should make a S8/S9 size phone.

While they make some great wearables. They need to work on endurance for their watches. I mean 2-3 days is decent. But when Garmin has a watch with an AMOLED display that gets up to 5 days of battery life and Huawei and Amazfit have watches that can last up too 2weeks i think Samsung could find a happy medium in there id be happ with 4-5 days

Samsung just has too many phones! They don't need 4 S Series models. One Note Ultra, a S20, and an FE. That covers the price spectrum. Z Fold and Flip will be their uber premium phone. S20 Plus and Ultra needs to go to not cannibalize the Note series.

They don't need to ditch the curved screens. I talk to a lot of people and o one has ever been bothered about the curved screens. I don't have accidental touch issues and the curved screen makes things so much easier. What should been mentioned is more apps for Tizen. More native apps for the GW.

Personally I love the curved screens and was one of the reasons I didn't go for the flat Note 20. The ultra is too big for me and the n20 fell flat ( literally, lol) in many ways for me. I'm eyeing the iPhone 12 mini for it's size. I'm sick of ridiculously large phones.

I hope they continue the note series, take price down a little on the older phones after a new one is released. Also, if these phones are expensive then these companies should have ALL the items u need included with it( charger, bluetooth headphones & possibly a heavy duty case of your choice). Would that be to much? Especially if I'm paying $1000 & up for a device.

Also, whenever a new update is available, it should be compatible to phones that are atleast 7 generations behind or more.

A cheaper Chromebook is happening. The Galaxy Chromebook 2 will be 699. Just no to getting rid of flat screens. Buy a bloody iphone if you want bland flat 😂

I have a bridge for you to buy...

Seriously? the most obvious Exynos issue was not addressed? that is on of the serious issue that causes samsung to lag behind apple sales that much. If it wasn't Exynos issue, I would have purchased note 20 Ultra already.

How about a true successor to the s10e ...
Im loving the iPhone mini and don't miss any phone with a bigger screen. The s10e was the last Samsung phone I used for any length of time. All the ones after it I've traded off.

Ditch the hole punch screens and bring back the bezels. Yes I will die on this hill. EDIT: This also goes for other phone makers.

I agree with everyone except for the curved displays. I use a spigen case on my Note and have no problems with accidental touch. I love the way it looks compared to flat displays.

I've always loved the curved screens too because it makes the phone unique and beautiful but at the end of the day it makes one handed typing horrible.

What ever phone Samsung makes the one thing that will never go is that we cannot use their phone for more than two years and that is because very Samsung phone only offers two software updates and that is it. People feels so irritated that some of the users has left Samsung and went for I phones. Who is to blame?, why they do not make such phones which has much greater hardware so that they can take all the updates that Samsung has to offer. Why every phone has to be limited with two major updates?.