You can now run DeX in a window on Windows and macOS with the Note 10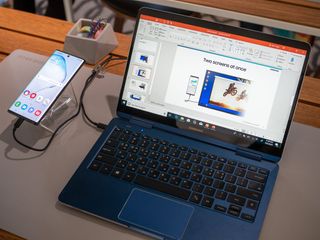 What you need to know
DeX can now run in a window using the Note 10 and computers running Windows 7, 10, and macOS 10.13 and above.
It requires a USB connection and the app to be installed on your PC.
This feature is a Galaxy Note 10 and 10+ exclusive.
Samsung DeX is the closest we've come to carrying a computer in our pocket. This nifty feature found on Samsung flagships allows you to plug your phone into a monitor for a desktop-like interface.
This differs from Your Phone integration which was shown off during the Note 10 presentation in a few ways. First, Your Phone isn't exclusive to just Samsung phones. Secondly, Your Phone is completely wireless, while DeX requires a wired connection. That's something we hope Samsung will be able to incorporate in future versions of Dex though.
When DeX first launched, it required using a dedicated dock to connect, but later Samsung improved it by only requiring a simple USB to HDMI cable. Now, Samsung has found a new way for users to utilize DeX side by side with their desktop operating system.
The Galaxy Note 10 and 10+ will be able to run DeX in a windowed mode (opens in new tab) inside of Windows 7, 10, or macOS 10.13 or higher. All you need is a USB cable to connect it to your computer, a Galaxy Note 10 or 10+, and the desktop app.
Unfortunately, this is an exclusive feature for the Note 10 models at this time. Considering the Galaxy S10 and S10+ both run on very similar hardware, we're hoping Samsung will find a way to port the feature over in time.
Recently, we've seen Samsung bring some newer features to older hardware, such as the dedicated Night Mode and QR scanner. Both of these features have made their way from the Galaxy S10 models to the Galaxy S9, S9+, and the Note 9 via software updates in the past few months.
Let's hope Samsung continues the trend and extends the functionality of DeX to some of its more recent flagships. If you don't have a Note 10, you can still give Microsoft's Your Phone a try.
New Note
Samsung Galaxy Note 10
The newest most powerful Note
The new Note 10 comes in three flavors this year, some without a microSD card slot but all without the headphone jack. What it lacks in legacy features, it makes up for with top-of-the-line specs featuring a gorgeous screen, speedy processor, three top-performing cameras, and a gorgeous display. Of course, you can't forget about the S Pen, which truly makes a Note a Note, and it has more features this year than ever before.
Why don't they enable this feature for the Galaxy S10 with the same processor and hardware? Very silly my brand new phone can't use this great feature! :(

You can get the DeX experience with a dock.

It's not the DeX experience with the dock. It's running it in a window on your PC. This is Samsung tactic like always to exclusive features to get people to buy. There's absolutely no reason why my Note 9 should not be able to run on a PC window.

I had read that they will eventually release for the S10, and even the S9 series. My guess is that they are using it for a selling point for the Note right now to try and boost sales.

98.6% of purchasers will never use DeX, so they are having a little to much confidence in this as a selling point. I'd only use DeX if they sold a Lapdock for it, personally. Otherwise, I can buy a pretty good Laptop for the price of a Note 10+ (i.e. a MacBook Pro or even better Windows machine) and just use my computer anywhere I go. DeX is a solution in search of a problem. Better off just going iPhone and spending that money on a MacBook instead of a new Note... that way you don't need to dock your phone to a screen... Apple has SMS/MMS and Call Relay, Continuity and Handoff that works flawlessly already. People want their PC and Mobile to work flawlessly in concert. They don't want a phone that tries, and fails, to double up as a PC.

I have a DeX dock I picked up cheap on Black Friday. Neat to use and could be functional as a desktop replacement, but it's an afterthought if you have either a Windows PC or a Chromebook. Still, the productivity of a Note is not really matched when on the run. DeX works better as a one device solution than an accessory to us with a PC.

The only difference between a note and any other phone is the S Pen, which is basically used as a mouse pointer by most. A log of this phone's advantages have been eroded over the years. Multi Window was really its biggest innovation, and that's commonplace now.

S-Pen is what I use the most. Mocking up pictures for presentations jotting notes on screenshots to send for MMS are some of my most used features. It also makes my spreadsheets much easier to manipulate on my phone vs having to get the Chromebook or laptop out on the train. Between that and the SD card swapping, the Note is my most functional tool I own for my work. DeX was always awkward. Why have all the tools to use as a computer, but not actually have a computer to use? My Microsoft products sync with my office computer and my Chromebook Notes are not for everyone, but for those who use them regularly, going back to a regular smartphone would be hard and way more cumbersome. I tried twice while waiting for an insurance replacements. I realize how much I used the S-Pen and how awkward it is to try to get that precision with fingers. But there is a reason we have tons of choices in this market. To each their own.

Uhuh. Sure you do. I can get a surface pro for less than these phones. That market had been thoroughly targeted. There's no reason for anyone to that that stuff on a tiny phone screen. S Pen is niche. That's why Samsung has been trying to make it relevant in other apps.

Uhuh? Think you missed a letter there. ;-) If you want to use the Surface or a laptop or an iPad, go right ahead. Nobody is stopping you. I am on the run constantly and I I can be productive on it and I like it. Most of my day, having to pull out a laptop or a tablet would be way less convenient than working on a phone that has an almost 7 inch screen. I save that for when I have time at the end of my day and need to clean up and organize. On the run, my phone is more important. Not the way for everyone. And that's ok. Niche? Absolutely, but to those who make use of that niche product, it's a great tool and it's getting more function every year. Apparently your need is something else. More power to you.
Android Central Newsletter
Get the best of Android Central in in your inbox, every day!
Thank you for signing up to Android Central. You will receive a verification email shortly.
There was a problem. Please refresh the page and try again.