How to set up and use Windows 10's Your Phone app with Android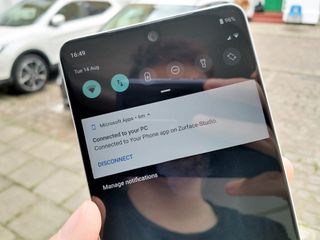 (Image credit: Zac Bowden / Android Central)
Want to try out the new Your Phone app on Windows 10? We've got you covered with a quick how-to showcasing all the steps you need to take to get things set up and ready to go.
How to use the Windows 10 Your Phone app
Right now, the Your Phone app only works on Android, and it allows you to see and share photos from your Android device directly on your PC. You must be a Windows Insider for this feature to function at this time. So, to begin, you need to open up the Your Phone app on your PC. You can either search for it or find it at the bottom of your Apps List in the Start menu!
If you do not have the app installed, you can download it first.
Open the Your Phone app on your PC.
Select Get Started to begin the setup process.
Select Link phone.
Type your phone number and press Send to send a text message to your mobile phone.
Select Close and wait for your mobile phone to receive a text message from Microsoft.
Once received, tap the link sent to you in the text message to open the Google Play Store on your device.
Tap Install to download the "Microsoft Apps" app required for Your Phone to function.
Launch the "Microsoft Apps" app and select Get started to begin pairing your phone with the Your Phone app.
Make sure you're already a member of the Windows Insider Program and then select I'm already an Insider.
Tap sign-in and enter your Microsoft Account details. (Make sure you login with the same Microsoft Account used on your PC.)
Tap allow to give the app permission to show your photos on your PC.
Select return to Home Screen.
On your PC, in the Your Phone app, select see photos.
You should now be able to see all the photos on your phone directly on your PC. From here, you can open them up, edit them, share them, and more! Let us know what you think in the comments!
Last time I tried it, SMS never arrived.

How does this compare to Samsung's SideSync?

If this becomes what it sounds like it might be, it's basically a desktop interface with your phone. What I don't like about SideSync - it's just a mirror of the phone's screen. I hate that. I'm on a PC with a big-ass screen. I don't want my phones info shown to me in that vertical window that has the same interface as the phone. I want the info from the phone displayed in a nice desktop-looking interface. BlackBerry did it with Blend for BB10 and it looked great... then BlackBerry shut down development after about 3 months (which corresponded with the shutdown of BB10 development itself), so opportunity lost.

Oh mate remembering BlackBerry Blend pretty well back then! How stable and easy this worked out between my Q10 and my PlayBook. Still unmatched!

Apple does this better than BlackBerry did. Microsoft needs to just do that on Android with Windows 10. They also need better apps to access content. Photos for Android. Movies & TV. One Drive mobile music Locker shouldn't have gone away, IMO. A real eBook reader. Unfortunately, Microsoft has too many all and service gaps to bother with them on 3rd party platforms. It just isn't clnvenient, and you end up double fisting ecosystems that do not work well together.

Wait... you still have to be part of the Insider Program for this to work? That explains why it doesn't work for me even having all to apps for both the PC and phone. All the news about this said that it "was" available to Insiders, but then implied that MS opened it up to everyone, that's why anyone can get it now. Everything is there, and my PC even says it's connected to my phone, but I see nothing else. No photos, nothing.

"Your Phone for Windows 10 is currently in testing, so here's how to set it up." I know how I'm going to set it up: I'll wait until testing is finished!

Still can't get it to work on my Moto G6

ermmm Airdroid?? I can do this now.

I use MyPhoneExplorer when I need to. I'm cautious about linking my phone into too much, especially with facial recognition already crosslinking all my photos with the same people.

In all seriousness, maybe I missed something, but why would I go through the 14 step setup process when I could just use Google Photos? Isn't that easier and not requiring additional apps and program memberships? Also, yes, this is very reminiscent of BlackBerry Blend and BlackBerry Link before it. Although, I think both of those options were more feature rich then this.

This isn't just for photos, they're just starting with photo functionality when linking phones. There's 14 step process because this isn't released officially yet, it's for testers who want in on trying early software so there's going to be extra steps.

This applies to more than Photos. Music? Movies & TV? Maps? Chrome? Using Chrome to access Google on Windows 10 is a lot more convenient than trying to Graft Microsoft's ecosystem onto Android. I Photos and Music are the two biggies, and Microsoft has an awful mobile solution for those. None at all for music. You basically have to use Google or Apple solutions for a decent mobile UX, at which point why bother, at all, with the rest of what they're offering. Edge certainly isn't better than Chrome or Safari on mobile, not is Bing or Cottage better than Google Search/Assistant and Siri. Apple's iCloud Photos plug in for Windows is actually better than anything Microsoft has on their own platforms - co plate with Sharing, Likes, and Comments! I'm addition to push notifications. This should not be the situation. One Drive sharing on Windows 10 is still awful...
Android Central Newsletter
Get the best of Android Central in in your inbox, every day!
Thank you for signing up to Android Central. You will receive a verification email shortly.
There was a problem. Please refresh the page and try again.