Microsoft and Samsung expand partnership, including Microsoft apps and services integrating with the Galaxy Note 10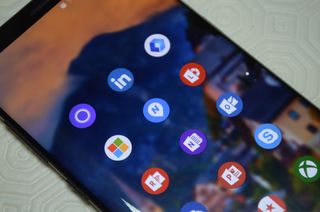 What you need to know
Microsoft and Samsung have strengthened the partnership between the two companies.
Microsoft's CEO and Corporate Vice President were on stage at Galaxy Unpacked to discuss the partnership.
The partnership includes several Microsoft apps and services integrating with Samsung devices.
Microsoft CEO Satya Nadella joined Samsung Electronics CEO DJ Koh to discuss the growing partnership between Microsoft and Samsung. Earlier during the presentation, Microsoft's corporate Vice President, Shilpa Ranganathan presented several aspects of the partnership. Several Microsoft apps will be natively integrated into the Galaxy Note 10 and Note 10+, and Your Phone and DeX will allow users to work seamlessly across their Galaxy and Windows devices.
Your Phone
Microsoft's Your Phone app is natively integrated into the Galaxy Note 10. With this app, users can sync their phone notifications, text messages, and photographs with their Windows 10 PC. Users on Galaxy Note 10 devices will also be able to mirror their phones to Windows 10 using Your Phone. The mirroring supports multi-touch gestures as well as mouse and keyboard. Additionally, Your Phone will support relaying phone calls later this year. Your Phone isn't exclusive to Samsung devices, but Microsoft is clearly working closely with Samsung to make sure that all of its features work well on the Note 10.
OneDrive integration
Microsoft also announced that OneDrive will be natively integrated into the Samsung Gallery app. This allows users to have photos and videos automatically synced across their devices. A OneDrive app is already available on Android, but this new integration makes it easier for Samsung mobile device users to sync their gallery to Microsoft's cloud. The new feature is coming this fall.
Microsoft also highlighted that users can mark up files on OneDrive with the S Pen and that files stored on OneDrive vault have increased security.
Outlook and Office
Microsoft announced several ways that Outlook and Office work well with Samsung devices. Microsoft Outlook is preinstalled on Galaxy Note 10 devices. Note 10 devices also have enhanced S Pen integration including hovering over an email with the pen to see a preview and accepting or declining event invitations by hovering the S Pen.
Outlook also has new features for Samsung devices. There's a new three-pane view for Samsung tablets, and users can open multiple messages in separate Windows when they connect to Windows 10 through Samsung DeX. Outlook is also coming to Samsung Galaxy wearables in the future.
Microsoft Office won't be preinstalled on Note 10 devices, but Microsoft highlighted its mobile suite of productivity apps being available on the phones.
A new way to shop
Microsoft and Samsung aren't just partnering on software. The Galaxy Note 10 and Galaxy Note 10+ will be sold in person at Microsoft Stores and available online through the Microsoft Store. There's also a trade-in program that allows you to trade-in select mobile devices at the Microsoft Store to get up to $650 in trade-in value towards a Galaxy Note 10 device.
Galaxy Book S
The Galaxy Book S is probably hidden a bit by the announcement of the Galaxy Note 10 phones. The new laptop has Gigabit LTE connectivity and the new Snapdragon 8cx chip inside. The Galaxy Book S was developed through a partnership of Samsung, Microsoft, and Qualcomm. It's the highest-end Windows 10 PC powered by ARM and the first to be announced running the Snapdragon 8cx.
A growing partnership
Microsoft and Samsung have worked together recently, but today's announcements bring everything together and expand the partnership further. The fact that Microsoft's CEO and Corporate Vice President joined Samsung's CEO on stage indicates how serious this partnership is. Nadella also said that there was more to come in the future from this partnership.
Noteworthy
Samsung's latest Galaxy Note phone
These powerful smartphones feature an impressive amount of internal storage and come with a pair of USB-C headphones. The S Pen gives you more control with handwritten notes, air gestures, and photo editing.
Helpful headphone accessories
You'll get the most convenience out of your new smartphone if you have the proper accessories to go with it. Here are some that we recommend.
Kimwood USB-C Headphone Adapter (opens in new tab) ($12 at Amazon)
This simple dongle allows you to use your 3.5 mm wired headphones with any USB-C port. It's perfect for use with the Samsung Note 10 or 10+ smartphones.
Anker 10W Max (opens in new tab) ($16 at Amazon)
This case allows you to extend the battery life of your iPhone to a total of 25 hours while protecting it at the same time. The helpful design gives you access to the Lighting port while charging wirelessly so you can listen to music or make calls.
Tribit XFree Tune (opens in new tab) ($40 at Amazon)
This pair of wireless headphones gives you quality sound at a cheap price. They work for 40 hours before needing a recharge and have a comfortable design so you'll be able to use them for long stretches.
I would love to know Microsoft's plan for RCS... all of those text message features they announced don't work with RCS...

In order for this to matter, Carriers would need to: 1. Roll out RCS
2. Make sure it's a cross-carrier compatible implementation of RCS.
3. OEMs would need to enable it on their devices. Neither of those have happened on a broad scale, so it literally doesn't matter at this point. Will probably be years before RCS is actually a meaningful solution on a broader scale - if ever.

More bloatware on Samsung products that's not wanted. At least make them to be able to uninstall witch you can't on my S10+ just disable at the moment. Unless I root my device.

Can Microsoft apps start to replace Samsungs built in? Why does Samsung need their email client, cloud service, notes app. They should just use one note, onedrive and outlook. They are much more advanced in my opinion

Because not everyone wants to have to create a Microsoft account (which comes with a LOT of service bloat - often redundant, particularly for ANDROID (i.e. Google) users) just to take notes on their phone. OneNote only works via Cloud Synchronization. It doesn't create local content on Mobile (or with the UWB/macOS apps). Apps like Apple and Samsung Notes can create local content even when you decide not to create an iCloud or Samsung Account. I'd argue Samsung mail is better than Outlook, and so is their Calendar app. Outlook doesn't really do Contacts. Outlook is completely redundant on a Samsung phone, as their devices have really good EAS support, including support for Exchange policies, and they're better integrated throughout the system. Most Android users bias to Google Drive. The app is far better than OneDrive's mess, and Google Photos works well by segregating off Photo/Video Synching/Viewing/Editing to its own content-specific UI/service (similar to Apple Photos). OneDrive becomes unusable if you have i.e. music with thumbnail files on the service, as the Photos tab shows any and all photos in your entire OneDrive. This issue was reported years ago, and Microsoft has failed to fix it. There is also the issue with UI/UX cohesion. Samsung's Apps all follow a pretty consistent UI Design Ethos, while Microsoft's don't - and clash with the system in pretty stark ways.
Android Central Newsletter
Thank you for signing up to Android Central. You will receive a verification email shortly.
There was a problem. Please refresh the page and try again.