Will you use Google Messages more now that it will be the default option for most U.S. Android phones?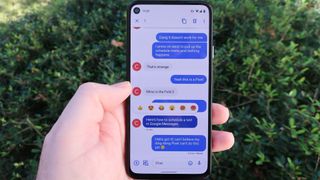 (Image credit: Jeramy Johnson / Android Central)
Yesterday, news broke that Verizon will be switching to offer Google Messages as its default messaging app for RCS, beginning in 2022. This marks the third of the big three carriers in the U.S. to make such a move and follows in the footsteps of T-Mobile and AT&T.
This is fantastic news for Android users, as it means that the majority of phones sold in the U.S., be they cheap devices or the best Android phones, will be able to communicate reliably and securely with each other without needing to download a third-party messaging app.
This is thanks in part to Google bringing end-to-end encrypted messaging (E2E) to the Google Messages app. E2E is a feature that has long been supported on other popular messaging apps like WhatsApp, Signal, and even on Apple's iMessage. It's long felt like using the default messaging app is the easiest thing to do for most phone buyers, so with this move you shouldn't have to worry as much about trying to convince your friends and family to switch to another messaging app.
Here at AC, we were pretty psyched about this latest development, as were several members of the AC forums.
Android Central Newsletter
Get instant access to breaking news, the hottest reviews, great deals and helpful tips
Jeramy is the Editor-in-Chief of Android Central. He is proud to help *Keep Austin Weird* and loves hiking in the hill country of central Texas with a breakfast taco in each hand. You can follow him on Twitter at @jeramyutgw.
I might if it wasn't so buggy. When I read the reviews in the play store, a lot of people report late messages and other issues.

I use Google messages, and I'm not in the US, I'm in the UK and Google messages is my favourite messaging app along with WhatsApp (Telegram and Signal are trash) but Google messages won't let me use RCS so I can't send multimedia messages and photos as it says my network doesn't support it but it does as Samsung messages supports RCS but that's crap to use and I prefer Google messages.

I do have Verizon but I rarely buy phones from them as I usually buy unlocked from Amazon. I don't really care about most of the features you get with RCS so I'll probably keep downloading and using Textra.

Does this messaging app have "private messaging" or a way to set up a phone number as a "private" number? I have a messaging app I use now where I can push a button and any "private" numbers or existing messages disappear until I tap the button again to display them.

Please share... what is the name of this app?

Mood is the app I am using presently.

Team Pixel here....so business as usual.

Every time I try to use the Google messaging app I am disappointed by how lame it is. I'm loving Next SMS, although Textra and Mood are both quite nice as well.

How does this compare to Samsung Messages? Will I loose any Samsung integration with their apps if I switch to Google Messages?

I was using Samsung messages until I kept having to enter my phone number every time I auto restarted my S20 FE, so I said stuff it I'm using Google messages and I won't switch back and have no regrets. Apart from not being able to use the chats features on Google messages, I think it's better than the Samsung default messages app.

Oops, ...Will I loose any Samsung...", loose means something not tight. Loose for lose is an all too common spelling error. Lose, loss, lost, and losing all have one letter o. Hope this helps you in the future and helps others as well.

Wow 😲 We were all completely lost until you showed up and saved the day... You're a real bonafide hero... I didn't know what to do with myself or which way to run... I was just trying to... to... understand... I mean, lose... loose... It's all so hard to understand!! 😭 Man... Thank you, man... you saved all of our lives 🙏

My main concern is my private texts going through Google servers.
E2E encryption my butt, I dont trust Google for one second.
I fear they will be snooping on every single message going through their servers.
All about making money off us.

I honestly don't care that Google if Google reads my messages, I haven't got anything to hide and neither do most people, if you're paranoid about your privacy, use Signal or Telegram I think both are crap and prefer WhatsApp which has more features and again, I don't have anything to hide so I'm not as concerned about my privacy like most people and WhatsApp is encrypted so even Facebook can't read your messages.

Exactly, I totally agree. Who am I that Google desperately wants to read my messages? I'm pretty sure they don't give a crap about me..Maybe if I was Elon Musk but seriously come on guys! Google is a multi-billion dollar company, they don't care about me.

So who do you trust? Google messenger is encrypted from end to end.

It's the only thing I've used right out of the box.

I use Google Messages & will continue to do so. It is the best messaging app on Android. Samsung Messages just doesn't have the features I would like. But right now Google is doing everything right. Continue updating & improving....

The only feature I would like to see is having the ability to copy multiple texts or pictures in a text messaging thread to share to another person or group. I am only able to copy and share one text or picture at a time using Google Messages.

Still disappointed by the poor integration between Google Messages and Google Voice.

I am not in the U.S, but google messages was default on my phone and to be honest I am not that impressed with it, I used to have a Huawei pone and the SMS message app n that was far better than google messages. Sadly, when I changed to an Oppo phone the app would not transfer over and while I tried to google messages I was not that impressed with it. My provider don't support RCS, so I would have to go through google servers and to have access to that and to be honest i really would not want to do that, and also I really see no point in RCs for me anyway. There was talk about Textra supporting RCS a couple of years ago, not sure if that is via the provider only or also via google. i would turn it off anyway,

I didn't use it before, so why would I? I don't use any kind of messaging service on my phone. I rarely even use it for phone calls. I prefer emails.

I can't leave Samsung messages for the simple fact the link built in feature to send original quality pics and videos to others like ppl with iPhones.... Number 1 feature

I use NextSMS and it is a plenty robust. Plus the developers are always evolving the product to keep it competitive.

Probably not, I'm stuck with WhatsApp because everyone in my work group uses it. I miss the days of bbm somewhat. Not feature wise (WhatsApp rn has a lot of those going on), but privacy wise.

How will this affect samsung phones come 2022?

I've been using it for years now.

I've had RCS issues where messages don't send. Using an Unlocked Note 9 on Metro.
Android Central Newsletter
Get instant access to breaking news, the hottest reviews, great deals and helpful tips
Thank you for signing up to Android Central. You will receive a verification email shortly.
There was a problem. Please refresh the page and try again.