6 tips for getting your family to switch to another messaging app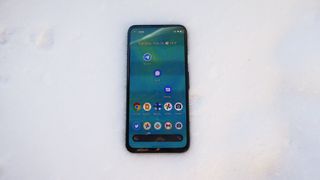 (Image credit: Jeramy Johnson / Android Central)
In these locked-down, pandemic times, it's more important than ever to maintain relationships with our loved ones by any means necessary, especially through our technology. Some of us do this by calling, others by video chatting, and still others through social media. However, I'd wager that all of us are using one or more of the best messaging apps as much as anything else to keep in touch with each other. Whether one-to-one or in groups, the popularity of messaging apps has never been greater.
You may have heard a lot of people talking about Facebook's plans to track more user information in WhatsApp, or been upset or confused by the lack of privacy features in SMS or other messaging apps. All of this commotion and controversy might have even convinced you to ditch WhatsApp and Messenger for alternative options like Signal or Telegram. If you've switched to one of these platforms, you might be enjoying the service but wish that you had more of your contacts to talk to. After all, if millions of people are there, where are your friends and family?
For most people, a messaging app is only as good as the contacts on it. No matter how strong the end-to-end encryption is or how many fancy features an app has, it is tough to break the inertia of using something that is familiar, comfortable, and used by practically everyone in your social and professional circles. If you're having a hard time getting your contacts to move over, here are some strategies that I've had varying degrees of success with in trying to convince my friends and family to switch to another messaging app like Signal or Telegram.
1. Gently app-shame them
Remind your friends and family that not all messaging apps are created equal, especially regarding privacy and security. Educate them about how SMS is not secure at all and that even apps with end-to-end encryption like WhatsApp still share tons of personal data with their parent companies. Facebook's plans for WhatsApp include collecting a treasure trove of personally identifiable and anonymous information, like your profile name and photo, IP address, contacts list, diagnostics from other apps on your phone, and even more. Once your friends and family hear this, they too may start to have second thoughts.
Your loved ones may protest, saying that they "have nothing to hide" when it comes to privacy and security, but I encourage you to remain steadfast with them and remind them that's not the point. These large, multinational tech companies don't need nor deserve as much data as they take from us. That is the point. Admittedly, this particular tactic may backfire on you because it's very nuanced and can be complicated to communicate. Nevertheless, it's also the most logical argument that you can make.
2. Show them the fun stuff
Most messaging apps these days have customization features that let you personalize your app or specific chats, and these fun bonuses may be just one reason why your loved ones are reluctant to switch. The good news is that some of the most private, secure, and independent messaging apps also have tons of customization options. In some cases, they are even easier to personalize.
For example, Telegram has tons of great stickers and GIFs included in its service, and it's easy to make your custom stickers! On top of that, Telegram lets you get really granular with how you theme your app, enabling you to apply various backgrounds, colors, and messaging effects.
Another fun thing about Telegram is the ability to join group channels, which can be on any number of topics and have as many as 200,000 subscribers. I currently belong to at least three such channels and get some great updates from them. In fact, a Telegram spokesperson reminded me that the company has a special channel called Telegram Tips that shares all kinds of fun features and security updates with subscribers. With tools like these, who needs a regular social network?
Not to be left out, Signal also gives you the ability to add custom stickers and modify your chat background and wallpaper. The Signal versions are not as dynamic nor customizable as on Telegram. Still, they go a long way towards turning a new and unfamiliar app into a more welcome and inviting space.
3. Remind them how many social apps they currently use
Stop me if you've heard this one before: "I don't want to bother with downloading another messaging app on my phone. I have too many apps already."
One of the biggest objections that I get from friends and family when I ask them to switch messaging apps is that they already have too many on their phones. Too many!? C'mon!?
One of my friends has Facebook, Instagram, Snapchat, TikTok, WhatsApp, Messenger, YouTube, Discord, Zoom, Slack, LinkedIn, Reddit, Tinder, Bumble, Houseparty, and Tumblr. And they check all of these apps on a regular basis. Honestly, if you're going to have 8-10 other social and messaging apps on your phone, is it really that big of a deal to have one more? You'd be surprised how effective it is to turn that particular objection back on your friends to get them to download something like Signal or Telegram. And once they've done so and started getting messages from you, they're much more likely to start using it regularly themselves. At least, that's been my experience so far.
This tip is somewhat complementary with the app shaming advice, but it doesn't make your loved ones feel like they have to give anything up in switching to a new messaging app. For me and many like me, messaging apps have largely replaced many of my social media apps to keep up with personal updates and share personal news. And while I personally have deleted my Facebook account and apps, most people haven't or can't. So my advice here is to simply remind your friends and family just how many social apps they already have on their phone and to think of a messaging app as just another social media app.
4. Show them where the app is available
Just like the other messaging apps that your friends and family may be comfortable on, apps like Telegram and Signal are widely available across various platforms. There are desktop clients for both Mac and Windows, and Telegram also has a Linux app. Both are easy to find on the Google Play or iOS App Store, and you can even use the Telegram Android app on your Chromebook.
Telegram works in such a way that you can be logged into multiple devices at once with the same number, and you can easily change your number if you change your device and move your chats and history with you. If you need to switch devices on Signal, you can use the same number, but you'll lose the previous device's activity, as there are no online backups for Signal. But that's not a bug, that's actually a safety feature. Speaking of safety, that brings us to our next argument...
5. Reinforce security features
We already talked briefly about how not all messaging apps have end-to-end encryption or security measures, and even some of those that do still leak way more personal data than they probably should. If that argument has gained any traction with your friends and family, drive the point home with some of the safety and privacy features of messaging apps like Telegram and Signal.
Both Telegram and Signal let you delete sent chats or send disappearing messages and media.
Signal gives you a handy screen security option so that others who may use your phone don't accidentally stumble upon private chats when switching apps and are unable to take screenshots from the app. Both apps also let you enable a PIN or biometric lock on the app to keep others out.
Telegram offers an easy way to hide your phone number from others you chat with, and Signal lets you blur faces in images you share to protect the identity and anonymity of others. And both services also offer two-factor authentication.
Both services allow you to delete your account and all of your data, and Telegram takes it one step further by letting you set a self-destruct timer on your account. If you don't use it after a certain period of time, it deletes everything automatically. That's some peace of mind!
And if all of that fails, show them this ad.
6. Show them how easy it is to move over
Now that you've hit them with one or more of the previous arguments, it's time to help them migrate on over from their current messaging app of choice to something like Signal or Telegram. We've put together a couple of easy-to-follow guides on how to transfer your WhatsApp messages to Telegram, and how to move your group chats from WhatsApp to Signal.
Once they've downloaded one of these apps, start messaging them exclusively on it. Don't forget to mention that the more people that join, the more they will see notifications in Telegram or Signal letting them know that so-and-so has joined the service, hopefully encouraging them to use and share the service even more.
And if all else fails, you can always refuse to provide tech support to them if they don't use your preferred messaging app!
Jeramy is proud to help *Keep Austin Weird* and loves hiking in the hill country of central Texas with a breakfast taco in each hand. When he's not writing about smart home gadgets and wearables, he's defending his relationship with his smart voice assistants to his family. You can follow him on Twitter at @jeramyutgw.
No mention of Telegram's iffy approach to encryption? Nice article, but do you really want to be "that friend"? Personally I don't. I'm not against switching, but there needs to be a better alternative to WhatsApp first: 1. WhatsApp has a global presence that far outreaches your friends/family. The amount of times it's saved me when abroad when Calling/SMS are so bloody expensive. If you think it's hard asking a friend to use a new messaging app, what about a stranger? 😂 2. Signal has no Cloud/Automatic Backup feature. I don't mean cloud sync just some kind of basic cloud backup. Utterly crucial for getting a new phone or if your phone is nicked. Add this and I'd be a lot more open to it. 3. Telegram effectively doesn't have Encryption (Secret Chats so aren't the same thing) / is full of sexbots / the Nearby feature is creepier than anything you get in WhatsApp. 4. Google Messages wit Google Chat (RCS): Google is adding encryption but it suffers from the same dead on arrival iMessage does: No Cross platform = No point. WhatsApp isn't ideal of course, but Signal, Telegram nor Google Messages sadly aren't the answer.

SMS for quick messages and discord does the job for chatting.

Last time I tried to get people to switch was allo. Look how well that turned out

WhatsApp is now trying to do anything in order to return the users or at least keep those who still use the app. It was known a long ago that Facebook scans all the information and stores it, which means it can be stolen. I was looking through the list of secured messengers and decided to try Utopia p2p. No matter is not wide known yet, I was attracted by the fact that it's based on its own blockchain and has the highest level of encryption. Anyway, if it won't suit me I'll switch to Signal which is highly promoted by Mask now or Telegram which most of users had chosen.
Android Central Newsletter
Thank you for signing up to Android Central. You will receive a verification email shortly.
There was a problem. Please refresh the page and try again.