WhatsApp delays Facebook data sharing policy, but the damage is already done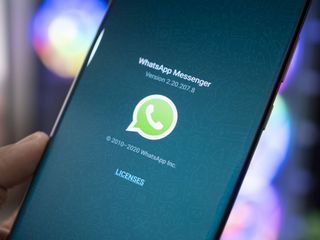 (Image credit: Harish Jonnalagadda / Android Central)
WhatsApp updated its privacy policy last week, with the platform noting that it would mandate sharing user data with Facebook. The move led to a mass exodus, with users flocking to Signal and Telegram.
Signal is actually down right now because of the influx of users making the switch from WhatsApp, and Telegram revealed that it picked up 25 million new users over the course of the last week.
To limit the damage even further, WhatsApp is now delaying the enforcement of the new privacy policy. The policy was meant to go into effect on February 8, and WhatsApp has now stated that the date has been pushed back to May 15.
In that time, WhatsApp says it will "clear up the misinformation" around how privacy and security works on its platform so that users have a better understanding of the data that will be shared with Facebook:
A lot of the issues that WhatsApp faced were of its own making. The platform offered little in the way of clarification around the Facebook data sharing policy, and it was only until there was a full-blown user backlash that WhatsApp actually responded and revealed what information would be shared. WhatsApp says it will not share your contacts with Facebook, nor can it access your location details.
A lot of users found out about WhatsApp's association with Facebook for the first time because of the policy change. I've received dozens of messages from friends and family asking for alternatives to the platform, and a lot of my contacts shifted en masse to Signal. The fact that you can easily move group chats to Signal makes things easier.
So even if WhatsApp isn't going to share user data with Facebook, it made a lot of users question their trust in the platform, and it will be a long road ahead to regain that trust. In a time when Facebook is trying to monetize WhatsApp by introducing business-focused features — which is what the new policy was all about — it may have instead prompted a mass exit.
Harish Jonnalagadda is a Senior Editor overseeing Asia at Android Central. He leads the site's coverage of Chinese phone brands, contributing to reviews, features, and buying guides. He also writes about storage servers, audio products, and the semiconductor industry. Contact him on Twitter at @chunkynerd.
I left whatsapp and won't be going back. I don't use messenger and I don't share my contacts with FB. They are slowly pushing IG users to share messages with FB. If they force it was on IG, I'll ditch IG as well.

If you still use Facebook services, you've missed the point.

I have been watching the Signal notifications for the last couple of weeks. I have been using it for a while and the number of folks in my contact list that have joined is over 20 in that timeframe.

Downloaded Signal and Telegram to see how realistic it be to switch.....0 - ZERO people I know on either app. Literally everyone I know or could ever need to know are still on WhatsApp and probably don't even know about the furore created on techsites. WhatsApp ain't going anywhere let's be honest

Yeah but with Signal you can also sms text to those that don't have signal. But tbh I don't know anyone that uses whatsapp anyway.

SMS in 2021 though! North American right?

I still use SMS for group messaging for a sports club I belong to. My bank uses SMS for 2FA. Not in the US.

I did the same with Signal. 5 contacts and 3 of those are friends but only 1 chat to reglarly. So pointless for me and I deleted the account. And it's not only this. It's super useful when you go abroad you can call anyone, call hotels to say you're running late without expensive SMS costs.

Yep totally. The fact so many businesses use it too, not just people make it a no go for switching

Facebook doesn't have my phone number, they don't have my address, they don't have my contacts, there are no apps associated with them, I have no accounts on any other site that is a part of FB such as IG, and I refuse to use a FB login for other sites that aren't yet owned by them (that's the really scary one!) If you ever thought Google was invasive, they're not nearly as bad as FB has gotten and with every company FB eats up, they become an even bigger monopoly. Big brother is watching and only getting bigger...

If you still use Facebook services, you've missed the point.

They're just hoping the news will have gone quiet by May.
Android Central Newsletter
Thank you for signing up to Android Central. You will receive a verification email shortly.
There was a problem. Please refresh the page and try again.