Where to buy a USB-C cable to use your Nexus 6P or Nexus 5X with an existing charger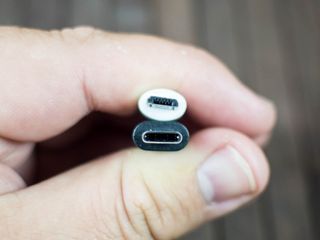 The Nexus 5X and Nexus 6P each is equipped with a USB Type-C connector, and that means the cables and accessories you have now (that have a micro USB connector) aren't going to fit in the plug.
The new Nexus phones also have their own method of quick charging, which tosses yet another variable into the mix.
You can still use the chargers you have now, whether they be at home, in the car or a regular old computer port. You just need a new cable or an adapter.
We still need to test a few things. The quick-charge system on the new Nexus 5X and Nexus 6P works a little different, and draws more current (3 amps) than a standard charger or a Qualcomm quick charger. Some cables (especially long ones) may not be rated for 3 amps, and there are safety issues to be considered. Hopefully, Google's system sorts these automatically and everything is fine. In the meantime: If you're concerned with safety, and unsure of what you should buy, use the supplied cable or a replacement of the same type.
However, all our old chargers, and charging from a laptop, will need new cables or an adapter. This is a little messy, but it's part of tech moving forward. And remember, your existing quick chargers and Turbo chargers will not charge your new Nexus at the same rate they do with other phones using Qualcomm's tech inside. For fast charging on a Nexus 5X or nexus 6P, you need to use a charger designed for use with Google's methods.
That's all the hard stuff. The easy stuff is finding new cables and adapters so that you can use your existing chargers if you would like. We've listed a few good options below, and be sure to holler in the comments if you've found something we all need to know about.
Connecting your Nexus to a "regular" USB device
If you have a USB connection on your computer or car charger, you'll need a USB-C to USB-A cable. These range in price, depending upon the size of the cable. The Nexus 6P comes with a short USB-C to USB-A cable. Nexus 5X owners aren't so lucky. If you plan on doing any media transfers, you'll need one of these cables. You can grab a 3.3 foot cable for around $9 from Amazon.
$9 from Amazon (opens in new tab)
If you are looking for a longer cable, you should checkout the iOrange-E 6.6 foot braided USB-C to USB-A. These start at $13.50 for the gold braided cable. Not only are these longer, they should be more durable and last longer than standard cables.
From $13.50 at Amazon (opens in new tab)
If you have a USB 3.0 port on your computer and want faster transfer speeds, iOrange also makes a nice braided USB 3.0 USB-A to USB-C cable, that provides up to 10 Gbps transfer rates. That's up to 20X faster than USB 2.0.
$12.99 at Amazon (opens in new tab)
What you'll need to use your existing microUSB cables
Finally, if you want to make use of your existing standard microUSB cables, you'll want to pick up a microUSB to USB-C adapter.
$9 at Amazon (opens in new tab)
Senior Editor — Google Ecosystem
Jerry is an amateur woodworker and struggling shade tree mechanic. There's nothing he can't take apart, but many things he can't reassemble. You'll find him writing and speaking his loud opinion on Android Central and occasionally on Twitter.
For brick and mortar stores: Micro Center has them. Mostly stocked in the apple dept, but also some in the main part of the store.
If you are lucky enough to have one in your market i recommend it.
6 footer is only $13 there.

Every one of those is too much money.

Actually the OnePlus cables aren't that bad and seem like a decent design. I know I looked a day or two ago and they weren't in stock but they are there now. I laughed at this on the site though: "a patented feature that is 100% exclusive to OnePlus. If only everything were this easy." Well, uh maybe if you didn't patent and block others maybe they could be that way, think of that?

Check eBay. I got a 2 metre cable which seems like it's decent quality for about 3 or 4 quid, and a couple of micro USB to USB-C dappers for 99p a piece. Posted via the Android Central App

Definitely a little more expensive than your average MicroUSB cable, but remember that USB-C is just now catching on — it'll take some time before everyone is shifted over and the prices come down. Right now, buying some cables for $5-15 isn't that bad. Don't need to replace every one of your cables at once.

I grabbed a 4 pack of Orzly cables off Amazon for fifteen quid. Hopefully they don't suck.

http://www.amazon.co.uk/gp/product/B013RMG5WY?psc=1&redirect=true&ref_=o...

US site has the same thing for $20
http://www.amazon.com/Multi-Colour-OnePlus-Supported-Smartphones-Tablets...

What? No Monster Cables? Posted via the Android Central App

We shy away from the $70 gold cables around here.

Maybe the Tronsmart 2.0 quick charge will work with an adapter Posted via the Android Central App

I just bought 2 of them. Spend $35.00 to find out that amps are below. Nexus 6p requires 15w 5v 3A. Search for OPSO 15W 3A NOT shure if its DEDICATED or Shared power by dual USB-A.

What about the USB cables from the google store itself? Their USB Type-A to Type-C is reasonable ($12.99), although the C to C is a bit pricey ($19.99). Additionally, it's guaranteed to meet whatever spec might exist since it's coming from google itself.

They're out of stock, and I actually haven't seen them come in stock since being put up on the Google Store. If they come in, they'll be on this list.

It says leaves the warehouse in 1 to 2 days for me. https://www.androidcentral.com/e?link=https2F2F...

Yup, I see where they are in the store. But they show out of stock :P

Oh weird. I have two type a to c on the way right now, it didn't occur to me that they'd be out of stock. My bad :) Posted via the Android Central App

They were out of stock earlier this afternoon, but are back in stock. I just ordered one for myself!

Cables are great, but how about chargers that are capable of spitting out 5V @ 3A? Is there anything out there besides Google and Apple? They're quite pricey.

Nope, there really aren't that many, since as we note here most cables aren't rated for 3A — most "fast" chargers were 5V / 2.1A at most, and the Quick Charge spec is lower amperage with higher voltage instead (usually 9V / 1.67A).

My QC2.0 chargers make my Nexus 5X display "charging rapidly", but only with one of the two brands of type a to c cables I got.

I'm sort of thinking I don't really want to fast charge the phone every single time I charge it, seems like it's a bit harsh and may impact the overall lifespan. Far as I'm concerned it has eight hours to charge while I'm sleeping. So I plan to reuse my old chargers, they are mostly around 2.2A anyway.

Those are my thoughts. I want quick charge in my car, and maybe the office. I always like to use the OEM charger bedside just because I feel like it's the best and my phone is going to spend most of it's charging life on that.

The Tronsmart QC 3.0 charger will do 5V/3AMP
Unfortunately it's out of stock right now but I'm sure it will be back soon.
Latest Quick Charge 3.0 Wall Charger USB Charger 27% Faster Charging Speed Compare to Quick Charge 2.0 Backward Compatible https://www.amazon.com/dp/B015ZJKWFS/ref=cm_sw_r_other_awd_2n.jwb8MA2CZ6... Posted via the Android Central App

Yup the Quick Charge 3.0 spec does offer a wider range of volts and amps that charger makers can use, including up to 6.5V / 3A. We just don't know how those chargers will interact with the Nexus phones yet. Quick Charge specifically calls for tech inside the phone as well to receive that much power, so we don't know how much the charger will "give" the Nexuses.

Yeah, I'm hoping it works out, I ordered one based off I believe Droid Life saying when they plugged the 6p into one it show Charging Rapidly, but I'm not sure the actual volts and amps that were going to the phone. Posted via the Android Central App

This one has the output for Nexus 6P and is dual USB-A http://shop.powerocksusa.com/collections/all/products/dual-usb-wall-charger

I contacted Tronsmart directly via email about the Amazon out of stack QC3.0 Hello, It seems something wrong with Amazon. We still have some inventory about the QC 3.0 wall chargers. Please pay attention to it at amazon. Tronsmart Team

Qi Wireless charging would be really handy!

There must be some QI stickers with USB-C connectors coming out soon.

The monoprice cable is USB 2.0 (That link up there says 3.1) and looks exactly like the cable Google is selling. Even the plastic pieces used to wrap the cable look the same.

Oh, hm ... they did have both 2.0 and 3.1 ... Gotta get that cleared up.

It's weird because the cable is under the USB 3.1 category but the title of the cable is USB 2.0.

Just bought mine though the Huawei store wondering how long it will take to receive it new to nexus phone coming from note 5 can't wait. What will I need to charge it in my car?
Thanks for all the help.

$9.99 for TWO adapters at Amazon. My 5X doesn't arrive until tomorrow so I haven't tested them yet, but I got these adapters a week or so ago and they look legit. I like the fact that they're small and aren't really an extra cable to keep track of- just plug them into your existing cables and you're done. Link here:
(Add WWW and Amazon . com to front - did it this way cuz it was flagging me as spam) /gp/aw/d/B012YOZ3YM/ref=ya_aw_oh_bia_dp?ie=UTF8&psc=1

Update: these small adapters are USB C male on one end (which can go directly into your Nexus 5X or 6P) and USB A female on the other. That allows you to plug in full size USB A cables into it. But it does NOT help with USB micro or many of the standard car chargers we've all had for years. I just wanted to clarify. Good product for particular uses, but not for everyone. Many might not even need this, and most of us will need to get USB C male to USB A micro female adapters; others posting here have provided a few good ones of those already. I bought the Nexus 5 2013 the day it came out and have been fully invested in Qi charging from day 1, but honestly the larger battery and faster charging times for my new 5X have far outweighed the convenience of wireless charging. A tradeoff, yes, but I think they made the right choice. Maybe by the next generation we can have the best of both worlds?? Until then I'm happy. Cheers!

Google has c to c in stock again ... The small premium is worth the convenience imo

Will a Samsung charger work with a Usb-c cable? I'm sure it wont charge as quickly,but will it blow up anything?

CORRECTION! It isn't "Googles Methods" of charging......they are utilizing the USB Power Delivery standard from the USB-IF group who established the standard.

Additionally, they didn't disable QC 2.0 support it seems. I have a bunch of Aukey QC 2.0 chargers and bought a bunch of type A to C cables to be able to use them. My Nexus 5X says "charging rapidly" when I use them, but only with the 3ft "Cable Matters" cables I got from Amazon. A Qualcomm engineer on a Arstechnica thread says QC 2.0 will work, its just not being promoted as the way to charge, perhaps due to licensing on the chargers or they favor standards.

I just ended up buying two more chargers from Google today.

This one's the best that I found:
Inateck Type C Male to Type A Male Data Cable for Nexus 6P, Nexus 5X, Pixel C, Lumia 950/ 950XL, Apple New Macbook 12 Inch, Nokia N1, Chromebook Pixel 2015 and Other Type-C Supported Devices (3.3ft)
Supports USB 3.0, 2.0, and 1.0. https://www.amazon.com/dp/B014GU2ITK/ref=cm_sw_r_other_awd_rofkwbHF30D6C... Posted via my Nexus 5X

My car charger adapter has a USB port on it so I'm just planning to plug in the USB side into that and then the C side into my phone. I'm hoping that everything works fine to charge it in the car that way. Posted via my Nexus 5X

http://rover.ebay.com/rover/1/711-53200-19255-0/1?ff3=4&pub=5575095911&t... you can get 10 usb-b to usb-c adapters for $10 on ebay.

This says Quick Charge 3.0 but has micro usb cable http://www.amazon.com/Qualcomm-Certified-Aukey-Charger-Included/dp/B015F... Google Store still Out Of Stock with the Type C to USB A male cable
It does not specify the speed rating
https://www.androidcentral.com/e?link=https2F2F... The Google Type C to Type C cable is short and states USB 2.0 speed
https://www.androidcentral.com/e?link=https2F2F...

http://www.amazon.com/Cable-MattersAE-Type-USB-C-White/dp/B00YQFMWK6... First search on Amazon. You need a fucking article for this?

Did you read the article? The link you posted is for a USB-A to USB-C cable. The article is about chargers. Not cables.

I ordered 2 micro usb to usb c adapters from Aliexpress for less than $5 with free shipping. And usb a to usb c cables from Oneplus.

This article still confuses me a bit. It states you can still use the chargers that you have, you'll just need a new cable or adapter. Does the simple fact that the cable delivers 3 amps that it's fine? Also, as long as you plug in a combination of wall plug, cable, or adapter and the phone physically reads "quick charge" then it's working, right? I found in the car that this plug and cable seem to deliver a quick charge. At least that's what the phone says!
http://www.amazon.com/gp/product/B014LD40MK?psc=1&redirect=true&ref_=oh_...
http://www.amazon.com/gp/product/B00VHV0SAS?psc=1&redirect=true&ref_=oh_...

So I'm not able to buy a longer cable to plug into the charger? Or I just have to make sure it's compatible?

It should be noted that neither the Nexus 5x nor 6p support USB 3.1, and both have USB 2.0 data ports through the USB-C. So spending money on USB 3.1 cables is silly right now, unless you don't want to buy new cables in 2 years when they finally figure out better data speeds.

Just got my Nexus 6P. So to be clear, I can use my old chargers as long as I have a proper cable from Google or whoever? Posted via the Android Central App

I am searching high and low for a complete type-c charger package type-c to type-c 3a for my Nexus 5X. I came across this one on amazon B017BVLLC6, did anyone tried this one yet? if so please advise.

https://usbccompliant.com is a good resource if you're looking for fully usb-c compliant cables. They list approved cables based on reviews from an Engineer at Google.

I have a 6P and using the wall charger that was included with the phone. The wall charger stopped working so I contacted Google store. They told me they would have to send me out an entirely new phone new charger cables everything. They told me I could keep the old phone long enough to transfer the apps and data that I had. That seemed over the top but hey I was getting a new phone also.
The helpful attendant told me I would get an email with instructions on requesting the replacement. When I receive the email I was shocked to find out that I would have a hold put on my account to the tune of $570 until I returned my old phone.
I don't use credit cards so this is my bank card and I can't afford to have $570 out of my account for the time it takes me to get their phone do the replacement and send it back. That could be 2 to 3 weeks easy.
I'm not at all happy and feel my only recourse is to buy another wall charger out of my own pocket. They will not just send me a new wall charger. Very dissatisfied!

OK's stupid question, does USB C only come in one size? I mean no 'micro' size c ports...
Android Central Newsletter
Thank you for signing up to Android Central. You will receive a verification email shortly.
There was a problem. Please refresh the page and try again.