Which Galaxy S9 color should I buy: Black, purple, blue, gray or gold?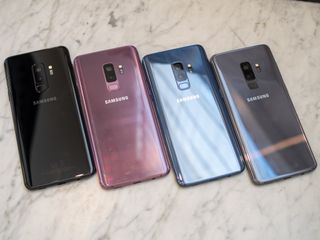 Image 1 of 5
The Galaxy S9 and S9+ have very subtle design differences compared to the Galaxy S8 and S8+, but one clear way to recognize them at a glance are their new colors. Midnight Black, Lilac Purple, Coral Blue, Titanium Gray and Sunrise Gold are the color options, and aside from black they're all fresh hues we haven't seen before.
Here's a good look at all five colors, and some information on what you can expect from each one so you can make an informed decision when you go to order.
Galaxy S9 in Midnight Black
Image 1 of 5
Samsung's been doing Midnight Black phones for a few years now, and the Galaxy S9's version is no different. This is a solid black color with no real extra shine or glimmer to it. The metal frame is now more of a gray color on account of its texturing, which differs from the high-gloss black finish on the Galaxy S8. It's very similar to the black Galaxy S7, in fact.
Who is it for?
If you want to play it safe, go for the Midnight Black color. It hides scratches better than the other lighter colors, and you won't be attracting any unwanted attention to your phone. If you plan on just putting a case on your phone anyway, black is probably the easiest color to re-sell later on when you're done with the phone.
Galaxy S9 in Lilac Purple
Image 1 of 5
Lilac Purple is a brand new color for Samsung, and it kind of picks up where Orchid Gray left off in the Galaxy S8. It's far more reflective and has a deeper color to it that's more susceptible to changing its look in various lighting conditions, which means it will range from a deep purple (in dark lighting) to almost a grayish pink color (in bright light). The metal frame is a dull purple or pink, depending on the light. Of all four colors, Lilac Purple stands out the most — partially because there just aren't many purple phones out there, but also on account of its reflectivity and pink accents.
Who is it for?
If you're looking for a stand-out phone that'll get noticed and never be confused for anyone else's at the dinner table, Lilac Purple is the color for you. It's a good bet that even among Galaxy S9 and S9+ owners that Lilac Purple will be the lowest-selling variety, so you have the best shot at staying unique for a while when you choose it.
Galaxy S9 in Coral Blue
Image 1 of 5
Having a name like Coral Blue is a bit of a misnomer — this isn't anything like Samsung's previous blues, but more of a powder blue instead. I'd consider it a gray-based phone with some blue to it when you get it in bright lighting. When it's in darker areas, you can't tell it apart from the Titanium Gray model. The metal frame is a little bit of a giveaway with its soft blue shade, but even then it still doesn't substantially stand out. It still has some of that reflectivity that Lilac Purple does, and that's really the only time that it shows off a lot of its blue tendencies.
Who is it for?
Coral Blue is a great balance between the simple Midnight Black and the overtly bright Lilac Purple. Most of the time it's quite simple and sleek looking, but in the right light it can show off its reflections and look far more blue. Coral Blue is a handsome, sophisticated color that you can't go wrong with.
Galaxy S9 in Titanium Gray
Image 1 of 2
Titanium Gray is a simple color, without much of the color-shifting tendencies seen in Lilac Purple and Coral Blue. It's just gray, and when you get it in brighter or darker lighting, it just looks a bit closer to white and a bit closer to black. In the right lighting, it'll look identical to Coral Blue. The metal frame is just a pure gray that looks like the most natural metal color, giving it more of an industrial look than the other three.
Who is it for?
Titanium Gray won't be available in the U.S., so strike it off of your list if you're buying it there. But if you have the choice, give it a look if you don't want Midnight Black but aren't interested in the shimmering color-changing feature of Lilac Purple or Coral Blue. Gray will always be gray no matter what, and if that sounds like a safe bet then you should go for it.
Galaxy S9 in Sunrise Gold
Image 1 of 3
A few months after launch, Samsung rolled out a new color to the U.S.: Sunrise Gold. This is hardly Samsung's first gold-colored phone, but the company is making it clear that this is different from the golds of the past. Samsung's goal with Sunrise Gold was to give it more of a matte sheen around the entire phone, glass included, whereas the other colors still rely on a high gloss shine for their glass back.
Who is it for?
Well, Sunrise Gold is for someone who wants a classy phone and likes the idea of having something slightly more exclusive. The Sunrise Gold color option is available for both the Galaxy S9 and S9+, but it's only available from Best Buy and Samsung.com. Pair that limited retail availability with the fact that it launched months later, and you just won't see that many Sunrise Gold Galaxy S9s around — you'll be unique.
Regional differences matter (a little less this time)
As ever, not all regions are getting the same colors of the Galaxy S9 and S9+. In the U.S., we have access to three colors: black, purple and blue. As far as individual U.S. carriers go, most are offering all three colors of both sizes of the phone — but depending on which store you go to or whether you order online, stock may be limited.
Unfortunately, Titanium Gray is only for international markets. Around the world, you can expect two or three colors offered depending on the individual country (and carrier) you're buying in. And of course this can change over time as exclusivity deals run out and new ones are made — and there's a good chance Samsung will end up changing its color strategy over the course of the year.
Get the Android Central Newsletter
Instant access to breaking news, the hottest reviews, great deals and helpful tips.
Andrew was an Executive Editor, U.S. at Android Central between 2012 and 2020.