LG G3 gets a minor update from Verizon, adds a new Bluetooth button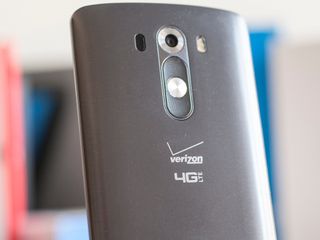 (Image credit: Android Central)
Verizon is currently rolling out an update for the network's LG G3. While it appears to be only a minor release, we're looking at a new Bluetooth button to switch between outputs during a call, some HD voice options and other improvements.
Here's the list of what has been added in this latest update, according to the Verizon PDF:
Provide Native "Interruptions" feature while maintaining LG UI component & label style.
On-going notification is provided when the device is either set to No interruptions or Priority Only.
Interruptions menu is added under the Quick settings
After a user is provisioned for Advanced Calling, HD Voice and Video calling options will be provided under Advanced Calling setting.
If the user is not subscribed for LTE Video Calling, Video calling option will be given as disabled.
Be sure to manually check for new releases on your phone. Have you received the update on your Verizon G3? Let us know in the comments.
Discuss the latest update over on the Android Central forum
Source: Verizon (opens in new tab)
Did they fix notifications while on WiFi? If not, I'll stay rooted and pass

Have you tried downloading DNSet? Evidently the WiFi problems persist because Lollipop doesn't work well with routers that use an IPV6 gateway, the app forces the phone to use IPV4 again, I had the same problems and the app fixed it completely.

Okay I'm trying this now because I hate the fact my emails stop coming in while on WiFi.

Let me know if it works, I'm hoping it works for everyone, can't believe no Verizon or LG rep could have suggested this the hundred times I tried to get answers from either one.

I'm on Verizon and have had the WiFi notifications bug affect me. I've been using DNSet for a couple weeks now and it has been great. I love hearing my notifications again while connected to WiFi.

I was thinking of trying DNSet but I was reading comments that it breaks your SMS. Is this true ?

I never had any problems with SMS while using DNSet, but the update I received last week fixed my notifications issue. Also beware, read @matty032 's comment below, I was not aware of this.

I think this update fixes the bug!!! Just tried it myself.

@smitts I agree 100% I actually liked the phone stock but running google launcher, but that wifi thing was driving me nuts cuz I'm on wifi most of the time. CM is running really good for me right now.

@ccskimmer04 Have you given DNSet a try? Fixed the WiFi bug for me

Yeah this is the first I have heard of this thru all the BS thrown around for this bug. This is a perfect example of what having the best network gets you. I have a Google Fi invite but don't think I can leave the coverage of verizon just yet (I travel a lot for work)

@johnswanson5 your comments above are the first time i've ever heard of that and since I'm rooted (and pretty happy) I wouldn't be able to try it now. I wish I would have known that before and I would have definitely tried. Maybe I'll convince my girlfriend to update her G3 and try it out.

My g3 on AT&T is bad with the lollipop update on Wi-Fi, will try the DNSet, thanks. LG doesn't seem to like to keep their phones updated, as we have no word of 5.1.1, which has all that lollipop bug fixes. They talk about M, but that is a long way off. Will never buy LG again except as a Nexus device. Looks like I will be rooting this phone. Has anyone found a great Rom for it?

I just updated my Verizon LG G3 and I received notifications from an app that wasn't working before on Wifi. I'm hoping that they finally fixed it.

Yeah! It baffles me that Verizon and LG have not fixed this yet or have pushed an update to get all the lollipop fixes out to us yet. It's such an awesome phone that was somewhat crippled by the lollipop update and lack of support by both the carrier and manufacture :( and here I was thinking about getting the G4 but I'm staying away from the Verizon variant cause they keep removing features from all of their phones.

So far so good, seems like the wi-fi is stable and notifications are working again, will see about battery life, no factory re-set just cleared app cache and battery pull

24b fixes the WiFi sync bug. I wouldn't recommend using DNSset. It routes your data through an unknown VPN connection. You don't know who might be looking at your data

I have the Lg g2, which took a dive in the river last week end. I'm on the process of buying a new phone but since I have unlimited data I have to get the phones at full retail. I'll be getting the phone on CL or Ebay, and looks like it is a 200 dollar difference betwen the G3 and G4. Would you guys still recomend the G3? I have read there is lag, is it true? Main reason why I'm looking for a lg is because of the camera. Is the camera really that good?

I would get the G4 personally. It has a much brighter screen, better camera and on the whole it's a great package. There are also the LG promotions which give you a free spare battery and battery charging cradle along with a free leather back of your choice of colour http://m.lg.com/us/mobile-phones/g4/cover-promo Posted via the Android Central App

I would get the G4, much better package on the whole and worth the difference easily. You get a much brighter screen, better cameras, software is better on the whole and also the following promo with spare battery, battery charging cradle and leather back of your own choice. You do have to get the phone from Verizon or Best Buy. I believe Best Buy gives a $100 gift card when you get it and I would try applying that on your order to reduce the full retail price and make it easier to stomach http://m.lg.com/us/mobile-phones/g4/cover-promo Posted via the Android Central App
Android Central Newsletter
Get the best of Android Central in in your inbox, every day!
Thank you for signing up to Android Central. You will receive a verification email shortly.
There was a problem. Please refresh the page and try again.