How to handle wireless charging in big phones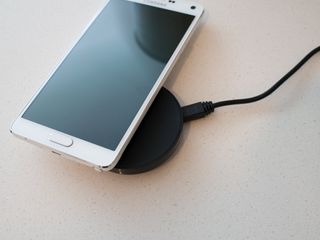 We might as well call facts facts; big smartphones aren't going anywhere anytime soon. If anything, our mobile devices are going to continue to push the envelope. For the most part, the people who enjoy these devices can all agree it's a good thing. There are a couple of situations, however, where having a big phone can present unique challenges. A perfect example is wireless charging, which seems like it would be easier with a larger phone but more often than not means you have to be unreasonably specific about how your phone sits on whatever platter you've purchased.
In a perfect world these devices would all have guiding magnets to make things easier — RIP Nexus 5 — but since that doesn't happen we've got some quick tips on making wireless charging a little easier.
Ultimately, everything about wireless charging comes down to the coil in your phone lining up with the coil on your charging platter. It sounds simple, but if the coil isn't centered on your phone and your platter is one of the smaller models, a casual bump can accidentally cause the weight to shift just enough that your phone is no longer charging. Even more frustrating — especially for Nexus 6 owners — is what happens when a curved coil and a flat coil need to be extra precise to line up, only to have this weight imbalance issue mess things up while you're asleep or something. All of a sudden this convenient charging method becomes a lot more trouble than it is worth.
There are two solutions to consider. You can either go with charging platters that act more like a cradle to hold your phone in place, or you can make sure you are only buying charging platters with multiple coil arrangements in them. As nice as the mini wireless charging pads (opens in new tab) and circular Qi platters (opens in new tab) look on a table, especially when not in use, you're just asking for trouble by putting a larger phone on them. Dish-shaped chargers (opens in new tab) aren't usually as discreet or attractive, but the design keeps your phone in place and gets the job done.
The multi-coil chargers, even if you don't have a big phone, are by far the best when it comes to effortless wireless charging. These chargers are designed to support multiple device sizes by arranging several coils on top of one another to ensure that at least one coil is making the connection and charging. One of the best in this category is the Tylt Vu charger (opens in new tab), which has a coil layout on a slanted dock that will charge both horizontally and vertically, and supports everything from the Moto 360 up to the Nexus 7. If you're not a fan of the bulky design Tylt has implemented here, the Choe Stadium (opens in new tab) is a great flat alternative with three coils inside.
Wireless charging in the home is still one of those things that is only as convenient as you make it, which unfortunately will always mean making sure you're buying the right accessories by doing the research and testing for yourself when you can. Folks with big phones aren't likely to enjoy most of the super cheap wireless charging offerings anytime soon, but with the right purchase you can make sure your wireless chargers last you quite a while.
Android Central Newsletter
Get instant access to breaking news, the hottest reviews, great deals and helpful tips
The TYLT is great. I don't have to fiddle my phone around to get a "connection" like I do with the puck chargers. I have one at home and in the office. Works perfectly with my LG G3, Galaxy S6 and Nexus 7.

TYLT is the Name Brand version. Try rebranded. Works through Incipio's Dual Pro cases. http://www.amazon.com/gp/aw/d/B00S7IBDGW/ref=pd_aw_sim_107_3?refRID=0FNS... LG G2
GSIII
Galaxy Note 4
(The Sprint Lover)

A lot of 5 star reviews from people who haven't bought the device, and a lot of 1 star "verified purchase" reviews- I think I'll buy a different brand.

I have two of them, and they work great with my G3.

I bought 2 of these. My kids complained of a high pitch noise coming from the base of the charger. Switched back to Tylt, no noise. Tylt is more expensive, but I think they are worth it.

How is the nexus 6 charging when using the nexus charger that came out with the 5. does it work ok or will I have the issues described above?

Are you referring to the square charger? If so, it doesn't seem to work through a case, but the Orb (which came with the N4) does work even with a case.

Yes the square one. I wasn't going to get a case anyway. Is there any magnetic hold at all on the 6?

I've been using this small square charger on my Nexus 6 without issue since day one. It's pretty easy to place, I place it sideways, diagonal, straight, it's pretty easy to line up. The curve isn't "that extreme" as it's purported to be. Once your common sense realizes that its coil is obviously placed in the widest part and middle of the Nexus 6, (like any phone with built in wireless is usually placed) it's pretty easy to place properly. I even do it in the dark as it's right on my night stand. The coil is placed below the M and above the bottom of the phone in the center. It's not a very big space to have to explore. http://www.amazon.com/dp/B00PY1YBA0/ref=cm_sw_r_udp_awd_UGGEvbMA3608E?ta...

You will be fiddling around to find the sweet spot with the Nexus 5 charger on the n6. I love wireless charging sad that charger doesn't work for this phone Posted via the Android Central App

Oh yeah- I guess that does suck that it doesn't work with it. I never got to test it as I sold my last Nexus with the wireless charger. Dude. What if the word "NEWS" on the AC widget actually linked to the news page? #nopecuzthatwouldbecrazy.

I still have to set my Note 4 just perfectly to work in the TYLT. I think I'm over wireless charging for now. Posted via the Android Central App

That's weird. My wife's Note 4 isn't picky at all. She uses one of the cheap $9 cards rather than the official back plate though.

The Tylt Vu? Very strange. I've never had a problem with it using either my Nexus 6 or my Note 4. Posted from my Nexus 6 Android Central app

I have both the flip and the normal wireless back with my Note 4. The flip cover works everytime with the Tylt no matter what direction I put it. The normal cover has to sit just so in order to work and still will randomly disconnect. Posted via the Android Central App

Got any suggestions on a Qi charger for a Turbo? Posted via the Android Central App

I have that Choe charger mentioned. It works great with my BN turbo, even with the seidio surface case on it. Posted via the Android Central App

I've been using Verizon's wireless charger for my Droid Turbo for about 2 months. No problem with Otterbox Defender case. Works great. https://www.androidcentral.com/e?link=https2F2F... Posted Turbo-Fast from 64GB Droid Turbo

$60 for the privilege of putting another Verizon logo in your house? LG G2
GSIII
Galaxy Note 4
(The Sprint Lover)

I use the PowerBot PB1020 with my S6 Edge and it works fine. Only cost 12 bucks and change. It's a little finicky but again, it's 12 bucks. Posted via the Android Central App

I have 3 of the PB1020's as well. I made a wood holder for one that I can just set my Nexus 6 in and everything is aligned correctly. I made another wood holder that my gf can set her nexus 7 in also not possible to mis-align. The 3rd I 3D printed a car dock holder for that works perfectly in my truck.

Those Powerbot Pucks are faulty.... I thought I was buying bad receivers.
Turns out the small pucks don't have strong coils and aren't manufactured well. LG G2
GSIII
Galaxy Note 4
(The Sprint Lover)

I bought a $4 smartphone stand and an inexpensive (but thin) QI puck and velcroed the puck in place where it registers. Never had a problem with it. Have used it on my last 3 phones,

Will any of these chargers work with a gel case (or any case, for that matter) on the phone? If not, they would be more trouble than they're worth, for me. Posted via the Android Central App

Unless the case is horrendously thick, it won't cause any issues with power getting through to charge. The case can, however, cause issues with positioning or stability on the pad.

Not 100% true. I had no problems getting my N6 to charge without a case, but even with a thin spigen case I can't get it to work on the square charger. The phone+case works fine on the orb.

I use a Nexus 6 with a Spigen case and it charges just fine on my Choetech Stadium T513 Qi charger with the case on. You might want to check the wall adapter that you're using with the charging pad and make sure it is of good quality and at least a 2 amp (or higher) output or else it will give you issues. I personally use the turbo charger wall adapter that came with my N6 to plug into my wireless charger.

That's odd, never had trouble with the N5 and TPU cases on the square Google pad.

I have the TYLT and like it a lot but I sill have to say that the BEST I HAVE EVER USED was the Palm Pre and its Touchstone charger. LOVED That thing!!!

+1! How is it that SIX YEARS after the Palm Pre came out, no one has done wireless charging as well as the Touchstone? Posted via the Android Central App

Properly designed coils. Dude. What if the word "NEWS" on the AC widget actually linked to the news page? #nopecuzthatwouldbecrazy.

Yes yes yes. I miss the pre. Posted via the Android Central App

My wife and I use Tylt chargers we got 50% off for black Friday. Works great on a Nexus 5, Nexus 6 and Note 4. I wouldn't pay full price for them. I also have a Nokia DT-900 at work that works on everything. The Nexus 4 charger works fine for the Nexus 5 and 6t as well. The magnetic Nexus 5 charger was a pain in the butt though. The sweet spot on that charger is much too small.

I almost didn't get the DT-910, but I've used it a ton on my desk over the last year... Only good AT&T (clearance sale) has done me since I left them years ago. :p

I'm guessing these wireless chargers are very inefficient power wise and slow to charge? Posted via the Android Central App

Compared to wired charging, of course wireless is slower and less efficient.

Wireless charging is great but it takes too long.
I tried it with Nexus 6 & Nexus 7 2013 and gave up

If you don't get in an aggressive charging habit it'll bother you, that is if you wait to charge until your phone is dying... Wireless charging made me less lazy about charging whenever I could (with pads in my room/desk, office, and living room), so the net result is I charge much more often and I'm rarely trying to come back from 5%.

I have the Chloe Stadium (2 in fact), and they are awesome. It is phone position agnostic. Doesn't matter how you lay it down, the charger recognizes it and does its thing.

Buy a multi-coil charger, problem solved. Posted via Gold 64GB Galaxy S6

+1for the Tylt Vu. Been using 1 at home and 1 at work with my Nexus 6. Love it. Posted from my Nexus 6 Android Central app

I've been very happy with the Nokia / Fatboy pillow charger for my Nexus 7 (2013).

I use the small round pad charging pads and they work fine with my Nexus 6, Nexus 7 and Note 4 which has one of those $8 charging cards that attaches to the wireless charging terninals that are on top and on the left side of the battery, and I use the back plate that came with the Note 4.

I always had a heck of a time getting my curved-back nexus 6 to stay on my flat wireless charger plate, so I decided to put two rubber bands length-wise around my charging plate to provide more grip. Now it no longer slips off or spins out of alignment. Couldn't figure out how to attach a pic to my post so here's a link: https://photos.google.com/share/AF1QipMve3GAO4edo64zszTiq9FDnBLnvq9lztMe... Hope this helps someone

I use the Docooler Qi Wireless Charger at work with my Note 4 and it works great for only 12 bucks! http://www.amazon.com/gp/product/B00F5STIUK?psc=1&redirect=true&ref_=oh_...

Just upgraded from nexus 5 to 6 and I definitely miss the magnetic nexus wireless charger. I also had the original palm pre back in the day and touchstone. I still don't know WHY nobody is doing the magnetic wireless charging. Palm did this year's ago and the only one since was the Nexus 5 and for whatever reason nexus 6 skipped it. I'm still hoping that some day apple or Samsung with come out with this "revolutionary" tech and then everyone will do it... Posted via the Android Central App

Great article!
This is induction charging, not "wireless". Or maybe we could call it "plugless", but it's much different than wireless charging. There's even a big giant wire in the picture!

Man....Palm was more or less first out of the gate with wireless charging and did it perfectly. I still have my touchstone sitting here on my desk staring at me because I can't bring myself to throw it out (even though it's completely useless) I don't understand how these companies arent taking a page out of that book now to just figure out how to get this option onto my G4

The Tylt is the exact shape I need in my car but I need a USB connection. Sucks that they went with a A/C adapter plug. Posted via the Android Central App

I've used my nexus 6 since I got it on those old Nokia Qi chargers that ATT was selling for $5 each a while back. No issues at all. Posted via the Android Central App
Android Central Newsletter
Get instant access to breaking news, the hottest reviews, great deals and helpful tips
Thank you for signing up to Android Central. You will receive a verification email shortly.
There was a problem. Please refresh the page and try again.