These 9 earbuds support high-res codecs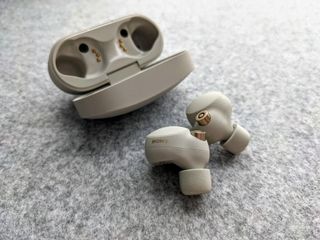 (Image credit: Ara Wagoner / Android Central)
Not all audio sounds exactly the same, and it's not just because of the disparities between headphones. The Bluetooth codec also matters, and when you're talking high-res codecs, like aptX HD and LDAC, you start to see that earbuds are already on board in supporting them. Even some of the best wireless earbuds don't go this far, but the group down here certainly does.
Why Bluetooth high-res codecs matter
If you think of audio the same way you would a screen, you may see it differently. Much like HD, 4K, and HDR have altered how we watch video content — and what we're willing to accept because of it — the same could be said about audio playback as well. Like aptX and LDAC, Bluetooth codecs bring high-res audio to the masses through support on both the device side (i.e., phones) and the audio side (i.e., earbuds). Not every mobile device supports these codecs, nor does every service streaming music. Few exceptions include Tidal, Qobuz, Deezer, Apple Music, Amazon Music Unlimited, and Primephonic.
The whole purpose behind high-res audio is to try and get your ears as close to what audio sounded like coming out of the studio. Lossless audio is defined as being recorded and mastered in better than CD quality at 20-bit/48kHz or higher. These codecs won't always get you way above that, but they are certainly doing better than the more compressed audio streams you often hear from the most popular services.
Sony has tried to do it with LDAC, its own codec that it licenses out to others. The WF-1000XM4 are the first to embrace it, likely to be followed by others. Qualcomm's aptX Adaptive looks to be the standard moving forward for high-res, given that it's basically two codecs in one.