Why I decided to switch to Android, and which phone could get me to leave iOS behind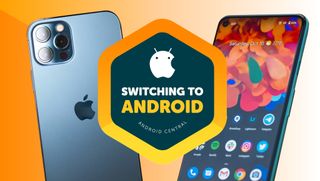 (Image credit: Android Central)
As a former die-hard iPhone user just now switching to Android in 2021, I'm documenting my experiences in a series of columns that aim to give a fresh perspective to the iOS vs. Android debate for hardcore Android users.
After a decade of using iPhones exclusively, I've spent the past three months alternating between iOS and Android phones, seeing what Android had to offer. I discovered that Android launchers put iOS 14 to shame, weighed the core iOS vs. Android apps against one another, and made a wishlist of Android features Apple should steal for iOS.
I meant to continue to break down the differences between these OSs, but most Android Central readers already know the broad strokes of how they compare to or upstage one another. Apple's closed ecosystem and restricted design UI are such deal-breakers that no amount of praise for faster apps or longer software support will sway you to switch to iOS — while praising Android's strengths to its fans will be reaffirming rather than informative.
So to conclude my Switching to Android series, at least for now, it's time to decide whether I actually will switch permanently. My coworkers gave me a few 2019 Android phones from old reviews to test out, and I've enjoyed my time with them. But thanks to Android's update limitations, most of them will become obsolete by design a year from now. So while I'll use and review Android phones professionally moving forward, I have to decide if I'll stick with iOS for my personal phone, ditch my iPhone XR for a new Android phone, or keep using both.
Long story short: Android would stay a part of my life now even if I didn't work for AC. Despite some trepidations I have about Android updates, I'm willing to deal with that issue for the sake of better customization and Google Assistant support. So my main question became which phone I should switch to, after spending so much time with a collection of Google, Samsung, and OnePlus phones.
Google Assistant: the best reason to switch to Android
When it comes to voice commands, Siri honestly isn't as unreliable as its reputation would have you believe. Placing my iPhone and Samsung phones side-by-side, I asked them simultaneously to perform simple tasks like setting a timer or creating a calendar event, and both would do so in about the same amount of time. Aside from the odd hiccup, neither Siri nor Google Assistant had much trouble understanding what I said. Both assistants can even perform tasks within certain third-party apps, not just open them.
That being said, Siri commands are more limited to Apple's walled garden of core apps, plus some big-name apps like Twitter. It has detailed commands and Shortcuts for first-party apps but restricts "untrusted" third-party Shortcuts until you change some settings. And while you can change the default iOS mail app and browser, for any other category Siri will default to Apple apps you may not use like Apple Music or Fitness+.
I've just never been dependant upon Siri, but I've grown accustomed to using Google Assistant in my daily life. I like having the option to ask it about my Google Calendar schedule without unlocking my phone, or to use Assistant routines to trigger customizable reactions to simple phrases. Because I rely more on Gmail, Drive, Keep, Maps, Meet, and Calendar in my daily life than Apple's equivalents, it makes more sense to use the assistant that ties into them.
Beyond apps, Google Assistant still does a better job of understanding different phrasings of sentences, while Siri can be more literal. And when you ask Google Assistant a question, it takes advantage of Google's robust search engine and Chrome's preview answer boxes to quickly provide a visual answer to your question; Siri, meanwhile, will typically give you a Safari link to the info, so you have to tap through to get your answer.
iOS does have Google Assistant, but I prefer having it baked into my phone naturally instead of having to seek it out or use Siri as a go-between. I'll still own a Macbook, so losing the ability to sync my phone with my laptop will be disappointing. But I'd rather give Android a shot than stay complacent with iOS for fear of losing features. So my question became which of the best Android phones would be the best fit for someone used to iPhones.
The problem with switching: limited Android updates
There are all sorts of legitimate reasons why it's easier for Apple to keep its closed ecosystem of devices and homemade CPUs protected from outside threats for longer, while Google has to protect a wider range of systems and phones from more bad actors who target Android because it has a larger user base. Older Qualcomm SoCs also couldn't handle more than three years of OS updates for technical reasons, though Google and Qualcomm have promised four years moving forward.
As a long-time iPhone user, I tend to take security updates for granted, and don't like the idea of an automatic ticking clock telling me when I'll need to replace my phone. Plenty of Android users buy new phones and trade in last year's phones annually, but I'm less worried about keeping my hardware cutting-edge and more concerned with software longevity. That's why the recent Google news, and Samsung's promise of four years of security updates, made the idea of switching easier to swallow.
I spoke briefly with Android software developer Kieron Quinn, who ran through the highlight reel of problems I could face if I kept using a phone with an outdated OS. He said that while "you do occasionally see root exploits being used in the wild, it's by and large malicious actors (like states) trying to use it against a group, as opposed to ransomware" or well-known, unpatched security exploits. Instead, it's "outdated apps" that he considers the more overlooked and problematic issue. While companies tend to support a few older Android versions, you're bound to run into vulnerabilities eventually.
Knowing that my 10R is older than my other Android phones, but will likely outlive all of them as a secure device, is certainly a deterrent to switching no matter how much I enjoy using Android. My coworkers have argued in the past that Google needs to promise five years of Pixel software updates to make its phones more alluring as an iPhone alternative, and I certainly agree.
As it is, so long as Google and Samsung offer the same number of years of support, my next phone purchase will likely be either a Pixel or Galaxy S series. I genuinely like my OnePlus 7T — even though it's only just now getting Android 11 — but I'll wait until the manufacturer follows suit and lengthens its update schedule before I commit a grand to the OnePlus 9 Pro, no matter how excellent it is.
So my real choice came down to Google or Samsung, and based on hardware differences, stock Android vs. One UI, and my own preferences, my choice is a no-brainer.
Why I'm planning to switch to Samsung, not Google
Do I love using Android launchers and icon packs to spice things up on my Android phones? Absolutely. Do I also think that a phone's appearance should look great by default, and that Android 11 on my Pixel phone doesn't quite pass the test? Also yes.
Looks are subjective, and outside of iOS, it's easy to make my Pixel UI look more visually pleasing. But when it comes to stock Android vs. Samsung One UI 3.0, plenty of more experienced Android users than me prefer Samsung's OS for better customization options, which at least assures me that I'm not totally off base. It's probably why Android 12 is borrowing One UI's one-handed UI to make it easier to use large phones one-handed, for example. Samsung tends to take Android's best features, then add its own spin to make them even better.
But it's not just appearances that matter to me. I'm legitimately frustrated that Apple isn't backing down from preventing my favorite game streaming apps like Stadia and Game Pass Ultimate from being officially supported on iOS. For the sake of more convenient AAA gaming while relaxing in bed or away from home, I'd pay top dollar for one of the best Android gaming phones — provided I know it'll last me four years at least.
While the Pixel 5 is a reliable mid-range phone, it doesn't have the latest Snapdragon 888 tech, 120Hz refresh rate, or a memory upgrade beyond 8GB like the latest Galaxy S21 series. We suspect the Pixel 6 will be another value flagship, and unless Google releases a hypothetical 6 XL that blows us away with specs, Samsung is pretty sure to get my money.
You could easily argue that Pixel phones are still the best for point-and-shoot photography, and my lightweight Pixel 3a takes far better photos than my iPhone XR. But in our Android camera comparison between the Pixel 5, OnePlus 8 Pro, Samsung S20 FE, and S20 Ultra, the differences between them were more subjective and varied from lens to lens. I'm not going to deal with too much FOMO with a Samsung camera, since I can still use Google Photos' AI editing tools to optimize the quality.
Apple, it's not me, it's you
Apple has made some important strides in the past couple of years to add well-liked Android features, such as iOS 14 widgets and standalone security updates. And I still use Apple products and apps that aren't compatible with Android, which could make this transition a serious adjustment.
Yet having seen what Android can do, these changes feel a bit inadequate; as I said in my last column, there are some things Apple could very well add to close the gap, but some crucial features I've grown to like are completely antithetical to Apple's way of doing things. So I don't see the point in waiting for them.
That's why I'm going to at least try to make a Samsung phone work as a full-time device, instead of just juggling it with an iPhone. If it doesn't end up wowing me, I'll at least know that I can stay comfortable and safe with an iPhone. But I'm hoping that by switching to Android, my phone will become something I can actually rely on for more than just basic tasks.
Android Central Newsletter
Get instant access to breaking news, the hottest reviews, great deals and helpful tips
Senior Editor, VR/AR and fitness
Michael spent years freelancing on every tech topic under the sun before settling down on the real exciting stuff: virtual reality, fitness wearables, gaming, and how tech intersects with our world. He's a semi-reformed Apple-to-Android user who loves running, D&D, and Star Wars. Find him on Twitter at @Michael_L_Hicks.
OnePlus does provide 3 OS updates and 3.5 years of Security Updates for the earlier year models, so this applies to 9/9 Pro. Also, all Android 10+ phones will continue to receive years and years of Security Updates via Google Play System Updates.

Actually they don't, go to the OnePlus website and see for yourself. Samsung offers better software support than even Google now.

If OnePlus is providing 3 OS updates that is a new development. Last I heard Android 11 was the last OS my OP7 Pro will get. Also, their OS updates have slowed way down ... Android 10 was released almost right on the heals of Google in October 2019. My 7 Pro is finally getting Android 11 this week and it's almost April 2021. Also, security updates are far less frequent than they used to be. I used to love OnePlus, but they have grown too fast and are producing too many phones to keep up with software development.

In my experience as a OnePlus fan, OnePlus only gave three version updates for the 5/5T because they planned then didn't launch with Android 8.0, but upgraded to 8.0 within a short few weeks of the 5t's launch. Android 10 (the "third" upgrade) took forever to launch in a widespread way on the 5t. At that point, security updates were done, so it was a rather pointless upgrade. So technically the 3 updates claim was only a fancy marketing claim. In reality, it was technically only one truly valuable update for the 5t phone (a bit more valuable for the 5), because few people even used Android 7.0 on the 5t (phones sold after the first 6 weeks or so upgraded to 8.0 on setup) and Version 10 was rendered obsolete by the ending of security updates. 9.0 was the only valuable update.

Samsung phones have really been the best of the best for me.
They have a great blend of hardware and software.
Once you download some of their apps like GoodLock and Galaxy Labs some really cool features and customizations become available that not any other companies can match.
Now that they are offering 3+ years of support and combining the fact that I can find the phones on huge discounts Samsung is just a no brainer. My family has owned OnePlus phones, and for us, they are just overhyped. Hardware is really nothing special and their cameras are not very good. OnePlus was much more appealing when they were available at considerable price savings over the flagship phones. Now they are just another "me too" company.

I agree 100% with your comment, I was using my 11 Pro Max unit last month ago when I got my S20 FE 5G, its awesome and love the customisation and features on offer and Samsung's software is simply the best, I'm done with overpriced and limited iPhone and will give my 11 Pro Max to my sister once its paid off and will be sticking with Samsung. OnePlus are no longer the value for money that they used to be and are seriously overrated and are poor with updates, my 7T is only just getting Android 11 while my S20 FE 5G has had Android 11 for over a month now.

The problem with Samsung is that they are just another"me too" company in relation to Apple. They keep cutting features from their devices - SD card support and 3.5mm headphone ports for instance, but there are others - that have major impacts on those who use them.
The Samsung auto mode on cameras is laggy with terrible colour processing. You need to switch to pro mode to prevent the terrible lag.
Samsung screens are superb and the desktop mode is best in class. Give them props for that.

I agree on the SD card support. At least give us 256gb base option up to 1TB storage if they are going to ditch the SD support.
At this point 3.5mm jack is meaningless to me since I have "graduated" from it and went to BT earphones. Doesn't mean others have to. I did hate it at first but overtime (unfortunately) I had to sacrifice over overall experience..and with more and more people migrating over to BT options I doubt we will see 3.5mm jack on flagships. (But we need to fight for the SD card support!)

I have one specific use for the 3.5mm port and I have to use an adapter on both of my phones for wired headset. Luckily both phones just need a simple pass through adapter rather than an external DAC.

Yeah I don't like that they copy Apple's idiotic decisions but overall, Samsung listens to consumers more than Apple, but at least they lowered the prices of the S21 series and give greater trade in deals and credit towards buying back the charger they removed at least.

The new Galaxy A52 will be the number one selling Android device globally for 2021 and a best bet for 99 percent of "everyday" users. SD card check, head phone jack check, IP67 check, phenomenal high refresh screen check, 2 day 4500 mah battery check, great large screen in slim frame check, excellent cameras check, 4 OS versions and 4+ years security patches check, under 500 check. I wish Samsung would partner with BlackBerry and produce a Galaxy Key device with all noted above and a BlackBerry PKB with all the phenomenal keyboard shortcut capabilities.

Your idea to try a Samsung phone is a good one, Samsung is the single Android phone maker which is valuable to use, period. You should deeply look on all updates googe made to android in last 3 major version updates, and you will see that all of that was released by Samsung a year before, Samsung is basically inventing android, their one UI is so clean, no bloatware, you get all rich settings and features, and if you don't need it (because you are not techy), you will not find it, it will not stand in your way. And that is besides that Samsung makes the best hardware. So yes, definitely if you want to give android a shot, just pick up a flagship from Samsung, dig in to the settings slowly, and you will find it so pleasing. Thanks for your articles.

Only can imagine what it would've been like if Samsung had bought Android when they had a chance years ago..

I imagine you would have a choice of Apple or Samsung. There would be a Samsung Play Store (charging 30%) and no Google Play Store. Is there any reason for Samsung to continue to license Android, along with required Samsung apps, Mail, Calendar, etc, not Google apps. Would there be any reason to continue to support a free AOSP version? Would Google continue to offer their service, G-Mail, G-suite as alternatives to Samsung's apps. Would you be able to make them default? Would you wind up with a veritable 'walled garden'.

I imagine Microsoft and Google and maybe another major software company like Blackberry or Palm would be in the conversation still.

Oh, if Samsung is inventing features, then how do you explain where 2 button gesture nav came from?

Long time Android user and been on Note 9 since it came out. I really like Android but getting tired of Google removing apps. For me the killer changes and making me move to Apple:
- No longer free storage of Photos
- Changed Google Play Music to Youtube. All my purchased music is now behind a Pay Wall which I refuse to purchase. This really PO'ed me and alot of people
- Google Pay has been changed and renamed to ..... Google Pay, but its all different and requires a new separate login that you have to create and missing functionality of the old Google Pay.
- Samsung cloud storage going away and moving to OneDrive Samsung has some things like Samsung Pay which I use but tired of apps I use or functionality being taken away.

While Samsung's software gets less "Samsung" every single year, over a decade after the first Galaxy S flagship, it's still the most garish and offensive user experience second only to ios.

I've even heard plenty of kids say "I don't think I want another iPhone," after they see what Samsung's latest can do.

Why I don't care...and why your opinion piece is weird.

You care that's why you commented.

Agreed that Google assistant is much better than Siri. I only use Siri occasionally to send texts and search for songs while driving and it works good enough for my needs

Xiaomi all the way! All the features at a fraction of the cost. (Cue comments about Chinese spyware etc etc)🇨🇳
I'm from UK by the way✌️

I keep hearing that Xiaomi software is crude and buggy? I've been thinking that the M11 Pro could be my next phone, but hearing so much bad feedback regarding their phones?

I was sceptical of Chinese skins as I'd always preferred a more stock version but decided to try out a Poco X3 NFC as the specs were insane for the price and I absolutely love it. Don't listen to all the doom merchants who say Chinese phones are cheap and buggy coz my experience has been awesome and made me decide just how overpriced and overrated Samsung and Apple products really are. Xiaomi in particular seem to be leading the way in value and innovation and if you aren't paranoid about China 'spying' then go for it. The mi 11pro and ultra look awesome and I doubt you would regret buying it 👍

Samsung all the way fot me, yeah Xiaomi is cheaper but you get compromises, no nfc in a lot of their cheaper options, LCD displays which are not great compared to AMOLED displays and Samsung makes the best, and of course Samsung's software is much better than Mi UI with much better support and updates are important to me and I know you don't want to spend much money, I value price, performance and features with very little compromise. I'm also from the UK.

I think (and this is just my opinion based on reading lots of comments from different forums) that a lot of people will trash any Chinese brand simply because it's Chinese and not from having actually used them. Folks form opinions based on other people's comments NOT from actually using the products. Admittedly some people have genuine issues with some phone software or hardware but that is true of ALL manufacturers. Samsung and Apple have had their share of problems too like the bending iPhone 6 or slowing down phones with updates or exploding note 7s and touchwiz slowing down over time etc, even the S20 Fe has had screen problems more recently for some folks. There will always be a few bad batches of handsets if you think of the amount that is manufactured, that is what warranties and returns policies are there for. Now when it comes to companies collecting data then I guess that's more down to the individual to decide how much they want to allow companies to collect. If folks think the Chinese are spying on them then I guess none of the above matters but for me personally I don't care what data companies collect from me as I'm not doing anything illegal and I don't posses any national security secrets. It's naive to think you can keep yourself free from data collection if you use a smartphone as all the companies do it. Google, Apple, Amazon etc and to be honest if I'm gonna get ads I'd rather they were relevant to my interests than just random ads for makeup or cake mix lol!(yeah I'm a guy) Now if we talking about security from hacking into accounts then that's slightly different and I do take that seriously, but it's more about being vigilant than paranoid. Don't go on dodgy sites, don't open iffy looking links to things, don't download apps from unsecure sites etc. Basically use common sense and check things out before clicking on anything you unsure about.
Anyway after that slight (but relevant) tangent my experience from using a Poco X3 NFC which is basically a Xiaomi phone is that it is well built, performs flawlessly both hardware and software wise with miui 12 and is a joy to use. As far as the screen goes I am someone in the minority who prefers IPS LCD screens over amoled as amoled screens give me eye strain and headaches and the 1080p 120hz refresh and 240hz touch sampling on the Pocos screen is awesome and actually a positive not a negative for me. The 5160mah battery lasts easily 2 days and that's with watching lots of YouTube, listening to music and playing games and still getting easily 9-10 hours sot.
The stereo speakers are loud, the 732g chip is very fast and snappy in use, the cameras are great 64mp main with Eis and night mode,13 MP ultra wide, 20mp selfie along with 2mp macro and depth sensor thrown in aswell (I don't need the greatest cameras but these are fine to my eyes) along with dual SIM/memory expansion slots, led notification light (and by the way I have no problems receiving all notifications which is often a criticism I see of Chinese brands) an IR blaster, 33watt fast charging (0-100%in 65 mins included in box!) along with free case and screen protector. Face and fingerprint unlock all this for under £200 (even cheaper now the pro version come out) and also on the official list for Android 11 (after that who knows?) So basically my advice is that if you are someone who literally wants the most bang for your buck and you not a paranoid conspiracy theorist then check out the huge selection of excellent handsets from the Chinese manufacturers (GSM arena a good place to start) Anyways that's just my personal take on things hope it helps. Peace all from UK ✌️

I understand that Chinese phones are best for you maybe but I go with brands that are trust worthy and most Chinese brands are not, I have a OnePlus 7T and there is nothing wrong with the phone but OnePlus is overrated and overhyped and their so called updates doesn't ring true either with my 7T only just now getting Android 11 while my S20 FE 5G has had it for more than a month, sure the S20 FE 5G is more expensive but you get a lot more and is priced just right plus I got a free pair of Galaxy Buds Live with mine and and half price for 6 months with Three.

That's fine and I understand why folks want the added security of buying a 'known' brand and I must say that Samsung's commitment to 3 os updates is pretty impressive in the Android world. The point I was trying to make was that some people trash phones without trying them simply because they've read this or that in some comment section (like this one for example). At least your comments about one plus come from experience with the brand and not just hearsay. I'm no fanboy to any brand but I'm sure glad I decided to give Poco a chance as it has exceeded my expectations and I can't believe what an absolute bargain it's turned out to be. There are definitely some trash brand rip offs out there on dodgy sites like wish but if you do a bit of homework before buying and read or watch some reputable reviews you realise there are some great phones to be had outside of Samsung and Apple.

I'll look at other brands when they have built the trust that Samsung have but until then I'll stick with Samsung.

Sensible thinking 👍 when someone in China hacks a million yen from my account I'll retract all my comments lol!

Security updates are important to me as well as using an established brand like Samsung who listen to consumers and don't fill their version of Android with ads except with the Galaxy store and Samsung Pay but even then its not offensive plus Samsung has come a lot way with their One UI which is the most feature packed skin you can get on Android, Chinese phones have come a long way with their hardware and even software in the case of OnePlus but they don't keep their promises and the trust isn't there yet with Chinese brands yet compared to Samsung which is the biggest Android OEM and largest smartphone vendor in the world amd they give many people piece of mind, me included especially now they're committed to 5 years of security patches and 3 years of software updates, no Chinese OEM can match that and the reality they can't afford to either. For me Samsung will remain the top OEM.

I have a Samsung S10 and UMIDIGI A9 Pro. Or a phone and another one almost 6x times cheaper. Yeah the S10 is better , but no way 600$ better! The UMIDIGI is perfectly livable (should have spent 50$ more to get a quicker processor for my 2nd phone), well built, sometimes I am confused on what phone I am using and no more 800-1000$ phones for me. Of course Samsung also offers cheaper models.

Smaller screens on true flagships like the iPhone 12 Pro, better wearables, built in advanced messaging that works across devices, better tablets.

Advanced messaging across devices is not a feature. It's a restriction. When there is Advanced messaging across platforms, then it's something.

I think android is better overall, because it's far less restrictive than ios.

Funnily enough, considering the garbage Samsung did with Design on OneUI 3.0 and the colossal pieces of featureless sh*t that the S21 line is, I'd be more likely to swith to an iPhone 12 Mini than to ever buy any S21 phone. Fortunately, I couldn't give a flying flamingo about updates so I locked my S10e in Android 10 and there it will stay until the hardware literally dies on my. And at that moment I'll evaluate if I get a new S10e or ditch smartphones altogether, should Android OEMs keep trying to copy Apple's dumb choices like having no basic essential features like a headphone jack or expandable storage.

You were Samsung's biggest fanboy and now you're dissing them? Personally I think the S21 Ultra is the most feature packed and best phone you can get right now, the only thing I agree with you on is the removal of the charger but I care about updates, especially as an Android enthusiast and Samsung is among the top 2 and is better than Google in this regard now so Samsung is not only the best with phones but now will be best with updates too.

Actually, I think the Note 20 5G Ultra is the most feature packed, thanks to the SD slot and the pen being able to be stored in the phone.

My daily driver is the Note 20 5G, it does not have a SD card slot. The Note 20 Ultra does have a SD card slot.

I use multiple Android phones and nothing can replace the Apple ecosystem for me personally. Apple watch is amazing and nothing comes to close on Android side and iPad/Mac everything just works too well to switch from iPhone as my main phone. My love for Android keeps me from having various Android phones but can't imagine a scenario where they can replace as my main phone.

After twenty years all things Apple along with eleven years with iPhone I switched to Samsung. Yes, the Apple ecosystem is quite good. Samsung offers similars feature in their ecosystem as well. As with Apple, Samsung has phones, laptops, tablets, watches, earpods. Samsung's software features are similar as iOS, such as their version of AirDrop named Quick Share with Android's Nearby Share, a Continuity feature, and more as well. Many folks mention because of Apple Messages they cannot leave iOS. From my Note 20 I send to any device, and my Note20 will receive from any device. Interesting, from my MBP and iPad I could not send text to Android phones. According to Apple, yes I called them, their reason was those devices send messages through Apple Messages server to Apple iPhones registered on their Messages server. They said using the iPhone one can send messages to non Android devices. Their explanation was iPhone automatically switch from sending through Apple Servers to sending through the users' carrier. Also, after switching to Android and you sell/trade your iPhone you will not receive text messages. All your incoming messages to the same phone number as your iPhone will will continue through the Apple Messages server; you will not receive them. So, to begin receiving messages one must deregister the iPhone off Apple Messages server and FaceTime as well; simple switch in Settings. After doing it messages will flow in from anyone even Apple iPhone; not Apple computers nor iPad. Now we understand, Apple controls your phone number; the often mentioned walled garden.

You can absolutely send messages from a mac to android phones. you have to link your phone for that.
Deregistering from apple servers is as simple as turning of imessage only. Don't need to mess with Facetime and all. Android chat works the same way in case you don't know what that is.

serenemind thank you for your information,
When I traded in my iPhone XR for a Note 20 I turned off Messages and FaceTime; in Apple's documentation turning off Facetime as well is recommended. Then, using Apple Messages from my MBP and iPad I could not send messages to Android users; I know others having the same issue. It seemed quite strange, so I called Apple. Reason they provided is I do not have an iPhone registered on their Messages server, can text through Messages to Apple users only. The response did not make sense so I again called Apple, spoke with a different tech same response and explanation. Being as I use other messaging apps on the MBP and iPad, not being able to send messages to Android users from Apple Messages is not a issue for me, however it did catch me by surprise. As for turning off FaceTime, Apple suggests in their documentation besides turning off Messages in settings, also turn off FaceTime as well. Yes, it is easy.

The commonly cited number of years Apple update their phones is 5. But that is no longer true with what Apple did in the last two years. Apple now pushes security only updates to iOS 12 devices and plan to do the same with iOS 14 devices when they stop getting new OS versions. For example, even though iPhone 5S is stuck on iOS 12, they just got 12.5.2. In total, iPhone 5S got 5 new OS version and 7.5 years of security updates since Sept 2013. Samsung is the closest with 3 years of new OS version and 4 years of total security updates in the Android world. Pixel is 3 years of new OS version and 3 years total. Nokia is 2 / 3. Motorola G series 1 / 2.

Hey there,
Does anyone know where I could find the wallpaper shown on the main image of this article? https://i.postimg.cc/282DWB2b/switchingtoandroidhero2.png Thanks in advance.

"Samsung tends to take Android's best features, then add its own spin to make them even better" and have a couple of the same apps doing the same thing...it never ends.

I took his reference as referring to the os interface, not apps.. But, the duplicate apps (coupled with touch-wiz) helped drive me away from samsung a couple years ago. I was surprised when I checked out this s10, it only came with a couple, fewer than some other oems.

I am trying the pixel 5 and the S21 along side an iPhone 12 mini right now. Man I love both android phones so much. I can't pick which one I like better.
Switch to Windows and use Your Phone with Windows and you will have everything you need. Can have both android phones paired at the same time and switch to either as default (whichever has sim)
Android Central Newsletter
Get instant access to breaking news, the hottest reviews, great deals and helpful tips
Thank you for signing up to Android Central. You will receive a verification email shortly.
There was a problem. Please refresh the page and try again.