The Razer Seiren X USB streaming mic is on sale for $79.99 on Amazon. That's $20 off its regular price and $20 better than the other colors are going for right now. Today's drop also puts it at such an affordable price compared to the other Razer mics like the $200 Seiren Elite or the new $180 Seiren Emote.
Speak up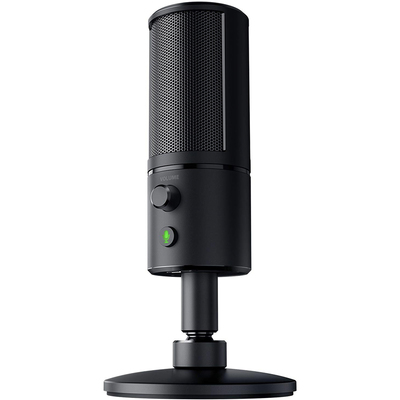 The mic has a super cardioid pickup pattern so sound is recorded at a tighter angle. It has a built-in shock mount to dampen vibrations. You'll get superior audio broadcasting and a Pro extender frequency and transient response.
$79.99 $100.00 $20 off
The mic uses a super cardioid pickup pattern. It records sound at a tighter angle, which helps reduce unwanted background noise (like mechanical keyboards) and provides clear, crisp audio. Dampen vibrations from your keyboard and other sounds, too, thanks to the built-in shock mount. Keeps those abnormal sound fragments off your video. At the same time, the mic will pick up all the nuances of your voice. It uses an extender frequency and transient response so your voice is clear and precise.
The compact and sleek design gives you a lot of flexibility in placement for the mic. The compact form factor won't get in the way of your screens or your camera or whatever else you use to stream. Monitor yourself in real time while streaming thanks to zero-latency monitoring. You'll be able to hear what your viewers are hearing without getting an echo effect.
Users give the mic 4 stars out of 5 based on 215 reviews.
The mic works for input, but what about improving the output? Grab a pair of Anker portable Bluetooth speakers on sale for just $35. Despite working over Bluetooth, these speakers pair together to create a stereo sound you can take with you anywhere.
Or fully upgrade your home audio with the Sonos Amp and a pair of Klipsch bookshelf speakers bundled together at Best Buy. You'll save $270 on the total cost of this bundle, which essentially gives you the speakers for free since they usually sell for around that price anyway.
We may earn a commission for purchases using our links. Learn more.