Snoopy and the Bat-Watch are just a few of the faces in the Gear S2 watch face roundup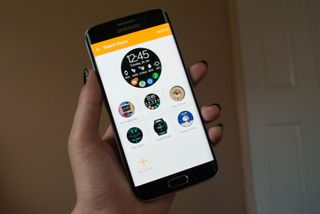 There are plenty of watch faces that are available on the Samsung Store to help you customize your experience. Trying to wade through all of them can be a serious pain though, especially when you can't go scrolling through the store from your computer. To help you out we've grabbed 5 watch faces available for your Samsung Gear S2 that you may not have seen quite yet.
See if we've found your favorite watch face!
All in One
If you're looking to be able to have as much information as possible at a glance, then the All in One is a great one to check out. You get access to tons of information in a concise format, that uses icons to help you understand everything at a glance. This face is just jam packed with the time, date, battery, pedometer, navigation, chance of rain, weather forecast, emails, calendar, settings and even music. Like we said, a ton of information is displayed here.
The time dominates the top of the screen in a 12-hour format, underneath that is the full date. The middle of the screen is a row of 5 icons that tell you your battery power, how many steps you've taken that day, how far you've traveled, and two different weather icons. Hugging the bottom of the screen are quick icons to get you to your email, calendar, settings, or music at a tap. You can also check on your activity for the day by double tapping the screen.
You can purchase the All in One Watchface on the Samsung Store for $2
Gear O'Clock
If you're looking for a watch face that has plenty of information, with a more traditional look then the Gear O'Clock might be the face for you. This face gives you a 12 and 24 hour format, the day of week, day of the month, and what time it is in places all over the world. The great thing about this face is that everything blends together beautifully, without looking overloaded. You can even change the tone of the watch face from golden to silver by tapping on the screen.
The middle of the watch face is a global map, surrounded by several rings which each display different information. From the center outwards you'll see a marking for seconds, then the 12 hour format, followed by the 24 hour format and two more rings with cities located around the world. At the bottom of the screen, along the 12 hour ring, you can see the day of week and day of the month. A small battery indicator is nestled between the 7 and 8 on this same ring. Over all of this are three hands to tell you the hour, minute and second of time.
You can pick up the Gear O'Clock Watch Face on the Samsung Store for $1.99
Bat-Watch
If you're looking to add a bit of nerdy flair to your wrist, then the Bat-Watch is where we'll recommend you to look. This face is fairly simple, while still giving you access to some pretty awesome features. The color scheme here is a combination of black, grey, and electric blue, helping you easily read the information on your screen.
The only design here is a grey bat, on a black background. There are electric blue markings for the seconds around the edge of the screen, and you get access to a pretty interesting array of information. By tapping on the screen you can cycle through several different bat logos to get the exact one you're hoping for. Just under the logo is the full date, and at the very bottom of the screen is a pedometer. Above the logo is the time in a 12-hour format, with the battery and a heartrate monitor at the very top of the screen.
The Bat-Watch is available for $1.50 on the Samsung Store.
Gear S2 Chronos Digital Model
The Digital Model Chronos watch face gives you an eggshell background with a very clean display that still has plenty of information. The middle of the screen is dominated by a timestamp, available in 12 or 24 hour formats, and precise down the the second. The background can be changed by double tapping on the screen letting you rotate through almost a dozen different colors. You can also pick and choose which information is displayed on your screen, and in some cases, how it is displayed.
While you don't get access to many choices, there are a few. You have the option of English, Spanish, Portugese, French, or German for the words on the watch face. You can also choose if the date is displayed, how the time is displayed, and even whether the clock lists off seconds as they tick on by. A colored bar will slowly creep around the edge of the screen to indicate the battery, and the date and days of the week are displayed along the edge as well.
The Gear S2 Chronos Digital Model is available on the Samsung Store for $.99
Snoopy on the Moon
Sometimes you just want a watch face that is sweet, and simple. If that's case, then Snoopy is to the rescue — from the moon. This is a super simple watch face that really doesn't have much information to be displayed in the least. What you do get is the time, your battery percentage, and several different animations that can be triggered by double tapping on the screen.
At the top of this watch face you'll see the time, in a 12-hour digital format. Just under that is the current percentage of your battery. Under that is the star of this watch face, Snoopy himself. The animations are all pretty cute, from Snoopy walking across the screen, to Woodstock appearing in his own tiny helmet.
This Watch face is available for free on the Samsung Store.
Jen is a staff writer who spends her time researching the products you didn't know you needed. She's also a fantasy novelist and has a serious Civ VI addiction. You can follow her on Twitter.
Gear ¥o'clock is nice. Posted via the Android Central App

THA Phlash's Batwatch is better! Can't wait till it actually works again...

Is it available on the Gear S2? Posted via the Android Central App

No, it isn't... but I wonder if he'd be interesting in porting it over. It'd be interesting to see an easier method for developers to bring their faces from one platform to another.

My new fav: Digi-Glow. Just came out the other day. Easy to read, has all the complications I use, and futuristic design. Change colors and last background is a glowing animation. It's sweet. Same dev has many cool ones. Posted via the Android Central App

Just downloaded Digi-Glow...12hr option and this is a dope face!! Gonna keep this for awhile Posted via the Android Central App

All of the watch faces seem to have military time which pisses me off

+1000 Posted via the Android Central App

Good evening. All in One watch face are supported 12h format.

Apparently everyone else in the world (read not USA) uses the 24 hour clock. I prefer 12 hour clocks too. Posted from my Nexus 6.

I can read a 24hr but not as fast as a 12hr lol.

You'll see some developers are releasing 12 and 24 hr versions. Depends on where they are from I guess. Posted via the Android Central App

Good evening. Watch face are supported 12h format.
P.S. I am the dev of this watch face.

Love my S2, glad to see more coverage Posted via the Android Central App

I'll admit when I first got the gear s2 i wasn't so sure I'd like it . I thought the face was to small compared to my gear s watch . But as time has gone by I've got to say now this is my favorite out of 4 smart watches. And with all the the update this thing is a major go Posted via the Android Central App

+1. My wife and I moved from the Gear S to the S2 Classic's and I thought the same thing . After a day or so, I could never go back to the Gear S or ANY of the other 3 smartwatches I had prior.... Although the screen IS smaller, it's so sharp and easy to read. I wouldn't mind it being slightly bigger, but again, it works quite well for us....

I purchased the s2 cause I didn't get one with the purchase of my s7 edge. I got the watch from an open box sale at bestbuy. I had given up my Moto 360 because the battery life was not great. I missed tacking my steps, so I got the gear s2 for $130. I'm definitely happy I picked it up. It doesn't use a lot of battery with the S7 edge and the watch easily get 3 days of battery life. Posted via the Android Central App

I can't buy anything on there. I keep getting a pop up that says Samsung billing needs to be updated. It never updates. I can't find anywhere to aupply my credit card. Posted via the Android Central App

I like alpha dark 24 hour. Shows date, time, battery and steps. That's pretty much everything I want to see at a glance. Posted via the Android Central App

Unfortunately, all that really matters on any of these is what the "always on" version looks like. I rarely ever see my actual watch face, since the only time you need to flip it on is if you have notifications, and at that point you're just looking at the notification anyway. I'm good with ~10 hours of battery life if it means I can actually have something that looks like a watch on my wrist, rather than 12 white lines around a circle, boring white digital time, or nothing...

Pebble time steel still kills... Posted via the Android Central App

I'm sorry didn't know this was a pebble steel watch forum . But thanks anyway for the imfo just in case I decide to trade my s2 ......not Posted via the Android Central App

I actually just got a Pebble Time since Amazon had a deal for $125. After using the S2, the Pebble Time has a looooooong way to go. It will just be used when I'm working out or cycling at this point.

The developer of the GEAR S2 CHRONOS DIGITAL MODEL, also makes a 9+ all in one watchface, each face with like 6 different colors (Gear S2 Wach Faces x9). All for like $2 if I remember correctly. Good quality. Glad to see articles like this for the S2. My wife and i have S2's (I have the classic, she has a Rose Gold Classic) and we both have literally 100 watchfaces.... Nice article.

It's does not said in the topic, but All in One face are fully customizable. Not like other faces. You could set/change shortcuts to any of your Gear apps, not only 4 that you see on screenshot (it's just example). White information icons also could be changed (Steps, Distance, Humidity and Weather just example). There you could set in any combinations of Calorie, Distance, Steps, Heart rate, Humidity, Pressure, Sunrise, Sunset, Temperature, Wind, Gear and Phone battery.
On pictures you see Metric data format (Celsius and Meters), but you could change it to Imperial format (Fahrenheit and Miles).
Also you could change Date formats and much more. Just check the watch face screenshots and description in the Gear Market.
P.S. All in On dev.

Neo Watch Face, Torque Watch Face, Titanium Watch Face, Shield Watch Face, Rolling Watch Face, Platinum Watch Face, Metal Watch Face, Hi-Tech Watch Face, Dynamic Watch Face, Dual Watch Face, Dashboard Watch Face, Cool Circle Watch Face, Casual Watch Face, Army Watch Face.
All watch faces made by RichFace and available on Samsung Gear apps.

Traffic Map Watch face is at least a notable mention of new watch faces.
Android Central Newsletter
Get the best of Android Central in in your inbox, every day!
Thank you for signing up to Android Central. You will receive a verification email shortly.
There was a problem. Please refresh the page and try again.