The Samsung Galaxy S8 and S8+ will have 646 new emoji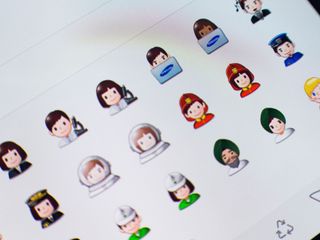 It's always fun to see the way different companies design their version of emoji. Google may have announced new and additional emoji for Android Nougat last year, but Samsung was slow to keep up. The Galaxy S8 and S8+ are the first to ship with the new emoji right out of the box.
A total of 646 new emojis will be available on Samsung's new smartphones. If you already happen to have the Galaxy Tab S3 in your hands, you have access to these new emoji right now, since it's also running on Android 7.0,
Every male emoji now has a female equivalent and vice versa. You'll also have options for a scientist, judge, pilot, and teacher emoji, as well as laptop-wielding technologist emojis. Samsung's version of this seemingly niche profession features people in front of a Samsung laptop, naturally, in the same vein that Apple presents those particular emoji on iOS and macOS plopped in front of MacBooks. To change the skin color of the individual emoji, you can press and hold in the keyboard app to choose from the other variations.
A few emoji have also been tweaked. For instance, the Children Crossing emoji now looks like a regular street sign rather than some symbols slathered on top of Samsung's old blue-hued skeuomorphic color scheme. Flashbacks!
The Galaxy S8 is the first smartphone from Samsung that will have the new emoji right out of the box. Those with Nougat on their older Samsung smartphones may see that they also have access to the new library of emoji. You can check out the full Galaxy S8 emoji changelog at Emojipedia.
Sign up for Black Friday email alerts!
Get the hottest deals available in your inbox plus news, reviews, opinion, analysis and more from the Android Central team.
Florence Ion was formerly an editor and columnist at Android Central. She writes about Android-powered devices of all types and explores their usefulness in her everyday life. You can follow her on Twitter or watch her Tuesday nights on All About Android.