RhinoShield's GS9 cases are even better than they look and cheaper than we deserve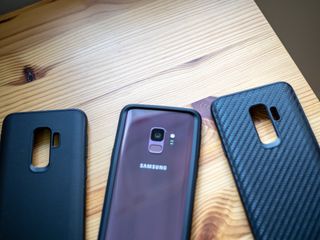 You either have a case or you don't. And you have preferences for the kind of case you want to adorn your phone, from clear to clearly hardcore and everything in between. That's totally normal. But some companies fall a little under the radar and need an extra push getting the attention they deserve. RhinoShield's products fall into that category.
For the Galaxy S9 series, the company has released two very different designs for Samsung's latest flagships: a more traditional style called SolidSuit — it's fancy, so it's a suit, get it? — and a bumper, called CrashGuard, that's reinforced at all four corners for resilience to augment the minimalism.
Both are excellent options for your new phone and work equally well with RhinoShield's superb tempered glass screen protectors, which is a bonus.
Here's what to expect.
CrashGuard bumper
Originally envisioned as a Kickstarter project for the iPhone— one that, incredibly, raised the equivalent of $325,000 USD back in 2014 — CrashGuard is RhinoShield's staple product, a bumper that lets the phone's beauty shine through while protecting the sides to ensure maximum drop protection. Especially at the corners.
The CrashGuard itself is made from a premium, durable plastic that's both recyclable and BPA-free, and its textured outer layer provides better grip than the Galaxy S9's own matte aluminum.
The best part of the CrashGuard is that, especially for the beautiful Lilac Purple version of the Galaxy S9, it allows the phone's natural beauty to shine through. It's great to be able to see the front and back as they were originally intended to be seen, and the 2.8mm thickness of the case, while not trivial, doesn't disrupt the usability of the phone itself.
Because the CrashGuard has been designed with maximum protection in mind, it's a bit difficult to get on and off, but it also means that once on it's not going anywhere.
Image 1 of 3
Image 2 of 3
Image 3 of 3
While I prefer the CrashGuard on the smaller Galaxy S9 due to the way it adds a modicum of thickness to the sides, the only real downside to both designs is that it doesn't protect the screen much. That's by RhinoShield's choosing since it didn't want to impede the use of the GS9's curved display. As stated on the site itself:
That's not necessarily a bad thing, but it's something to keep in mind all the same. The CrashGuard bumper is unique, and may not be for everyone, but everyone I've talked to who's used it long-term loves it and swears by it.
At $25, it's a cheap way to add considerable drop protection to your phone without marring the Galaxy S9's natural aesthetic benefits.
SolidSuit case
RhinoShield's SolidSuit case is a much more traditional example of a phone case, but it's so good that it doesn't matter how familiar it is. The case, which is available in either matte black, faux leather, or carbon fiber varieties, takes the core idea of the CrashGuard bumper and adds a back to it. Pretty simple, but that doesn't really explain the whole thing.
Image 1 of 3
Image 2 of 3
Image 3 of 3
This case is a dream — it fits perfectly on both the Galaxy S9 and its larger S9+ counterpart, and it looks fantastic adding an extra dash of class to a phone that's already got plenty of it. With the SolidSuit case fitted on the phone, it becomes considerably less slippery, but the form factor is largely maintained, and the screen's bezels are much easier to activate — a widespread problem with curved glass and Android.
I prefer the faux leather finish on the SolidSuit, but the carbon fiber version, which is $34.99, is pretty awesome on its own.
The matte black version is $29.99, and it's a steal. Highly recommended.
What do you think?
Are RhinoShield's Galaxy S9 cases up your alley? Let us know in the comments!
I bought a rhinoshield SolidSuit for my pixel 2 XL. The power button was missing from the case when it arrived rendering it useless. Not impressed for that reason.

I used the RhinoShield CrashGuard case for my Note8 and at first, I would have totally agreed with this review. It didn't seem to add much bulk to the phone, it was unique and it got quite a few "hey, what case is that" comments which I enjoyed. The drop protection is quality... but the really problems with this design started about a month after i started using it. The sides began to flex in the middle quite a bit much making it way to difficult and sometimes impossible to use the power switch one handed. I kept finding myself fishing around on the side to make the case's power switch line up with the phone's power switch, I wound up having to use a 3rd party app to allow me to double tap the screen to power off. I use Anker PowerLine and Powerline+ chargers (as everybody should) and had to take the case off every time I needed to charge my phone which was very annoying. I was very disappointed with this case, I have returned it and am now using the DBrand Grip case which is SIGNIFICANTLY better. It's slimer, easier to hold, and I have never had to take it off to charge. I feel like this is an article written by somebody who has never used a Rhino Shield case for an extended period of time and it is clear that RhinoShield paid for this article. I know you have to keep the lights on by posting sponsored articles, but how about we give a pros and cons. I think you guys need to be clearer about calling this a "first impressions" article, because at my first impression, i would have completely agreed with this. But, 2 months down the road, the case becomes not worth the money unless you just have it for the cool factor.

I bought the carbon fiber looking SolidSuit case and love it. Just enough case to protect my S9 without impeding usability. Very light weight and looks great! I wanted the faux leather version, but everywhere I looked (including Rhinoshield's website) did not have faux leather listed as an option for sale when I bought mine a month or so ago.

I just checked their website and the leather version is only listed as an option for iPhones, not for the Galaxy S9. So how is it that you have a photo of a leather case for the S9 that's not for sale?

Was a user with my Galaxy S6 and loved it. They never had an option for the S7 edge, and I don't want a bumper for my S8 plus as everybody says that they become weak on the sides after not much time of use. Wish they had the SolidSuit for it.

I got the crashguard bumper case and love it! Protection without the bulk! So far no issues with it but I've only had it for a couple weeks.
Android Central Newsletter
Get the best of Android Central in in your inbox, every day!
Thank you for signing up to Android Central. You will receive a verification email shortly.
There was a problem. Please refresh the page and try again.