Poll: Are you going to preorder any of the Galaxy S22 models?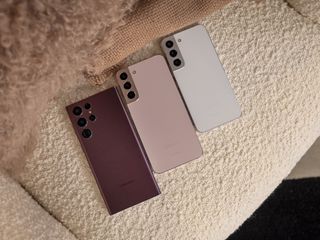 (Image credit: Nick Sutrich / Android Central)
After months of leaks, Samsung has finally launched the Galaxy S22 series. The phones are quite impressive thanks to the upgraded cameras, Snapdragon 8 Gen 1 chipset, and, of course, the S Pen on the Galaxy S22 Ultra.
From our Galaxy S22 hands-on, our Nicholas Sutrich notes how these phones are a solid upgrade from last year's flagships and should definitely be worth a look from Android fans. And now that preorders are open, you finally have a chance to secure one for yourself.
We want to know if you're preordering a Galaxy S22 model and which one you're going with.
While the pricing may have remained similar from last year's flagships, there are already some notable Galaxy S22 deals on the table that you don't wanna miss out on. For starters, Samsung and carriers are giving you the option to upgrade your storage option at no additional cost. That means if you grab any S22 model at 128GB, you can get upgraded to the 256GB version for the same price. The same applies to the Galaxy S22 Ultra and its 256GB model, which can be upgraded to the 512GB variant.
It's definitely a nice preorder perk considering there's no external storage on either model, in addition to the lower starting RAM on the Galaxy S22 Ultra. However, this offer will only be available if you preorder the devices before February 24.
Other deals include saving up to $1000 on a Galaxy S22 model from various carriers and receiving a $200 Samsung Credit if you order from Samsung, which can be used to buy other accessories like wireless earbuds or any of the best Galaxy S22 Ultra cases.
Green with envy
The new standard
The Galaxy S22 may look mostly the same on the outside, but it's the inside that counts. With this new model, you get an upgraded 50MP camera, a snappy new chipset, four years of OS upgrades, and a nice new green colorway.
The new Note
The best gets better
The new Galaxy S22 Ultra is Samsung's new premium smartphone, featuring a vibrant display, impressive 108MP camera, S Pen for all your note-taking needs, and up to four OS upgrades, so you don't need to worry about losing missing out on the new updates for a long time.
Android Central Newsletter
Get instant access to breaking news, the hottest reviews, great deals and helpful tips
Derrek is a long-time Nokia and LG fanboy who loves astronomy, videography, and sci-fi movies. When he's not working, he's most likely working out or smoldering at the camera.
If I can ever get the Samsung website to work! 😡

I'm actually hoping to pick up the S21 FE around Prime day. Already saving up. Of course if they gave an excellent discount on the base model S22 at that time then maybe but not now and not at the introductory price. My LG G8 should last a tad longer.

Nah, I'm only half-way through paying off my S20+ which has a 512GB SD card in it. I'm holding out for the S23 series. Any rumors out yet? ;-)

No. The trade in values are abysmal and the prices way too high for what you're getting.

Same. If they kept the trade in values the way they had in the past for previous models, I would have preordered.

I'm on the fence. Previously, I said that if the base model came in at $1300 with 8GB of Ram and 128GB of storage with no SD card, then I was not going to purchase it. The base model did indeed come with 8GB of Ram, with 128GB of storage and no SD Card,but at $1200 with the option to upgrade to the 12GB Ram / 256GB storage option at no extra charge. And for $100 more, I can get the 12 GB Ram / 512 GB storage option. That almost makes up for the lack of an SD Card... Almost. They seem to have settled for a happy medium for us power users, provided we preorder. I'll have to think about it. As I said previously, My Note 20 Ultra is humming along just fine. I'll wait until some of the reviews are out before deciding whether or not to pull the trigger.

I pre-registered in order to pre-order the S22 Ultra. However, all day I've been trying to order and the site keeps timing out. I've tried on laptop, tablet and phone through browsers and apps. What a joke!!

Nope. $1000 for 1TB, with a Note 20 Ultra trade in. Too much, for what you get... And don't get.

Trying like hell, but if I cannot get it ordered, I'll wait for the oneplus10 pro; maybe. If samdung cannot keep a website running correctly when they know they will be swamped makes me wonder are their phones ok? Google failed for the Pixel 6 and look at the product they turned out...buggy.

👆
Bunch of fools who have no sane reasons to upgrade their phones.

I just bought a A52s 5G a couple of months ago and that does me just fine plus it was half the price of the cheapest S22

Let's see – at the AT&T website: My daughter's Note 9 gets $800, so she wants to downsize to a S22 256GB for *free*.
My old Note 3 in a box gets $800, so my wife wants an S22 256GB for *free*, and her LG V30 goes into a box.
My LG V60 gets $800, so I want an S22 Ultra 512GB for about $500 net over 3 years. Tax and upgrade fees added, of course. We're upgrading all three. You could buy a phone off Swappa and do a deal... just sayin'...

The carriers seem to give better deals than ordering direct from Samsung. Samsung wanted to give me $600 for my Note20 Ultra 128, whereas Sprint/T-Mobile will give me $1k. Looks like Sprint/T-Mobile will get my Note20 and I'll be getting the S22 Ultra 512 for ~$300 spread over 2 years. That's an easy deal.

Trade in values arent as good as they were in the past so Im gonna pass.

I did. After trying for three hours, I finally ordered an unlocked white 512 GB S22 Ultra. It will be a nice upgrade from my Verizon S10+, which was only 128 GB plus a 256 GB SD card.

Very interested to the 22 ultra but I don't pre order because I have seen, that at least in my country the prices for the Samsung New devices go down between 20 and 25 % approx 3 months after the date of their launching.

Nice phones, but I wouldn't be an early adopter for absolutely any phone. I've got a Note 20 Ultra... No, lololol, no need to waste money on a new phone. LOL, the oil industry is sadly hated by many uninformed people, yet the pure environmental waste from the tech industry encouraging unnecessary mobile upgrades never is given a second thought. I have an outstanding phone... Maybe there will be something of a significant improvement in a couple of years? I doubt it.
Android Central Newsletter
Get instant access to breaking news, the hottest reviews, great deals and helpful tips
Thank you for signing up to Android Central. You will receive a verification email shortly.
There was a problem. Please refresh the page and try again.