The latest Plantronics headphones are designed for everyone from athletes to gamers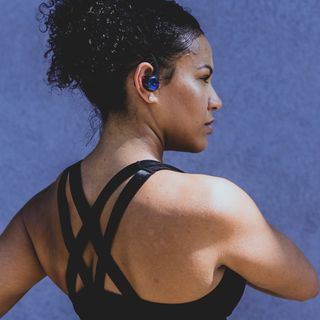 The holiday shopping season is closing in on us all, and Plantronics has new products lined up to help you take advantage of your gift-giving opportunities leading with the true wireless BackBeat Fit 3100 earbuds (opens in new tab). With a battery life of five hours and a charging case adding an additional ten, these headphones are capable of all-day playback. They're also sweatproof and waterproof so you can listen and work out without worry. Amazon and other retailers have them priced at $149.99 and available now.
Meanwhile, the BackBeat Fit 2100 earphones (opens in new tab) take those same earbuds and add a flexible band between them to keep them connected. Not only can they last for a bit longer on a single charge (up to seven hours), but you also save $50 as they're sold for just $99.99 in Black, Grey, or Lava Black.
The wireless BackBeat Go 410 headphones (opens in new tab) were also just released, featuring a battery life of up to 12 hours. They offer active noise-cancellation so you can listen without all the sounds around you bleeding through, and the feature can be turned off as well to conserve your battery power. These earphones aren't fully wireless like the BackBeat Fit 3100 earphones above, but they're a bit less expensive at $129.99 (opens in new tab).
Plantronics didn't stop there though. Things get even more affordable with the BackBeat Fit 350 (opens in new tab) headphones which are priced at just $79. These headphones, just as the ones above, utilize Bluetooth to connect to devices and are capable of lasting for six hours of playtime before needing to be recharged. There's also a pair of over-ear headphones, called the BackBeat Go 810 (opens in new tab) headphones, for $149.99 which offer active noise-cancellation, 40mm drivers, and up to 28 hours of wireless listening.
For the gamers out there, Plantronics also recently released new versions of its Rig gaming headsets (opens in new tab): the Rig 300, Rig 400 Pro, and Rig 500 Pro. Which one is right for you will generally depend on which console you use and your budget, though the 500 Pro HC (opens in new tab) would get you the most bang for your buck. There are a variety of headphones in these lines to choose from depending on your needs and the style you like.
See at Amazon (opens in new tab)
Alex is a graduate from the University of North Florida with a background in sales and merchandising. When he's not hunting down the next great deals to post on Thrifter, he can be found making music and working on his eBay business.
Cannot describe how excited I am about these (3100's). I've had the original BackBeat Fit's for around 4 years now and they've been flawless and always came back to them after trying other brands. They're the best running/sports headphones by far IMO. Mine aren't quite holding the same charge anymore so I was planning to replace them with another pair until I read about the new upgraded range yesterday.

As of this comment, out of the 10 latest articles under "latest ANDROID news" (which conveniently changes to just "latest news" when you click on it) from the front page, only one has remotely anything to do with Android. Most are SEO links to sell something with some semblance of technological connection. One has nothing to do with technology at all (athletic apparel? really?). Well done, AC. Try and find SOME balance here, please... Thrifter should not be infiltrating your "news" threads so much.

Lol 😂, yep, basically a flea market site now, except when they feel moved to push their gushing liberalism.

Why don't you not worry about it and go do something productive like start your own Android website and only talk about Android.

Typical response. As a supporter and fan of this site for years, I'm allowed to voice my disdain when they continue crossing the line. I'm all for SEO and revenue for the site, but they continue pushing farther and farther away from a balanced approach. It's not an Android site any more. As the other user above me mentioned, it's mostly a flea market now with the occasional article on Android.

And those commercials pay for better content. There are a lot of people on staff, none who can work for free. Bandwidth isn't free, web sites aren't free, app development isn't free. They are, in fact, expensive and not getting cheaper. Besides, there is almost nothing going on in the Android world right now. It's like that gap between when the NBA finals end and NFL starts, nothing but baseball. Or, if you're not American, that gap between the beginning of a soccer game and the end, in a zero - zero tie. NOTHING, ABSOLUTELY NOTHING!!!

Paying the bills is fine but the Android /Tech content has been lacking as a result. Verizon is rolling out 5G in limited markets, not worthy of an article? No article on the Plex Cloud service shutting down. Surely people who read this site would be interested.

Agree to disagree I guess. I never said it should be free. I'm well aware it takes money to run a site. I have no problem with them making a (gasp) profit either. But better content? Nah. More fluff is all they provide now, and that fluff is just shameless links to Thrifter and other links to sell stuff, most of which has nothing to do with Android. Unfortunately I keep coming back because they do have a handful of good writers that provide quality content from time to time. That quality content only makes up (generously) 20-30% of what they put out now, though.

I have a Plantronics Voyager pro, really like the quality. Might have to give the wireless a try.
Android Central Newsletter
Thank you for signing up to Android Central. You will receive a verification email shortly.
There was a problem. Please refresh the page and try again.