Pandora is finally prepared to launch premium streaming service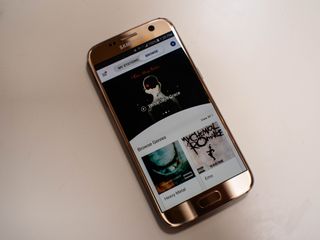 Pandora was one of the first big players in the music streaming game, with it's one-of-a-kind Music Genome Project (opens in new tab) powering a song recommendation engine that blew our collective minds over 15 years ago, and it continues to impress to this day. But in the time since, the field has become extremely competitive, with Apple, Google, Microsoft, Spotify, and many others all jumping into the premium music streaming service, offering users the freedom to browse and listen to over 40 million tracks.
Now, Pandora is preparing to take everything it's learned from its internet radio business and transition it over to compete against the big dogs with Pandora Premium.
Pandora first announced Pandora Premium back in December (opens in new tab) and now, thanks to the folks at The Verge, we now know a whole lot more about what to expect from the service when it starts rolling out later this month.
For starters, if you're already a Pandora user, the Premium service will take all the songs you've ever given a thumbs-up to and intelligently create playlists out of them. Banking on its superior internet radio service is a really smart move and negates the need for the algorithmic or handcrafted playlists that you'll find with the competing services. You'll also be able to tap one button and have Pandora intelligently add songs similar to the one you're listening to to the playlist, so you spend less time building playlists and more time listening to music.
You should expect to get the same expansive library of songs as you'd find with Apple Music and Spotify, except Pandora has smartly gone ahead and culled any karaoke, tributes, and duplicate tracks from its catalogue. That move will help users find the actual songs they're looking for while clearing out some of the noise from search results.
Entering the premium music streaming segment this late might seem like a tough task, with over 100 million people already subscribed and committed to their streaming service of choice. But Pandora is hoping that its simplified interface, built off of its free internet radio service, which has been used by over 250 million users, will attract those who have yet to subscribe to a premium music service.
Pandora is planning a staggered rollout for its premium service on iOS and Android, with current Pandora users getting the first crack at trying it out. New users and those using Pandora's free radio service will get to try Pandora Premium free for 2 months, while subscribers to Pandora Plus will get a 6-month trial of the new service. Existing Pandora users will receive their invitations to try out Pandora Premium starting on March 15.
You can sign up to receive your invitation to Pandora Premium here (opens in new tab), but keep in mind that the service is still only available to users in the U.S., Australia, and New Zealand.
Will you be planning to check out Pandora Premium? Which music streaming services do you use? Let us know in the comments!
Marc Lagace was an Apps and Games Editor at Android Central between 2016 and 2020. You can reach out to him on Twitter [@spacelagace.
Awesome. Been using Pandora plus for years, it's great. Can't wait to see their new offerings

without a family plan, I can't see me leaving GPM or Spotify

Groove Music (Microsoft) lets me save any music in their catalog for offline listening, which is really a mandatory feature for me (not just because of data usage, but 4G reception is bad in the gym and spotty on long trips). I think Spotify offers this too. Hopefully Pandora takes note of what the competition is offering.

Pandora has that to some extent. If I walk into an area without cell service (aka bathroom) I'll get "I've noticed you lost your internet connection, switching to offline playlist..
Not sure how it makes an offline playlist- but it does. (I pay the $5 a month sub)

I'm sorry, did I miss it somewhere? An entire article about a new music streaming service in a competitive market, and no mention of cost anywhere???

This is nothing new Google play has been doing this for years at the same price.nothing new to the market here.

I'll stick with Spotify. I left Pandora years ago and never cared to go back.

Pandora has the best radio hands down, it's my go to for discovery. This is doa if they don't allow offline listening by saving to local storage and family plans though.

I've tried Google Spotify Amazon and I just ended up coming back to Pandora.

A lot of stuff missing in this "review." If you want better information go here: https://www.engadget.com/2017/03/13/pandora-premium-music-streaming-hand...

I dumped them years ago, when on a "Rolling Stones" channel, their "incredible" service played 13 Beatles songs IN A ROW. Did I tell you that I detest the Beatles? I do. I have every confidence that they will underwhelm me again, at least if I were fool enough to use them again. Which I definitely will not do. 13 BEATLES SONGS IN A ROW. Die, Pandora. Horribly. Soon.

You're not alone man, i hate the BEATLES too. sip...

Pandora for finely tuned (the best) music stations, and gpm for everything else. I honestly dont know how people are content with Spotify ui and its playlist quality? Anyways id be down with premium pandora but family library has me stuck on gpm, and im fine with that.

People pay for Pandora plus ? It's free

Pandora plus isn't free. It's 4.99 a month and Pandora Premium is set to be 9.99. curious to if it'll be better than Google Play Music, which is the best bargain since it comes with YouTube Red.

I have Pandora plus, totally free and I can thumb up the song and download the MP3 with cover art

I know it's not well-known and prob sounds odd, but I pay for and only use Slacker Radio. I've tried Spotify premium and just didn't like it that much / don't understand why everyone raves about it (i think Slacker is better). Does anyone else out there actually use Slacker? Just curious. I feel like it's never mentioned by comparison in articles like these...nor anywhere, for that matter. :-P

I love SPOTIFY, some people has problems with playlist quality and UI, i love the UI is unique and for playlist honestly i can't complain, i always find what i'm looking for and sometimes i meet some new music that i didn't know about. I tried Apple Music lately and i don't like their UI at all, the way you make playlist is confusing and a lot of music are not there. SPOTIFY all the way!!!!!
Android Central Newsletter
Get the best of Android Central in in your inbox, every day!
Thank you for signing up to Android Central. You will receive a verification email shortly.
There was a problem. Please refresh the page and try again.