Palm Privilege [#acpodcast]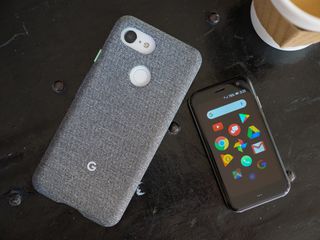 Daniel Bader, Andrew Martonik, Jerry Hildenbrand, and Hayato Huseman are here with a cornucopia of Android news. First up, they address solutions to some common problems with Pixel 3 that have been vexing early adopters, and its lack of face unlock as a missed opportunity to set an example for OEMs to follow.
Jerry shares his expertise on the USB-C spec, and how the new iPad Pro will drive demand for more, and better quality peripherals from all manufacturers — and benefiting all users in the process.
Hayato reviews the new Palm phone. It's certainly tiny. And as a device running full Android 8, it CAN do more than the minimal amount of tasks it's intended for. But does it actually help someone achieve improved digital wellness?
Lastly, the discussion turns to the announcements from Samsung's developer conference, particularly Samsung's Android 9 Pie interface called 'One UI', and their Infinity Flex Display technology. Whether or not you want one, foldable devices are on the way.
Listen now
Show Notes and Links:
Google Pixel 3's memory management issues will be fixed 'in the coming weeks'
Samsung's new Android 9 Pie interface is called 'One UI', beta begins in November
Samsung's foldable phone will have Infinity Flex display — Here's what we know
Samsung's new Infinity Flex Display will hit mass production soon, enabling foldable phones of all kinds
Samsung will cave in to the display notch trend — maybe even with the Galaxy S10
Android will officially support foldable phones, but app developers need to do the work
Sponsors:
Casper

(opens in new tab)

Get $50 toward select mattresses by visiting Casper.com/AC

(opens in new tab)

and using offer code "AC" at checkout — Terms and conditions apply.
I agree with the thoughts about the palm. -you don't want to pull out your phone and use it as much. -therefore you pull out the palm and use it. My question: What's the f'ing difference!?

Less phone?less stuff?lol

Webos is my second favorite os. I loved my time with the palm pixi

I still have my T3 and M505... About to play Lode Runner now, lol.

If you don't want to pull out your phone as much, get a smart watch. If you want less distraction, put your current phone in extreme battery saver mode, and enjoy a week on each charge.

Got the new palm, love it, having problems pairing with smartwatch Gear S2 & LG Sport, the Irony is that it pairs with my Pebble, go figure

You were discussing Samsung's folding device: Really? A 3x4 aspect ratio is the "iPad layout"? You've never seen an old fashioned TV or PC? You've never heard of NTSC, or VGA, or XGA? 3x4 was *THE* aspect ratio from the late 1940s through 2009. What's next "a keyboard with QWERTY - the MacBook Pro layout"? As to having a large "inside" screen ans small "outside" screen. This worked great on my Nokia E90 from 2007. Are you guys really that young? :-)
Android Central Newsletter
Get the best of Android Central in in your inbox, every day!
Thank you for signing up to Android Central. You will receive a verification email shortly.
There was a problem. Please refresh the page and try again.