The original Galaxy Buds now work a lot more like the Galaxy Buds Plus with Samsung's recent update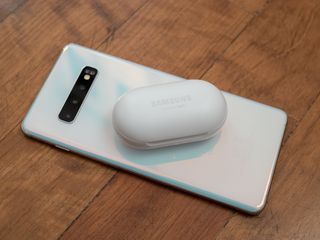 (Image credit: Android Central)
What you need to know
Samsung is rolling out an update to bring the Galaxy Buds up to par with the Buds Plus.
The update adds Swift Pair, Ambient Sound, and Tap & Hold support to the original Buds.
The company says the update is rolling out starting today.
The prevalence of software updateable earbuds and headphones mean that just like your phone and laptops, earbuds get better with time. For its Galaxy Buds, Samsung has just rolled out an update enabling new scenarios that were previously exclusive to the newer Galaxy Buds Plus.
Here's what's new for the Galaxy Buds:
Swift Pair Compatibility: Samsung's devices work well with Microsoft's software, and this update makes that even more true for the Galaxy Buds. The company is making its headset Swift Pair compatible. What that does is speed up pairing by initiating it automatically once your buds and the Windows PC in question are in proximity to each other.
Ambient Sound: Samsung has added an Ambient Sound feature, letting users tune in and out of their surroundings. If you choose to, your headphones can block out all the external sound. If you'd rather remain aware, you can trigger that as well. It's enabled by the external microphones of the earbud, and it works whether you have one or two earbuds in.
Gestures support: Samsung has added a new Tap & Hold gesture to the Galaxy Buds for quick launch Spotify access. Repeating this gesture will conjure up another Spotify playlist, just in case you weren't satisfied the first time.
These new Galaxy Buds features are available starting today.
Samsung Galaxy Buds Plus vs. Samsung Galaxy Buds: Which should you buy?
I loved my Galaxy Buds except for a couple small glitches. The Bluetooth signal was so weak that I could put my hands over my phone or place my phone in my pocket and the Buds would cut out. Not to mention that about 80% of the time, people on the other end of a phone call would say they could not hear or understand me. On my end, sounds quality was always excellent. The fit was perfect and they were very comfortable. The tap and play features worked great. Do the newest editions still have those same problems?

Sounds like you had a defective pair. I don't think this is issue that many others are having.

Same thing was happening to me last year when I got them so annoying I couldn't put my phone in my pocket. After the first update it was fixed
Best headsets I ever owned.

Ambient Sound isn't new, but thank you though.

Ambient Sound actually works now. Seems much more improved.

I like that Samsung is bringing features to older devices, first with S10 series and now with the buds. Keep it up Samsung!!!!!!

Alright, the update seems to have my buds from Samsung acting odd. I can only make phone calls with the right ear bud. I only use 1 bud at a time. If I make or receive a call with the left bud in only I get nothing but complaints. Static, clicking etc. My phone is a note 9 w / all updates. Anybody else.?????????
Android Central Newsletter
Thank you for signing up to Android Central. You will receive a verification email shortly.
There was a problem. Please refresh the page and try again.