Nokia 9 passes through the FCC with questionable specs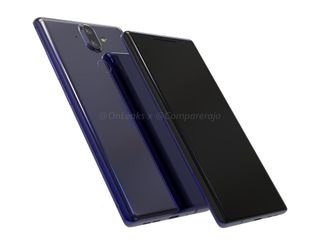 The Nokia 8 was Nokia's flagship phone for 2017, and while it's a commendable device, there are certain areas where we'd like to see improvements on for its successor. The Nokia 9 recently passed through the FCC with many of its specifications on full display, and it's, unfortunately, a mixed bag of old and new.
Starting off with the improvements, the 5.5-inch OLED display on the Nokia 9 should offer more vivid colors and deeper blacks compared to the Nokia 8's IPS panel and the battery has been increased from 3,090 mAh up to 3,250 mAh. There are dual cameras on the back once again, and while the resolutions are slightly lower on the Nokia 9 with a 12MP and 13MP sensor, megapixel count isn't the end all be all when it comes to image/video quality. Also, just like the Nokia 8, there will be 128GB of UFS 2.1 storage with an option to expand it via a microSD card.
Looking at the front-facing camera, the Nokia 9 is said to ship with a 5MP sensor. That's not necessarily bad, but it is an interesting change when you consider that the Nokia 8 has a 13MP one.
In addition to this, the Nokia 9 also appears to be using the Snapdragon 835. This is the same processor found on the Nokia 8, and while the 835 isn't slow by any stretch of the imagination, it is disappointing that Nokia's opting for it over the Snapdragon 845. Nokia could be choosing to go this route as a way to cut down on costs or to ship the phone out as early as possible, but in any case, it's a shame none of the 845's many advantages will find their way on Nokia's latest.
With these specifications in tow, what are your early impressions of the Nokia 9?
Nokia 9 CAD renders reveal a curved design, dual cameras, and no 3.5mm jack
Joe Maring was a Senior Editor for Android Central between 2017 and 2021. You can reach him on Twitter at @JoeMaring1.
This is not the Nokia 9 we are looking for. This is an early 2017 spec device to be delivered early 2018. Really not good enough and they're not living up to Nokia's rich heritage of innovation

BlackBerry users can relate...

It as usual, try to take up market share and perhaps aims for the cheap market like India.

Definitely not up to my expectations.. Nokia fails again to impress.. Certainly not living up to its previous reputation. Will hold out for the Nokia 10?
There's always hope..

Where is the confirmation that the device that passed FCC is actually the Nokia 9 ...apparently 2018 updates for the Nokia 6 and 8 will be announced alongside the Nokia 9 ...so this device AC is reporting on could easily be the updated 2018 Nokia 8 and tge front camera pixels were sacrificed for other updates, such as wireless charging, dust/waterproofing ..screen space etc. Just saying it could be since I dont see any sort of concrete baxk-up that confirms its Nokia 9

I would think that Android Central would know that a phone development cycle is 9-12 months. There's no way the 845 was ready for this phone at this time.

But hey, they've got to complain about something!

Well when you see who wrote the article you shouldn't be surprised.

True. It does seem that this website has taken a position on hardware that is either less forgiving, or less neutral. I am not sure which it is yet.

Is Nokia Policy bring you the latest model with outdated and last year specs and hardware, they are used to do that, they did that also when was the official Nokia and not an Subsidiary that only use their brand and when they manufactured Windows Phones also they did the same, new phones with outdated hardware, i do not think that way can get some market after all all the manufacturers brings new modelks with the latest processors, updated cameras and not downgraded ones etc etc

Was all psyched for this device as they have certainly waited long enough to release it after some of the hype on the other forums. Judging by this or going off this alone looks like I may pass on this one. Why go backwards on the specs just to get something out when in 2018 people will be looking for the latest and greatest. Unfortunately this does not look to be it. Especially after waiting this long . They are going to be playing catch up in 2018 that's for sure. Unless they follow it up shortly after release with something running the 845

I just remember how great the Moto X and 2nd gen X we're with "sub par" specs. Really two of the best all time Android phones.

Tbh phones are really the same now a days the difference is the softward/ui bundled with them for me the xz premium is my phone of the year fast, good camera, good sound esp after orio update great screen and more but the best selling is and will be the Samsung phones for the next few years anyway I don't see anyone taking over them just yet they are the new cool.

I am sick and tired of camera bumps. NO excuse anymore.

Kinda reminds me of the release of the LG G6. They used the 821 processer which I think hurt it's sales. Now Nokia is doing the same thing with the 835 processer. One release 2017 835 then 2018 release 835 processer. They should have waited for the 845. Consumer's desire the latest. I guess Nokia didn't learn from the G6's early release! Yikes! They all steal from each other why not learn from each other!

It is a Chinese way to dominate the market, with their junk.

Definitely not the phone I was hoping for at all. Disappointing specs all round. Oh well Nokia 10 anyone?

I will wait for the official though however as we all know things can and do change. I'd probably still opt for it if the processor isn't upgraded but the rest of the specs better be killer or else another one gets crossed off my list

"the Nokia 9 also appears to be using the Snapdragon 835." And what chip did Google put in their latest flagship phone?

Obviously the SuperDragon 999 in case you missed it.

Joe, how can a phone that is passing the FCC be a disappointment for not having the SD845? WHICH phone currently has the SD845?
Besides, Samsung has, like last year, bought the first batch of SD845 for the S9/S9+, so you can probably forget about any phone having SD845 in the first half year of 2018, unless it's a Samsung phone.

why samsung can not use the exynos processor for the USA/Canada version of their S versions, is thgis because rights of technologfies owned by qualcomm and their roiyalties or just because Samsung likes to not use their own processors on america models?

Personally I can understand the choice of processor, but what can explain the step backwards in camera? They partnered with Zeiss..... I thought we should all be seeing amazing things with this. Too me its a step backwards in the camera department, unless they have some new kind of technology behind it that has not yet been revealed. WHY lower resolution on the 9 compared to the 8? This is supposed to be the flag ship. Especially if this one is going to be released globally... Certainly doesn't make a good first impression

That OLED panel is made by LG :(

Not much difference between this & the Nokia 8. Very disappointed. A little bump in the battery and OLED display. Yikes! Well maybe a plus model with the 845 processer!

Specwarriors United outcry! Outrcy for three camera setups that take 5% better pictures than dual camera setup which takes 5% better pictures than single camera.
Outcry for CPU that brings 10% better performance which is unnoticeable by the eye anyway. What you really should be crying for is better OS that doesn't restrict the evolution of hardware and how we control the software. Unless hardware developers get access to third party apps functionality, re-skinning and rearranging (like CSS styling) all we gonna be stuck with is incremental processor and camera updates which lead to nowhere. You can call the shooting mode Portrait all you want just like you can call Hershey's a chocolate but we all know that is far from the truth due to simple nature obstacles.

I guess I'd rather wait for a price reduction in the Nokia 8. It has the same processer, right! Maybe should have waited for the 845 processer don't ya think?

Guess I'll wait for the Nokia 10, then.

Oh hell no!
I was waiting for a 5.9 inch with a superb Zeiss camera. This sounds more like a Nokia 7 than a Nokia 9. Nope, nope, nope!
Android Central Newsletter
Get the best of Android Central in in your inbox, every day!
Thank you for signing up to Android Central. You will receive a verification email shortly.
There was a problem. Please refresh the page and try again.