Qualcomm Snapdragon 845: Everything you need to know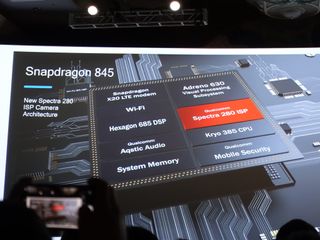 Qualcomm, the semiconductor giant currently embroiled in lawsuits with Apple and a potential merger with Broadcom, has announced that its newest flagship platform, the Snapdragon 845, will be coming to devices in early 2018.
Top 5 reasons to get excited about the Snapdragon 845
While the system-on-a-chip, which combines the computing, graphics, modem and other essential components of a mobile processor, will only be available in the second quarter of next year, Qualcomm is ready to talk about how it will bring mobile devices — and not just phones — into the AI age.
It's no coincidence that artificial intelligence is the cornerstone of Qualcomm's branding for its next-gen platform; with companies like Apple, Huawei, and Google dedicating more of their devices and software to components dedicated to offloading the intense computational needs of on-device machine learning. To its engineers' credit (and marketers' chagrin), Qualcomm says that it's been catering to developers' machine learning needs since 2016's Snapdragon 820 — its Hexagon digital signal processor, or DSP, has something called the Hexagon Vector Extension that processes the complex math equations used for artificial intelligence requirements. Qualcomm claims that AI performance with the new Hexagon 685 DSP is three times better than that of the Snapdragon 835, though it's unclear at the moment how that translates to real-world usage.
Hexagon's improvements extend beyond just AI, though: developers can connect to advancements in audio, sensors and, of course, video.
Part of the Snapdragon 845's biggest draw is something that we've seen, good and bad, from a number of manufacturers over the past year: HDR.
Specifically, the 845 supports capture in what Qualcomm calls Ultra HD Premium, which supports wider color gamuts, such as Rec. 2020 — that's more colors — and considerably more shades of existing colors, in 10-bit HDR. This is powered by the new lower-power Spectra 280 ISP, an upgrade over the one inside the Snapdragon 835. With screens getting sharper and OLED displays becoming more vivid, the Snapdragon 845 promises to make video capture and playback significantly better in 4K, something that Qualcomm has been pushing for a long time.
The new platform also has networking improvements, with Qualcomm touting its X20 LTE modem for its 20% faster speeds — up to 1.2 Gbps peak, far beyond what current networks can achieve in the real world. (That's LTE Cat 18 download and Cat 13 upload, for those counting.) Wi-Fi is also improving, with the new 802.11ad standard on board offering multi-gigabit speeds. Plus, 2x2 802.11ac of course.
In terms of substantive performance and efficiency improvements, the Snapdragon 845 is iterative, much like the last few revisions. Expect a 10-20% bump in performance depending on the application from the new Kryo 385 CPU, along with a 30% boost in efficiency, but we're well beyond the time when meaningful jumps in single-core speeds are happening year-over-year. The Adreno 630 GPU offers an equivalent boost in performance — around 30% in performance and efficiency.
We benchmarked the Snapdragon 845 — here's why none of the numbers matter
One intelligent way Qualcomm is cutting down on power use is through a system called Tile-based Foveation, which works with the Snapdragon 845's eye-tracking system, helps the GPU render the part of the screen a user is looking at in greater detail than the area around it. This cuts down on energy usage and helps maintain frame rates in graphics-intensive games.
The Snapdragon 845 is, like the 835, a 64-bit octa-core chip built on Samsung's 10nm process. The new chip runs at 2.8GHz and uses LPDDR4x dual-channel memory at 1866MHz. But it's clear at this point that these nominal figures mean far less than the individual specialized portions of the SoC that enable specific features in devices.
So when can you get it? The chip will start shipping in the second quarter of next year so, like this year, expect the Samsung Galaxy S9 to be the first phone with the new chip.
Update, February 13: This post has been updated with the latest info on the Qualcomm Snapdragon 845!
Get the Android Central Newsletter
Instant access to breaking news, the hottest reviews, great deals and helpful tips.
Daniel Bader was a former Android Central Editor-in-Chief and Executive Editor for iMore and Windows Central.
Technology advances are just amazing, especially in the cellular field.

I'll stick with the Kirin on Huawei and Honor phones.

Yeah Huawei Kirin kills Qualcomm Snapdragon.

Lool not even close. snapdragon still faster than newest kirin

Lmao Last gen Kirins were killing the newest SD chipsets in real world speed tests, that's how it's been for years, SD improved a bit with the 835 but is still no match for Kirin at the end of the day.

Let's assume snapdragon was a little slower in processing speed... that's not the only metric for a SOC. The snapdragon destroys the kirin in GPU performance, networking and other areas that use a DSP for things like AI or general coproccessing. So even if it was slower by CPU cycle (which it isnt) and even if it had a worse GPU (it doesnt) it would still be a better SOC for mobile devices. Hell its radios alone make it the obvious choice even when performance benchmarks show them nearly on par with each other. Of course since I'm posting this with half a year of hindsight...its pretty easy to see that the snapdragon is and always was faster and better

I wish Samsung would skip the SD 845 this year and put the latest Exynos chip in the S9 and Note9.

Pixel 3 with 845 and thin bezel 5.2 inch?

Kind of feels like a "tock" year since they're using the same 10nm size. While I'm sure that there will be improvements, it doesn't feel like it'll be the same leap that you had going from the 820-821 to 835.

Yeah, I agree. Think there's a decent argument that this would be called the 836... But what's in a name?

I'm on board with the both of you - dropping nm size isn't really revolutionary now days - sure it has its advantages - but it's not a new evolutionary scale... The only thing I can possibly see - new - would be the AI archetecture \ coding that would make the cores amazingly more efficient. Other than that - I'm all ears...

Nice to see it uses the X20 LTE modem which climbs up to 1.2 Gbps downloads.

I think that those folding phone from Samsung and other manufacturers would benefit the greatest from these processors, especially from the screen point if view. VR tech is advancing to the point where 4k resolution is going to be required, so many of us should expect it.

"We're beyond seeing meaningful jumps in single-core speeds happening every year." Speak for yourself. There's plenty of room for Qualcomm to improve in single-core; look no further than the A11. The wizards at Apple manage to improve notably every year, to the point where they seem to be two generations ahead of the competition.

And yet in real life everyday tasks the A11 is no faster and a lot of the time slower than it's counterparts.
Synthetic benchmarks are great for Apples epeen but useless in real life.

I'm interested in hearing more about the eye-tracking system. Although it likely won't be noticeable, the GPU rendering a part of the screen in greater detail than the area around it is a tad off-putting.

Agree, its seems like a bad idea! Why waste Dev hours with this? Just make the whole damn screen look damn good the whole time!

New chip is out..... I here a Galaxy S9 coming in the next 5 threads.

When is Qualcomm going to catch up to apples performance? Imagine androids ecosystem a bit more optimized with the A11 performance? That be a hard phone to beat

a11 already got trashed on by oneplus 5. pretty sure synthetic benchmarks mean nothing real time. .

They got trashed by oneplus because of the 8gb ram, apps tend to open faster when they are not closed.

I have read that this new chip and its predecessor are going to be used in laptop and laptop replacement type machines. In an article on Alphr the HP Envy with a Snapdragon 835 is being touted as a Surface 4 killer. While these chips are improving, I don't see how anything with a cellphone processor can compare with an intel core i3, much less an i5 or 7. Even if benchmarks say the are contenders, my experience is that my surface 4 pro has more muscle than any phone with an 835 hands down. Will the 845 change that?

I doubt that a mobile phone processor will out perform a laptop processor in sustained performance. Peak power is one thing but sustained power is much more realistic and mobile phone processors just can't handle a desktop OS and applications.

People are complaining because it's still at the same process node.
What most people don't understand about process nodes that there can be improvements in transistor construction that improve leakage.
If you move to a smaller node that doesn't mean you will see meaningful improvements in performance. Often the shrink is just to improve area and nothing else. I can go into a lot of detail but the fact that they have improved the pipeline and can run at higher clock rates means there are real architectural changes that are meaningful.