Next Nexus 7 now available for pre-order at Best Buy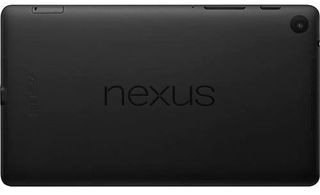 $229.99 for 16GB, $269.99 for 32GB
Google isn't expected to officially take the wraps of its new Nexus 7 tablet until a little later today, but Best Buy has jumped the gun and is already offering the new tablet for pre-order. The "new Nexus 7" is listed in 16 and 32GB flavors for $229.99 and $269.99 respectively, with Wifi data connectivity only — we're not seeing the rumored LTE version anywhere. A full selection of press renders is also provided, clearly showing the device we exclusively revealed last week.
Here's a rundown of what the Best Buy listing reveals about the new tablet —
1.5 GHz Qualcomm Snapdragon S4 Pro CPU
2GB of RAM
7.9x4.5x0.3 inches
11.2 ounces
7-inch, 1920x1200 display
16/32GB of storage
1.2MP front-facing canera, 5MP rear camera
Android 4.3 Jelly Bean OS
Bluetooth 4.0 support
Wifi 802.11 a/b/g/n
That lines up with what many were expecting from the ASUS-made tablet, and it represents a sizeable upgrade upon last year's N7. We'll be live from Google's presentation in San Francisco later today, where the company's expected to show off Android 4.3 and its new Nexus tablet. Stick around for full coverage of the day's events!
Source: Best Buy 16GB (opens in new tab), 32GB (opens in new tab)
Android Central Newsletter
Get instant access to breaking news, the hottest reviews, great deals and helpful tips
Alex was with Android Central for over a decade, producing written and video content for the site, and served as global Executive Editor from 2016 to 2022.
Wonder if they'll take it down

Couldn't they have added a couple more inches to the top and bottom bezels?

A couple more inches of screen size? I would've rather them shrunk the bezels and left the screen size alone, making the overall tablet a bit smaller. Posted via Android Central App

I think he is being sarcastic.

Duh! that's what he was talking about!

I agree with you. This could be the ugliest tablet I've ever seen. Posted via Android Central App

It is a black slab, how ugly could it be. Personally I like the new design. I like the new oversized horizontal nexus logo on the back. The bezels measure out to be the same as the current nexus 7. I think it is a job well done by Asus.

This. Posted via Android Central App

Also it's thinner and lighter than the current nexus 7. I think all the "this device is so ugly" comments are either trolling or extremely ocd.

No no, they are very legitimate complains. If we wanted ugly bezels we could've gone for iPad long time ago. Nothing wrong with wanting a bezel-less Nexus 7.
However this isn't my biggest complain with this tablet. Mine is the chip! WE WANT SNAPDRAGON 800!!!

I was thinking the same thing. Looks like a LOT of wasted real estate!

lol because of the bezels? as said my MANY, its by design, when holding your tablet you dont accidentally touch the screen. i like it

Is there no LTE version because that is still a nebulous possibility, or is it telling that bb does not have it on their site? Posted via Android Central App

It might be coming later, just like GSM-version came, some months after WiFi-version was released with first generation Nexus 7.

Was the previous cellular Nexus 7 available via retail? I thought Google was the only one that carried it. I'm really hoping it's available today; I was planning on ordering a cellular model but if it's WiFi only at this point I'll probably pass.

I know last year's model was for sale at Sam's club and GameStop. Posted via Android Central App

It originally came out via the Google Play Store at first where I first got it, then it came out in Staples here in Toronto. I'm waiting for this new one myself. It would be a nice surprise if it came out with the Wifi version but I'm willing to wait for the cellular one myself.

What's that thing in the top left on the second image? SIM slot? Micro SD slot? HDMI? USB?

Like impression on the corner makes it looks like a SIM slot with an eject button to me.

Ya that tiny hole is definitely starting to make me think of a SIM slot too. Maybe they will all be LTE capable? Well, that's just wishful thinking.

Wtf? Already.? Couldn't they have waited till official announcement? Posted via Android Central App

Is the Google event livestreamed later? Posted via Android Central App

You can watch the live stream here http://www.androidcentral.com/live-google-s-breakfast-event-san-francisco

Wondering if it's going to able to use the same pogo pin charging dock? Posted via Android Central App

Done Posted via Android Central App

Doneskis Posted via Android Central App

Getting a little pricy should have stuck with the 200 dollar 16gb 249 for the 32gb ill just stick with my n7 Posted via Android Central App

Find me another 7 inch tablet running 4.3 with those specs at that price point.

i know right....people expect these AMAZING prices when there is nothing out there that can touch this tablet at this price point. even the N7 is still the best tablet for the price.....STILL. this is priced right IMO. if you can't afford the $30 extra(over the $200 you wanted it to be), the old N7 is still an AMAZING tablet at the $170 price Staples has it at.

Yeah, I've been looking at deals, for the first Nexus 7. Quite a few people are selling the 16GB version, for less than $130. As much as I want the new version, $130, for a Nexus 7, 16GB at that, seems like a smoking deal. Posted via Android Central App

Agreed, $170 is great for the Nexus 7! We got my wife's Nexus 7 a week or so ago for $150 when Staples had a $30 coupon. For the price I'd say the $80 difference in what we paid isn't totally worth it(she isn't going to notice a difference). But, if it wasn't on sale and at $200, I'd say it worth the upgrade price. $230 is still a great deal for this tablet!

Thank you! People are ridiculous with their expectations at such a low price point. One day, once they have a real job, and see this is the same price as their electric bill for a month, they'll probably understand.

Probably just a premium for the new adopters until the stock of the original N7 has been depleted. In a month or two, it will probably go down to the prices you quoted.

I don't know if I'd say "sizable" upgrade. -Suntan

Doubling the RAM and the enhanced screen are enough for me to consider it "sizable".

+CPU/GPU, stereo speakers (well at least dual), LED, slimmer profile and bezels, 4.3, rear camera (and better FFC), sexy back...

Meh. It's also one year later. I would hope that a lot of the features would improve for a similar asking price. Personally, the 1080p screen is the only notable, standout spec imo. The rest of them really just range from expected to already a little outdated. YMMV. -Suntan

What are you talking about? The 16 GB was $249.99 at launch last year, taken down to $199.99 when the 32 GB/ nexus 4 was announced...

GPS? Posted via Android Central App

Guys here is early unboxing of the device enjooooy http://www.youtube.com/watch?feature=player_embedded&v=PO2ZsvwRMuY

Wow it looks SO much better in that video than some of the leaked renders. N7 2 or wait for N10 2 is the question. Especially seeing the G2, which I expect to be the base for the N5 that I will definitely own, having a 5.2" (gorgeous) screen. Do I need a 7" tablet? Thinking not...

I think that they'll put out the LTE version later, but not this month. Posted via Android Central App

MY BODY IS READY Posted via Android Central App

As soon as the GSM version is available I'm jumping on it like white on rice. I just sold my GSM Nexus 7 a couple a weeks ago in anticipation for this device. I loved my N7 but if you fill it up with apps it lags like a mofo. It runs great when there aren't many apps installed, but load it up(100+ apps) and watch it lag.

i think its hit or miss. i had a wifi only version, 16GB, 80+ apps (lots of games) and like 6 HD movies on it. had just over 1GB left....and it almost never lagged.
I was running custom ROM's, and wiped the device clean about once a month....but still, it almost never lagged, had great battery life, and was stable as could be.

I was expecting to see this comment/question in the first five or so. I didn't see it so I guess it's up to me. I want that wallpaper. Where can I get it!

Lol, somebody has to ask haha Posted via Android Central App

The sad thing is I find myself actually wanting it the more I look at it. I'm just not willing to buy a new N7 to get it ;)

The wallpaper is very 'Google'. I assume it is a stock wallpaper, I don't know if it is just on the new N7 but it may be packaged with 4.3 when it releases. I have a feeling you will see it, and all the new stock 4.3 wallpapers floating around the interwebs very soon.

Maybe they won't take too long to send 4.3 to my N7...

damn it looks like they are sold out or they took down the pre-ordering :(

Leaks say anything about battery size? Posted via Android Central App

Hello from Canada.. I just bought the MS Surface Pro (runs too hot, too heavy, battery life sucks) last week and am going to return it to get this..less cost and the resolution on this new Nexus 7 too at that size will be awesome... Four questions... 1. What will be the ppi as far as resolution be for this new Nexus 7? 2. How long can the battery life be expected to be? 3. Will it be available in Canada the same time at Best Buy or Future Shop as it is in the States? 4. Will it be available on the Canadian Google Play store at the same time as the American version of Google Play store? Thank you

What's up with the little light in the middle of the bottom bezel? It sort of reminds me of the little light on the Palm Pre (the version that doesn't have the half ball sticking out of the plastic).

The LED notification...sweet addition.

Oh. I have to agree that is a nice addition.

I miss palm! Sent from my HTC One

Slimport for 1080 video out

Totally temping! I will more than likely end up with one in the coming months! :-) Sent from my HTC One

WiFi+AT&T LTE, please. Posted via Android Central App

Pre-order? it just says "Coming Soon"...there's nothing to click

Its not available for pre order. Stop posting false info

It was available for pre order. They stopped it. But yes. It was available for pre order. You just missed it. Posted via Android Central App

Here you doubters go.
http://postimg.org/image/sghhdm7fv/ Posted via Android Central App
Android Central Newsletter
Get instant access to breaking news, the hottest reviews, great deals and helpful tips
Thank you for signing up to Android Central. You will receive a verification email shortly.
There was a problem. Please refresh the page and try again.