The iconic Motorola razr is back with a fresh new look and a future-forward design that leaves other smartphones in the dust. With pre-orders now available at select carriers, the Motorola razr makes its debut as one of the priciest smartphones to date at a regular MSRP of $1,500. Thankfully, anyone looking to get their hands on one of these new devices sooner rather than later without having to pay full price is in luck — Verizon is offering up to $500 off its purchase when you trade in an eligible device and add a new line to an Unlimited plan. This deal also requires that you pay for your new phone in multiple monthly installments instead of all at once.
Verizon is even throwing in a $200 prepaid Mastercard if you're switching service from another carrier. You must port-in your number from your current carrier to become eligible for this offer. After checkout, visit Verizon's Digital Rebates Center and enter the code NEWYEAR200 along with the required information to redeem your prepaid Mastercard. It may take up to eight weeks to arrive.
Nostalgia's Cool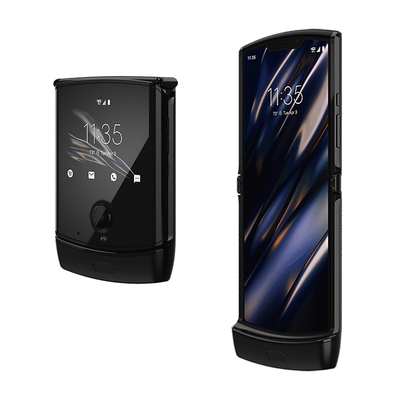 Verizon is offering up to $500 off the purchase of Motorola's new razr smartphone when you trade in an eligible device and start a new line on an Unlimited plan. You can even earn a $200 prepaid Mastercard with its purchase!
Up to $500 off
There are a bunch of devices which are eligible for Verizon's trade-in offer, though some will earn you more towards the razr's purchase than others. For instance, trading in any iPhone 8 model or newer will net you the full $500 credit, along with devices such as the Samsung Galaxy S9, the Google Pixel 3, and the LG G8 ThinQ. Meanwhile, older devices such as the iPhone 6, the original Google Pixel, the Moto Z4, and various Samsung Galazy devices can earn you $350. You'll just need to make sure you're also starting a new line on an Unlimited plan while completing this offer.
Once you've completed all the steps, you should see your trade-in credit applied to your bill over the course of 24 months. That should bring its monthly purchase price down from $62.49 and closer to $42.
We've already gotten our hands on the Motorola razr here at Android Central, and there's a lot to say. Go in-depth with the device in our hands-on preview, then check this list for a better look at its specs.