Motorola is now selling products directly on its UK website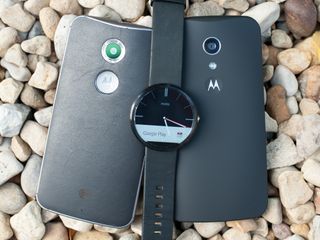 Motorola has just announced the company will be allowing consumers in the UK to purchase its latest products directly through the online portal. Checking out the latest products on the website will be accompanied by means to actually checkout and have said items delivered. To kick everything off, the Moto G is the first product to be available on the new web store for £149 ($242).
From this morning, consumers are able to purchase the Moto G as well as its accompanying selection of shells. Other Motorola products will be included in the near future, so remain tuned for when other devices are listed. It's a neat expansion for the company to provide a more integrated experience for consumers who would rather purchase smartphones and other Motorola products through the company.
Head to the Motorola website (opens in new tab) for more details.
The new Moto X doesn't interest me tbh, but the idea of being able to custom make your own phone's design is kind of pulling me in. I have no need for the Moto X but I might just treat myself to an early Xmas present :)

It doesn't interest you but you'll probably get it?
I don't think it means what you think it means.

yeah the phone didn't interest me when it was revealed, but the fact you can customise it has intrigued me now. We didn't get this option in the UK last time around

My only concern is battery! If the reports turn out good I may bite, but for now going to wait listen. Posted via the Android Central App

Now Motorola sell direct in Canada too, their can't be a law or anything about it since Google sells the nexus line up here... Not GPE's though. Torloth

No 16GB moto G 2014, No Sale! Posted via the Android Central App

Gets a new phone; promptly puts it screen down on some rocks. Phil is so brave. Posted via Android Central App

Well they're round rocks at least. Posted from my Nexus 5 via Android Central App

I wish they'd update us on when MotoMaker will be available here in the UK. My finger is on the button ready to throw money at the screen!

Still trying to fathom the lack of LTE on the new Moto G.

A lot of a cheap phone plans (which the people purchasing this cheap phone would use) don't include LTE? LTE chip would raise the price?

I will rephrase and say lack of an LTE version of the new generation. Having said that, the price of putting LTE in a phone is coming down all the time as it has hit mainstream volumes over the last year, so I think they could hit an aggressive price point and give buyers flexibility as LTE becomes the norm.

Yeah me neither. I don't understand why they bring out a moto g then a second one with LTE then a new generation without it. Why not just put LTE in the second generation one and drop the LTE one? I don't mind paying an extra £10-£30 for it. Now I'm looking elsewhere for a new phone Posted via Android Central App

Motorola now rocking Market with its new products at low costs @ http://newmobilereview.com/

Only the Moto G 2014 available at the moment through the website. What about the others? Posted via the Android Central App Near future

No Qi, no waterproofing, no sale. (yes I realise there is no phone for me) Posted via the Android Central App
Android Central Newsletter
Get the best of Android Central in in your inbox, every day!
Thank you for signing up to Android Central. You will receive a verification email shortly.
There was a problem. Please refresh the page and try again.