Motorola Droid Turbo makes its way to India as the Moto Turbo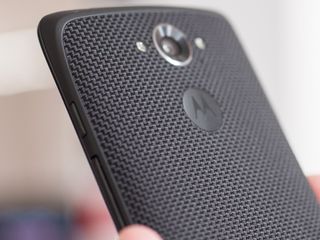 As previously teased, Motorola has launched the Droid Turbo in India, marketing the device as Moto Turbo in the country. The handset is currently available for pre-order for Rs. 41,999 ($670).
The handset — as is the case with all Motorola devices in India — will be exclusively available on Flipkart, with sales set to commence from the third week of March. The retailer is running launch day offers — valid only on March 9 — through which 25 customers can get 100 percent cashback (which essentially means that they'll get the device for free). Customers using American Express cards also stand to gain an additional 10 percent off the retail price of the Moto Turbo.
In terms of specs, the Moto Turbo offers a 5.2-inch QHD AMOLED display, Snapdragon 805 CPU, 3GB RAM, 64GB internal memory, 21MP camera at the back, 2MP shooter at the front, Wi-Fi 802.11 a/b/g/n/ac, Bluetooth 4.0 and a massive 3,900mAh battery. The device will come with Android 5.0 Lollipop out of the box, and both Ballistic Nylon and Kevlar Fiber versions will be available for purchase in India.
Considering the pricing, how many of you are interested in getting the Moto Turbo?
Harish Jonnalagadda is a Senior Editor covering Asia at Android Central. He leads the site's coverage of Chinese phone manufacturers, and writes about the semiconductor industry, storage servers, and audio products. Contact him on Twitter at @chunkynerd.
I keep wondering, why is this beast not available in UK? I think we had plenty of E's and G's. I want a proper machine. Posted via the Android Central App

I wonder why Motorola delays so much the launch of this beast to Europe. It has been half a year since the initial launch of Droid Turbo for Verizon and we are still waiting..

So tempted! My nexus 5 has begun to show its age.

Really? Does it have Lollipop? Posted with my Nexus 7 2012 or Moto X via the Android Central App

Lollipop is why it is showing its age. --- This message brought to you via the sarcasm keyboard available for download at the Google Play Store.

Comes pre-loaded with Lollipop

I had the Droid turbo, i loved it, i wish motos big battery wasnt exclusive to the droid phones, this may be a start. You can feel the phone is heavier than say an iphone or samsung, but the battery life is worth it!! Its a good solid phone,. Verizon Note4 w/ Otterbox Defender

And here my Droid Turbo sits with 4.4 kit Kat... Posted via the Android Central App

Good old Verizon Posted via the Android Central App

Mine too...thankfully Posted from my Droid Turbo, Kelly and Ozone

That's what you get buying Verizon exclusive crap Posted via the Android Central App

I don't know my N9 has lollipop and I use my Turbo more to avoid having to deal with Google Play Music crashes, Chrome crashes, home screen redraws, and general lag issues when trying to do anything inside a Google app. Ill gladly wait til its not as buggy. Posted via the Android Central App

Your problem is TEGRA, not Lollipop. Rooted LG G2.
Rooted GS3, Stock Galaxy Note 4
If it ain't Tech, it ain't Right!

Dude kikat is awesome. Lollipop is still going threw growing pains. Be patient man. Posted via the Android Central App

Yep, and it's great. Nice and smooth with 0 bugs. Kitkat is a fantastic OS version Posted via the Android Central App

I know! I am so sick of waiting for lollipop! I wonder what the hold up is? It must be Verizon! It's the middle of March! We have waited long enough!

I wonder if this is the Droid Quark that showed up on the FCC website back in October which looked like a GSM only version the Droid Turbo.

If it uses the Droid branding it's on Verizon...! Rooted LG G2.
Rooted GS3, Stock Galaxy Note 4
If it ain't Tech, it ain't Right!

Yes I know that that Droid branding is exclusive to Verizon. I was referring to the Motorola product with FCC ID IHDT56PK2 that some Android sites reported as being the GSM/WCDMA/LTE version of the Droid Turbo but after doing some searching I realized that IHDT56PK2 turned out to be the Nexus 6.

The Quark is the internal name from the Turbo. My turbo has Quark in the software build version. Posted via the Android Central App

Why change its name again? Why not Moto Maxx, as it is named on Brazil and Mexico? Posted via the Android Central App

Great they get lollipop before US does, and out of the box too. Dam you VZW! Posted via the Android Central App

I love how the Turbo is launching in India with Lollipop and the Verizon version still has not received it. Maybe this will be a sign of things to come.

It's BootLoader can be unlocked right? Posted via the Android Central App

Would this work in the UK? On all bands? i.e. 4G, 3G, 2G, etc. Also could anyone recommend a website i could use to compare the frequencies used by different nations for comparisons? I've looked on google but come up with nothing :(

Easily my favorite phone of 2014 Posted via the Android Central App

Seriously though, where's the Moto X Pro in China? The Nexus 6 needs Moto Apps! Posted via Nexus 6, T-Mobile, and the Android Central App
Android Central Newsletter
Get the best of Android Central in in your inbox, every day!
Thank you for signing up to Android Central. You will receive a verification email shortly.
There was a problem. Please refresh the page and try again.