Moto E4 vs. Moto E4 Plus: Battery. Savings.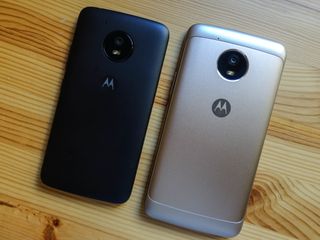 It's not every day that two phones are released from the same company with such compelling differences, but Motorola's new Moto E4 line fits that description perfectly. Both announced on the same day, the Moto E4 came out first and managed to wow us with incredible performance and decent, accessible hardware and software for between $70 (opens in new tab) and $130 (opens in new tab), depending on the place of purchase. But the Moto E4 Plus takes the design and feature set of the Moto E4 and ups the ante, adding a better 13MP camera and an insanely large 5000mAh battery — all for between $130 (opens in new tab) and $180 (opens in new tab).
At their core, both devices try to tell the story of the new budget phone in 2017 — one that doesn't need to make considerable compromises to reach its asking price, and that offers an experience that would appeal to anyone, not just the budget-minded.
The U.S. variants of both phones run the capable but aging Snapdragon 427 chip along with 2GB of RAM and 16GB of storage (yes, the video accidentally says 16GB of RAM, which would be nice. Our apologies!) along with Motorola's lightweight but powerful version of Android complete with Moto Display. But where the Moto E4 has a standard 2800mAh battery (removable and replaceable), the E4 Plus has a massive 5000mAh cell that lasts for two days or more. And while the 5.5-inch phone is slightly larger and thicker than its cheaper 5-inch counterpart, it's not unmanageable — it's even relatively svelte at under 10mm thick and 181 grams.
It will be interesting to see whether either of these phones gets updated on a regular basis, if at all; they launch with Android 7.1, but that may be where they stay.
So should you even consider the smaller Moto E4? Yes, for a couple of reasons: its back cover is textured and easier to grip; and its smaller size makes it perfect for one-handed usage. Otherwise, you'd be better off with the Moto E4 Plus in almost every situation. It's made with more metal, has a better camera, a larger display (though admittedly less dense) and that huge battery.
Do you agree or disagree with this conclusion? Or would you rather go with the slightly more upmarket Moto G5 Plus? If so, we have a comparison for you, too.
See at Amazon (opens in new tab)
Android Central Newsletter
Get instant access to breaking news, the hottest reviews, great deals and helpful tips
Daniel Bader was a former Android Central Editor-in-Chief and Executive Editor for iMore and Windows Central.
What if I told you, you could walk into Walmart right now and get the E4 Verizon model for 39.98$?

I'd say, when you factor in the cost of getting to my nearest Walmart, which is about 4 and a half thousand miles away, plus the fact that a Verizon model probably wouldn't work here anyway, I'd say it's an incredibly bad buy. Definitely worth picking one up if you're already in the states and planning to stay there though.

great price if you can use it. if you're using a Verizon MVNO or any Sprint service, it won't work though.

Yup that's Walmart's normal price for the Moto E4 Verizon Prepaid. Get a $2 SIM unlock code from eBay and use it on T-Mobile & At&t and their MVNO's. One downside of the Verizon Prepaid is not being able to unlock the boatloader.

Can be unlocked via a $2 code on eBay.

I bought a E4 Plus just for the battery and it isn't as good as I thought it would be.

I wonder what expectations you have and what you're running. I find my Z Play battery lasts quite long, unless I actually use my device. :D

How so Bud? How long does it last you from 100% until you charge it say 10-15% and how's your SOT? Thanks man.

Will keep the Verizon E4 in mind as a backup if something happens to my G5 Plus especially knowing it's only $40 at Walmart

Bought the $40 Walmart model. Unlocked for $2 on ebay. Incredible phone. I use it for running, since it's smaller than my 6" beast of a Mate 9.

What carrier are you using it now? T-Mobile, AT&T, Cricket or Metro PCS?

T-Mobile. And FreedomPop.

The Snapdragon 427 in the Moto E4 is not an "aging" chip. It just came out this year and the E4 is one of the first phones to use it...

Wife just purchased the E4 plus as she isn't too bothered about fancy features, cares more about a battery. Anyway had a wee mess about with it, for the price (£139) this is a belter of a phone. Granted not going to play graphic intense games, but for everything else it's solid.

Bought mine from Boost (Sprint MVNO) for $50 off of their website, 3 months ago and aside from my version not having a fingerprint scanner, I am very happy. Have had Boost in the past when they we're still on the NEXTEL network and had a Motorola i776. Here it is 2017 and I'm back with Boost and this time I have the Moto E4
Android Central Newsletter
Get instant access to breaking news, the hottest reviews, great deals and helpful tips
Thank you for signing up to Android Central. You will receive a verification email shortly.
There was a problem. Please refresh the page and try again.