Moto E4 Plus vs. Moto G5 Plus: Battery vs. everything else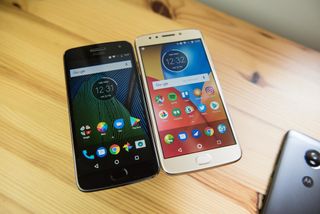 You'd be forgiven for not fully understanding Motorola's release strategy in the U.S., since it not only differs to many other parts of the world, but the carriers play a role here that they often don't in other markets.
That brings us to the Moto E4 Plus, which recently launched at carriers like Verizon, Sprint and Ting, and unlocked through various retailers like Amazon, Best Buy and others.
At first glance, the Moto E4 Plus wouldn't seem to give the more-expensive Moto G5 Plus a run for its money, but that's what's so interesting about this phone: it does. They look alike and even share the same metal-and-plastic materials (though the G5 uses more metal overall), but where the 'G' stands for "grown up" the 'E' stands for "everlasting" (OK, that's not a great equivocation, but you get the idea).
So which should you buy? And why? Let's take a look.
First, the specs
Swipe to scroll horizontally
Category
Moto E4 Plus
Moto G5 Plus
Operating System
Android 7.1 Nougat
Android 7.0 Nougat
Display
5.5-inch LCD 1280x720 (267 ppi)
5.2-inch LCD 1920x1080 (424 ppi)
Gorilla Glass 3
Processor
Snapdragon 427 1.4GHz quad-core, Adreno 308 GPU
Snapdragon 625 2GHz octa-core
Adreno 506 GPU
Storage
16/32GB
32/64GB
Expandable
microSD card up to 128GB
microSD card up to 128GB
RAM
2GB
2GB/4GB
Rear Camera
13MP
autofocus
5-piece lens
12MP, f/1.7
1.4-micron pixels, dual AF pixels
Front Camera
5MP
selfie flash
5MP, f/2.2, 1.4-micron pixels
Connectivity
Wi-Fi 802.11n dual-band
Bluetooth 4.1
Wi-Fi 802.11n dual-band
Bluetooth 4.2
NFC
No
No
Battery
5000mAh
Non-removable
3000mAh
Non-removable
Charging
Micro-USB
10W rapid charger
Micro-USB
15W TurboPower charger
Water resistance
Water-repellant nano-coating
Water-repellant nano-coating
Security
Fingerprint sensor
Fingerprint sensor
Dimensions
155 x 77.5 x 9.55 mm
150.2 x 74 x 9.7 mm
Weight
181 g
155 g
Colors
Iron Gray, Fine Gold
Lunar Gray, Fine Gold
Price
$179.99 (2GB/16GB) / $199.99 (2GB/32GB)
$229.99 (2GB/32GB) / $299.99 (4GB/64GB)
Hardware and design
OK, so the main takeaway from the spec sheet is that the Moto E4 Plus is taller and heavier, with a larger, lower-resolution screen and a much larger battery. There's something to be said for the compromise: Motorola already has a Moto E4, which at 5 inches is much more pocketable and, starting at little as $129.99, much more affordable. Instead, the Moto E4 Plus goes all-in on longevity, outfitting its meager specs with a massive 5000mAh cell that should last two days or longer. We've seen other companies attempt this strategy, but the "budget-specs-big-battery" maneuver hasn't yet taken off in the States like it has in parts of Asia.
Internally, the Moto E4 Plus doesn't quite compete with the G5 Plus: its Snapdragon 427 chip is a quad-core part built on an aging, relatively inefficient 28nm process; the G5 Plus's Snapdragon 625 is a proven performer, both in terms of speed, reliability and battery life. Of course, the G5 Plus's 3000mAh battery is some 40% smaller than the E4 Plus's, but our battery results prove that average use isn't a world apart between them.
Two other important differences need to be highlighted: the Moto G5 Plus's 1080p IPS panel is heads and tails better than the E4 Plus's, which is both larger in size, lower in resolution and of demonstrably poorer quality. The IPS panel is much brighter, making it easier to use in direct sunlight, and its touch responsiveness just makes everything a little nicer.
From a design perspective, these phones could not look more similar. They're both solid, made from a combination of metal and plastic, and while the Moto E4 Plus's rear casing comes off, it's just for show — there's no removable battery here. With nondescript fronts, a speaker/earpiece combination above the screen and a very capable rounded fingerprint sensor below, the Moto G5 Plus looks like Mini Me next to the E4 Plus. Around back, they share rounded sides and a circular camera module, but the Moto E4's smaller sensor is flush with the body whereas the G5's sticks out a little.
You'd be forgiven for thinking, judging from its extra weight, that the Moto E4 Plus was thicker than its G5 counterpart, but it's not: there's 1.5mm between them, with the E4 using its extra vertical space to accommodate the much larger battery. Neither are thin phones, at between 9.55 and 9.7mm, but the E4 Plus's 181 grams is hefty; I feel it weighing me down when left idle in my pocket.
Here's one potential hardware issue for headphone sticklers: the 3.5mm jack is on the top of the Moto E4 Plus, which I dislike very much. I prefer to be able to put a phone in my pocket face down so that when I remove it, cord and all, I don't have to fumble with the phone to get it into the right orientation. But hey, at least both phones have headphone jacks. Et tu, Moto Z2 Force?
Finally, both phones charge via Micro-USB, which sucks. Motorola continues to justify this by saying that legacy customers want to continue being able to use their existing cables, but come on, Motorola. Every company from Huawei to ZTE to TCL has moved its budget line over the new USB-C charging solution, and the short-term pain is worth the long-term gain.
Software
Identical. Well, almost.
To the untrained eye, all Motorola software looks the same, from the $70 Moto E4 to the $720 Moto Z2 Force. But there are details, important ones, that need to be clarified.
From a software perspective, the Moto G5 Plus can do pretty much everything a flagship Motorola device can, from twisting one's wrist to open the camera app to flipping the phone onto its front to silence a call. It doesn't have the always-listening voice commands that the Z line benefits from, but the core features are here, including the excellent, improved Moto Display. But it runs Android 7.0, which keeps it from the subtle improvements found in Motorola's version of Android 7.1.1 that ships on the Moto E4 Plus, namely adjusting the color temperature of the screen at night to improve sleep quality.
The Moto E4 Plus, even though it ships with Android 7.1.1, doesn't have the same sensors as the more-expensive G5 Plus, so that twist-to-open gesture — yeah, that's not here. Neither is the flip-to-silence, chop-chop-to-flashlight, or any number of interesting gestures that come standard on the higher-end models.
Both units have Motorola's nascent One Button Nav feature, which eschews on-screen buttons for home button gestures. I've already made my feelings about the reliability of the space-saving solution in other reviews, but I'll reiterate it here: it's not great. It's far too easy to go home, accessed by tapping the home button, when you meant to go back, accessed by swiping left on the same button. The margin of error is too great, and the results too frustrating, for me to use One Button Nav for more than a few minutes, but I'm only one person — I've heard from people that love it. If that's the case, it's here for you to love.
Cameras
There is no question that one of the Moto G5 Plus's redeeming features is its excellent 12MP camera. While it's not perfect, it's pretty much unbeatable for the price. The excellent, high-quality Sony sensor with accurate colors; the sharp f/1.7 lens with real bokeh; the simple-but-usable Pro mode — there isn't much to complain about here. Sure, low-light performance isn't comparable to phones twice or three times its price, but for $230, you're getting an unassailable weapon in the fight against bad smartphone photos. And, though you probably don't want to, it can shoot 4K video at 30fps.
Moto G5 Plus (left) | Moto E4 Plus (right)
The Moto E4 Plus, on the other hand, has a very mediocre, blah camera. Photos look like they're digitally processed; colors look flat and boring; and low-light quality is practically non-existent. You're getting what you pay for here. Sure, there are technically more megapixels in the E4 Plus's sensor, but that doesn't mean much when the details captured are so vague.
Where the Moto E4 Plus shines — literally — is the front-facing camera. It has a flash to illuminate even the most ashen of faces. Both phones have 5MP front shooters, but selfie lovers may want to go with the cheaper option.
Battery life
This one isn't really a contest, but we'll play along. The Moto G5 Plus has a 3000mAh battery, a 1080p display, and a very efficient octa-core chip; the Moto E4 Plus has a 5000mAh battery, a 720p display and a less efficient quad-core chip. The latter trounces the former by almost half a day, but that shouldn't surprise you.
While I was able to get just over a day of use from the G5 Plus, I used the E4 Plus as a daily driver for just over a week and never dipped below 40% by the end of the night, and more common was above 50% left in the tank.
If battery life is your chief concern — and these days that includes most people — the Moto E4, warts and all, is likely your best bet. It's just a phenomenal workhorse of a budget phone, and one that I would recommend to anyone looking for a no-frills handset.
Connectivity
The two phones can each connect to mobile networks at a theoretical speed of 300Mbps down and 150Mbps up, and both are theoretically compatible with Sprint and Verizon in the U.S., as well as the easier-to-assume AT&T and T-Mobile. Some early buyers of the Moto E4 Plus have noted, however, that it's not possible to activate the phone on Sprint just yet, though that issue should hopefully get resolved soon.
Bringing it home, only the Moto G5 Plus supports dual-band Wi-Fi (2.4GHz and 5GHz), which is a big advantage for anyone who doesn't have a big data bucket and plans to offload a lot of wireless traffic to home Wi-Fi. And while neither phone supports NFC in the U.S., the Moto G5 Plus has the slightest advantage with Bluetooth 4.2 over the E4's Bluetooth 4.1, though real-world differences should be minor.
Which should you buy? Moto G5 Plus
Look, at the end of the day, the Moto G5 Plus is a much better phone than the E4 Plus, especially when both are as closely matched, spec-wise, as possible. On Amazon, the Moto 2GB RAM/32GB storage Moto E4 Plus costs $199.99; the equivalent Moto G5 Plus is $229.99, and you get a lot for that extra few bucks, including a faster processor, improved screen, and vastly better camera.
On the other hand, the Moto E4 Plus is a battery champion, and if you don't need 32GB of storage, it begins at $179.99 — or $159.99 if you don't mind Amazon's lock screen ads. I'd still argue that the Moto G5 Plus is a better decision since it's a more well-rounded phone, but you can't beat the E4 Plus for longevity.
What do you think? Which phone would you buy between these two? Let us know in the comments below!
Sign up for Black Friday email alerts!
Get the hottest deals available in your inbox plus news, reviews, opinion, analysis and more from the Android Central team.
Daniel Bader was a former Android Central Editor-in-Chief and Executive Editor for iMore and Windows Central.