Latest Pocket Casts update lets you get social with podcasts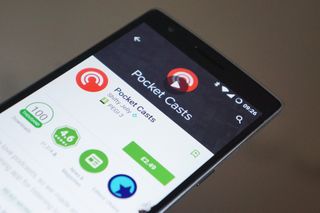 While listening to your chosen podcasts on the move, being social with others is among the least of your concerns, especially with headphones blocking outside sound. Shifty Jelly, the developer of Pocket Casts, has released an update to help make it easier to discover new content and see what other users of the app are listening to.
The new feature, called Nearby for Pocket Casts, adds a new tab in Discover to locate nearby Android Pocket Casts users to see what they're currently listening to. It's possible to subscribe and share your own subscriptions, adding new ways to discover new podcasts you may never have found otherwise. With the latest update, you'll now be able to find out what friends and classmates enjoy.
As well as the new Nearby feature, the Shifty Jelly team also applied some fixes:
Animation issues with the play/pause button in the mini player
You can now download an episode that is streaming from the episode overflow menu
Fixed issue with grid and missing artwork
Download issues
Download the latest version of Pocket Casts from the Google Play Store.
Source: Shifty Jelly
Get the Android Central Newsletter
Instant access to breaking news, the hottest reviews, great deals and helpful tips.
Bit odd Posted via the Android Central App

The only thing this has confirmed is that no one around uses that app but me. I feel lonely :)

I use it too, but still no social network login which is really annoying. I just need Google+ login. Posted via the ONE M9

Yet another app wanting access to my location information. I love Pocket Casts but this is a mostly useless feature.

Very useless considering both you and the other person have to happen to have the "Nearby" screen open at exactly the same time for it to work.

"hey, what podcasts should I subscribe to on pocketcasts?"
"here, I'll share them with you"
(both open pocketcasts)
"hey that was so easy." It's obviously too complicated for you to understand

I'd rather it show me which episodes I've listened to and which I haven't. Some podcasts I don't listen to in order and it can get confusing when there are hundreds of episodes. Posted via the Android Central App

It does do that. If you tap on a feed, the unplayed episodes are listed first. The played episodes are listed below and are greyed out. The only twist is that if you subscribe to a new feed, only the first episode is listed as unplayed. If you want older episodes, you have to scroll through the played episodes and manually mark them as unplayed. But I prefer that to going through and marking all but a handful as played.

There is an option to "mark all as unplayed" which is good for a newer podcast with limited episodes, but not that great if there's several hundred

No thanks. --- This message brought to you via the sarcasm keyboard available for download at the Google Play Store.
LG-G2 on Lollipop.