Google Podcasts vs. Pocket Casts: Which podcast app should you use?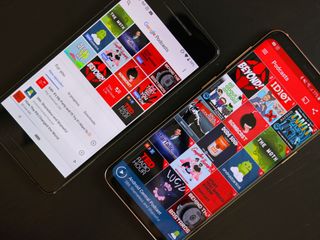 After years and years of waiting, Google finally launched an official podcast app on June 19. Android's long been in need of a first-party solution for downloading and listening to podcasts, and now that that solution is here and we've had time to really dig deep into it, it's time to determine whether or not it was worth the wait.
Prior to the launch of Google Podcasts, Shifty Jelly's Pocket Casts has long been considered to be the go-to podcast app for Android. Is that sentiment changing now that Google's app has arrived, or does Pocket Casts still reign supreme as the home for podcasts on Android?
Without further ado, this is Google Podcasts vs. Pocket Casts!
What Google Podcasts does best
If you're a fan of Google's new design language for its first-party apps, you're going to feel right at home with Google Podcasts. The Product Sans font is on full display along with plenty of white and the colorful Google logo at the top. The UI is also really easy to understand with search and menu buttons at the top and a playback bar at the bottom.
As nice as the Google Podcasts Android app looks, however, the real star of the show lies with its direct integration with the Google Assistant.
Whether you're on your phone or talking to Google Home, you can ask the Assistant to play a podcast and it'll automatically pick the latest episode of the show you ask for or pick up where you left off. Once you stop listening, you can hop back into the Google Podcasts app and resume where you left off on your Google Home.
This syncing between Google Podcasts and Google Home works like a charm, and the best part is that no set up in required in order to get it to work.
Also, Google Podcasts has a handy feature that allows you to quickly donate to shows you love right from the app. If a show supports it, just tap the blue Donate button and you'll be able to start funding it right away!
What Pocket Casts does even better
For all the things Google Podcasts gets right, however, Pocket Casts still reigns supreme when it comes to the in-app experience.
The Pocket Casts home screen shows all of the podcasts you're currently subscribed to and you can quickly reorder their appearance by podcast name, episode release date, manually configure the layout with drag and drop controls, and even change the grid size to see more (or less) on your screen at once.
Both apps allow you to download individual episodes, but only Pocket Casts makes it possible to manually download all unplayed episodes and auto-download new ones as they're released.
Other Pocket Casts goodies include two dark themes, advanced notification settings, syncing across your Pocket Casts account, and easier podcast discovery with the ability to find new shows by category, network, trending, and more.
Also, while Pocket Casts may not be integrated with the Google Assistant, you can cast it to any of your Google Home speakers and/or home groups made in the Google Home app.
Price
When it comes to price, this is where Google gets a big advantage.
Google Podcasts is completely free to download, but on the other hand, you'll need to shell out $3.99 to get Pocket Casts on your phone.
Furthermore, if you want to access Pocket Casts on your computer, you'll need to pay another $9 to access its web client.
Final thoughts
Although both of these apps aim to do the same thing, they're very different in their approach to doing so.
Google Podcasts offers a very basic in-app experience that's functional but lacks some key features we've come to love from competing services. However, if you're someone that has a Google Home and would rather use your voice to listen to your favorite shows rather than fumble with a mobile app, Google Podcasts is an excellent choice.
Download: Google Podcasts (free)
With that said, if Google Assistant controls aren't important to you, Pocket Casts easily offers more features, a better thought-out design, and will be getting a huge revamp later this year to make it even better.
The $3.99 price of admission does need to be taken into consideration, but for the amount of polish and features Pocket Casts comes with, $3.99 is a steal.
Download: Pocket Casts ($3.99)
What do you think?
Now that I'm done talking, I'd love to hear from you! Having you been using and love Google Podcasts, will you stay with Pocket Casts, or do you get your podcasts somewhere else? Drop a comment down below and let me know!
Get the Android Central Newsletter
Instant access to breaking news, the hottest reviews, great deals and helpful tips.
Joe Maring was a Senior Editor for Android Central between 2017 and 2021. You can reach him on Twitter at @JoeMaring1.