Google Podcasts vs. Pocket Casts: Which podcast app should you use?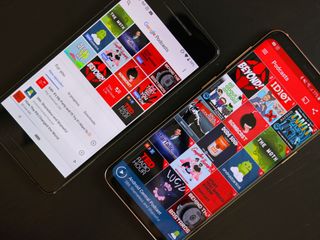 After years and years of waiting, Google finally launched an official podcast app on June 19. Android's long been in need of a first-party solution for downloading and listening to podcasts, and now that that solution is here and we've had time to really dig deep into it, it's time to determine whether or not it was worth the wait.
Prior to the launch of Google Podcasts, Shifty Jelly's Pocket Casts has long been considered to be the go-to podcast app for Android. Is that sentiment changing now that Google's app has arrived, or does Pocket Casts still reign supreme as the home for podcasts on Android?
Without further ado, this is Google Podcasts vs. Pocket Casts!
What Google Podcasts does best
If you're a fan of Google's new design language for its first-party apps, you're going to feel right at home with Google Podcasts. The Product Sans font is on full display along with plenty of white and the colorful Google logo at the top. The UI is also really easy to understand with search and menu buttons at the top and a playback bar at the bottom.
As nice as the Google Podcasts Android app looks, however, the real star of the show lies with its direct integration with the Google Assistant.
Whether you're on your phone or talking to Google Home, you can ask the Assistant to play a podcast and it'll automatically pick the latest episode of the show you ask for or pick up where you left off. Once you stop listening, you can hop back into the Google Podcasts app and resume where you left off on your Google Home.
This syncing between Google Podcasts and Google Home works like a charm, and the best part is that no set up in required in order to get it to work.
Also, Google Podcasts has a handy feature that allows you to quickly donate to shows you love right from the app. If a show supports it, just tap the blue Donate button and you'll be able to start funding it right away!
What Pocket Casts does even better
For all the things Google Podcasts gets right, however, Pocket Casts still reigns supreme when it comes to the in-app experience.
The Pocket Casts home screen shows all of the podcasts you're currently subscribed to and you can quickly reorder their appearance by podcast name, episode release date, manually configure the layout with drag and drop controls, and even change the grid size to see more (or less) on your screen at once.
Both apps allow you to download individual episodes, but only Pocket Casts makes it possible to manually download all unplayed episodes and auto-download new ones as they're released.
Other Pocket Casts goodies include two dark themes, advanced notification settings, syncing across your Pocket Casts account, and easier podcast discovery with the ability to find new shows by category, network, trending, and more.
Also, while Pocket Casts may not be integrated with the Google Assistant, you can cast it to any of your Google Home speakers and/or home groups made in the Google Home app.
Price
When it comes to price, this is where Google gets a big advantage.
Google Podcasts is completely free to download, but on the other hand, you'll need to shell out $3.99 to get Pocket Casts on your phone.
Furthermore, if you want to access Pocket Casts on your computer, you'll need to pay another $9 to access its web client.
Final thoughts
Although both of these apps aim to do the same thing, they're very different in their approach to doing so.
Google Podcasts offers a very basic in-app experience that's functional but lacks some key features we've come to love from competing services. However, if you're someone that has a Google Home and would rather use your voice to listen to your favorite shows rather than fumble with a mobile app, Google Podcasts is an excellent choice.
Download: Google Podcasts (free) (opens in new tab)
With that said, if Google Assistant controls aren't important to you, Pocket Casts easily offers more features, a better thought-out design, and will be getting a huge revamp later this year to make it even better.
The $3.99 price of admission does need to be taken into consideration, but for the amount of polish and features Pocket Casts comes with, $3.99 is a steal.
Download: Pocket Casts ($3.99) (opens in new tab)
What do you think?
Now that I'm done talking, I'd love to hear from you! Having you been using and love Google Podcasts, will you stay with Pocket Casts, or do you get your podcasts somewhere else? Drop a comment down below and let me know!
Android Central Newsletter
Get instant access to breaking news, the hottest reviews, great deals and helpful tips
Joe Maring was a Senior Editor for Android Central between 2017 and 2021. You can reach him on Twitter at @JoeMaring1.
The answer is: BeyondPod, or actually the answer is look at the many other podcast apps out there, before limiting yourself to only two.

Purchased the pocketcasts phone app and web app. For the amount of use I get out of them (a lot!) it's worked out excellent value for money.

As a long time user of Pocket Casts I discovered Antenna Pod - a free open source podcast app. I used it for a while alongside Pocket Casts and found I preferred it. It doesn't sync to the cloud or anything, but if you only use one device it works really well.

How could Google leave out Android Auto support in their own product? That rules it out right off the bat.

Android Auto, overall, at least for me, has been kind of janky lately. The ability to reply to Allo messages is hit or miss. Sometimes, the Google Assistant audio quality sounds like she's talking on a telephone from the bottom of the ocean.

That's cause Google doesn't actually care about Allo lol.

I fully agree, this was the first thing I checked for after installing it.

Now using both pocketcasts and and Google podcasts. Using Google for the the less frequent podcasts I subscribe to which I listen to very quickly (the integration being the advantage) but for everything else is on pocketcasts as I fall behind on some)

Nothing compares to Pocket Casts.

Have both, but use PocketCasts still. Better client and cross platform sync with my iPhone and Android phones is nice. If Google podcasts had an iOS app as well I would have given it a much longer go but for now staying put with pocket casts.

Pocket Casts is so good. Love seeing my listening stats

I am going to stay with Pocket Casts. I started using it when my primary phone was Android. Then when I switched to an iPhone, I purchased the iOS version. I still have it on my Android tablet (the venerable Nexus 7). It works great on both platforms and on the web on my laptop and desktop PCs. I couldn't ask for more in the way of features and reliability.

I've tried both of them and prefer BeyondPod. My only requirement is that once subscribe to podcasts that I never have to go into the podcast app again. BeyondPod, with its automatic playlists, makes this happen. Podcasts download and play in the order that I want them and they just play when I get in the car. No fiddling with the app, no need to move things to playlists. It's just all automatic. I don't care about discovery or finding something, this isn't YouTube. I have enough podcasts to cover my weekly commute and that's it. BeyondPod does this perfectly.

You made it sound so good then I saw its lackluster rating...

Google podcasts are going to get a lot more features and it's free and I love the design a lot better. The things g podcasts does better is well worth it for me.

I paid for Pocketcasts a while ago and love it. Love control of playback speed and look of app. I will be sticking with Pocketcasts

As a long-time user of Pocket Casts and a former (addicted) user of Google Reader, sorry, I'm not sticking my neck out with Google again on Google Podcasts just to have it be discontinued in a few years. I'll stick with Pocket Casts. As you noted, while it's not free, it really is the best available choice anyway.

If you pay for the android app, can you use it on your chromebook rather than paying for the desktop version?

Yes, for sure. No need to use the desktop version on a Chromebook that supports Android apps.

Paid for pocketcast and it wins hands down for me. I have a few premium podcasts that I have to add with rss or the website link and there doesn't seem to be anyway to do so as of yet. Also no Android auto support. I know it just launched but between this and the new YouTube music Google is really dropping the ball on Android auto support so far. Hope they fix these two issues fast!

Using both Pocket Cast and Google Podcast...... As PC is my default, I am interested in what Google has in store... If they can bring a Dark Theme/Auto Download/Queue then it may change for me...

At the moment I'm using both, but in the end, if you are a heavy Podcast listener, then Pocket Casts is the better mature choice. That said, here are the other advantages/disadvantages each has: Google Podcasts:
You can download or listen to a single episode without the need to subscribe to the whole podcast
Down the road, AI will be able to find the content in a podcast and supposedly let you jump right to that spot to listen to what you were searching for.
You cannot share a podcast episode which I find weird since you can do that in Google Play Music podcasts.
Can't subscribe via URL, the podcast must be published to Google's platform.
You can speed up the podcast on your phone, but not on Google Home.
No web interface which I find odd for Google. Pocketcasts:
It can play video podcasts
You can share the podcast episodes, but this is a bit wonky since the person you are sharing with also needs to have Pocketcast
You can subscribe via URL which is handy for podcasts that aren't published to iTunes or Google Play
Has an IOS client
You can create lists that can automatically be populated.
Playback speed can be set for each individual podcast. Something neither can do is subscribe to podcasts that have login credentials. I really wished Pocketcast had this (Doggcatcher does).

Neither. Google Podcasts is way too barebones for the real Podcast collector. Pocket Casts still insists on renaming the files to a long, nonsesensical string which it uses to keep inventory of podcast, but otherwise makes it impossible for the user to tell which files are which. I paid for Pocket Casts once upon a time, and I've been complaining about this one "feature" for years, but Shifty Jelly as much as told me that's not their problem.
My current podcatcher of choice is Podcast Addict, and a close second is Video Podcatcher Deluxe. Either app leaves your filenames alone; both provide most minimum features and Podcast Addict provides for complete backups so you never lose previously downloaded files in your feeds after they've vanished from their servers (which is another shortcoming of Pocket Casts).

Until Google adds an import opml.xml feature and a real play list manager, I can't see how I'd easily migrate from Pocketcast.

PocketCasts. By a country mile. Come on now, not even remotely close here. Wow,

Podcast addict is free with virtually no adds.
Worth a look IMO.
Score 4.6 with 5 million downloads.

That's what I use - don't mind giving the developers money here and there to keep them alive

Google Podcasts all day long. F pocket casts.

Surprised you picked Google Podcasts Beno, your as predicable as a Wasp on speed.

And rightly as im biased towards Google with most stuff on here lol.

I'm trying out Google Podcasts for a while to see how I like it long term (and to see if the AI starts giving me good recommendations). One big advantage for me is that you can download episodes without subscribing (this drives me crazy about Pocket Casts, which I otherwise love). I have to imagine the ability to auto-download new episodes and such will be coming down the line.

When will Google start putting dark themes as an option? Its ridiculous that they dont offer it in 2018 for all of their apps. Working at night or in the dark makes dark themes priceless.

Beyondpod has it over any other podcast app, and I've tried most of them. I bought pocketcasts years ago and every now and then I take another look at it, but it lacks too many features. I haven't found anything out there that can do everything Beyondpod can do.

I use pocket casts. It works great

Why only this two to decide from?
I use Castbox. For me it's the best and most useful podcast client for Android. Plus they have a full fledged web site, including comments sections and more usable that both Google Podcasts and Pocket Casts.
Android Central Newsletter
Get instant access to breaking news, the hottest reviews, great deals and helpful tips
Thank you for signing up to Android Central. You will receive a verification email shortly.
There was a problem. Please refresh the page and try again.