How to use Google Podcasts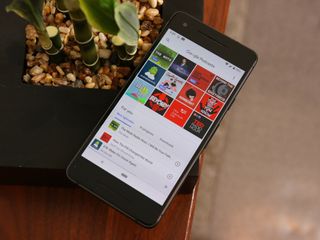 (Image credit: Android Central)
After launching a podcast interface in the Google Search app in mid-March, Google's finally come out with a proper, standalone app for keeping up to date with all of your favorite audio-only shows.
Google Podcasts is a very simple app, but even so, it can be helpful knowing exactly how to make your way through it. As such, we've put together a short list of some basic how-tos to help make you a Google Podcasts pro in no time at all.
Let's get started!
How to search for a podcast
Tap the magnifying glass in the upper-left corner.
Type in the name of the podcast you're looking for.
Tap on the podcast you want from the search results.
How to subscribe / unsubscribe to a podcast
Tap on a recommended podcast from the homepage or one you've searched for.
Tab the Subscribe button near the top-left.
Alternatively, you can unsubscribe by doing the following:
Tap on a podcast you're currently subscribed to.
Tab the Subscribed button.
Tap Unsubscribe.
How to control playback settings
Tap on the playback bar at the very bottom.
Tap the icon with the 10 to rewind 10 seconds.
Tap the icon with the 30 to fast-forward 30 seconds.
Tap the 1.0x bubble at the bottom-right to control playback speed.
How to edit your podcasts
Tap the three dots at the very top-right.
Tap Edit your podcasts.
From here, you can choose to either delete/unsubscribe from your podcasts or reposition how they're displayed on the home screen. To delete/unsubscribe:
Tap on the podcast(s) you want to delete.
Tap the trash icon at the top-right.
If you want to change the order in which your podcasts are displayed:
Hold down on a podcast and then move it to where you want.
Tap the arrow at the top-left when you're done.
How to add shortcuts to your home screen
Tap on the podcast you want.
Tap the three arrows near the top right.
Tap Add to home screen.
Tap Add automatically or hold and drag the icon to put the shortcut exactly where you want it.
How to download a podcast
Tap on a podcast.
Tap the episode you want to download.
Tap the download icon (it's the one with an arrow pointing down).
How to manage your download settings
Tap the three dots at the top-right.
Tap Settings.
Tap Remove completed episodes to automatically remove downloaded podcasts after 24 hours, 7 days, or never.
Tap Remove unfinished episodes to automatically remove these after 30 days, 90 days, or never.
Get your podcast on!
With those tips under your belt, you're ready to start using Google Podcast for all of your podcasting needs! If you have a question on how something works or want to share your thoughts on Google's new Podcasts app, leave a comment down below!
Download: Google Podcasts (free) (opens in new tab)
Android Central Newsletter
Get instant access to breaking news, the hottest reviews, great deals and helpful tips
Joe Maring was a Senior Editor for Android Central between 2017 and 2021. You can reach him on Twitter at @JoeMaring1.
Am I right that there's no setting to automatically download the podcasts that you've subscribed to? Isn't that sort of basic functionality that exists in Google Play Music which this is supposed to replace as a podcast app?

Excellent Rob but just how well do you know my wife Cindy and for how long

Correct. There is no auto-download, and no episode queue.

Booo, no auto-download of new episodes. But this is new and this feature will probably be implemented if enough people jump over to and start using Google Podcast I noticed that some of the podcasts I listen to "Seeker+" has newer episodes then what GPM has listed. I also look forward to when this gets Android Auto Support :)

I already like Google Podcasts, now I no longer have to keep resubscribing to my Podcasts every time I change my phone but no longer, as I'll be team Pixel now.

Pocketcasts saves everything.

Dooki knows! I want to try this, but Pocketcasts works so well for me, mobile and desktop

Is there no way to save to SD card?

Seems good so far. As stated above I hope they add auto download and playlists soon.

Does it work with Android Auto?

This was the first thing I wondered too. I hope it does

At the moment no, a massive letdown for me as I only listen to podcasts in the car. I'll stick with pocketcasts for now

When I first started using Android, Listen was dead and there was no Google podcatcher. I got my start with podcasts in iTunes, and it rankled me that there was no definitive Android podcast experience in the way that iOS did. I invested in some third-party apps, but I was briefly very excited when they announced they'd be bringing podcasts to Play Music. Then they rolled it out and it was an embarrassment. A lot of standard features of other podcatchers were missing, but the absolute dealbreaker for me was that you could only subscribe to podcasts that had been added to the Play Store by the owners, and aside from the biggest podcast networks, a lot of the subscriptions I wanted to move over hadn't been added yet. Google demonstrated when they killed Reader that they think RSS is dead, but if I can't at least subscribe to any podcast that has an RSS feed, your app is what's dead. So when I read this article, I pulled out my phone and downloaded Google Podcasts to see if it's an improvement on Play Music or just a reskin. I just picked up a very new show with only two episodes, and I figured that would be a good test. Sure enough, it's not in the Play Store, but when I searched for it in Google Podcasts, it wasn't limited to the Play Store, found it on the web, and presented it to me like any other, with the option to subscribe. Other commenters are highlighting problems they've found with the app, and I can think of cases where I might have the address of an RSS feed that wouldn't be easily searchable and I'm not sure if that would work, but by being able to subscribe to any feed that comes up in a web search, it's already a lot better than anything I've seen Google do with podcasts in all my time in Android.

I use Pocketcasts but I have been using google podcasts as I like to stream them on my Google Home and then listen on my smartphone when I go out. It is ok. Not as nice as Pocketcasts but it is still a good option.

I've not tried Pocketcast but I had this other Podcast app called Podcast Player and when I changed Android phones before I had my Pixel 2 XL, it would never save my Podcasts I was subscribed to and I've been waiting for Google to release their own podcast app and now they have, I like it and now my subscriptions will be saved, and it even remembers that I subscribed to Android Central's podcast online via Google.

How do I upload a opml.xml file of podcasts I'd like to subscribe to? Also, how do I set and change a play list and maintain multiple play lists? If I can't do any of these, there's really no point in my moving from Pocketcasts.

It's a good start, but needs some further development before it's ready for primetime. Where is the web portal? I was surprised that podcasts.google.com didn't even take me to a placeholder page. Likewise, Android Auto support is a must for Google Podcasts. I listen to podcasts primarily in my car and expected this to just work. The one feature that Google Podcasts has over Pocket Casts is Google Home support, which is nice. Here is my list of critically needed features: * Android Auto Support
* Automatic Podcast Downloading Options
* Web Client for Management and Playback
* Playback Queue Support
Android Central Newsletter
Get instant access to breaking news, the hottest reviews, great deals and helpful tips
Thank you for signing up to Android Central. You will receive a verification email shortly.
There was a problem. Please refresh the page and try again.