These are Android Central's Best of IFA 2018 award winners!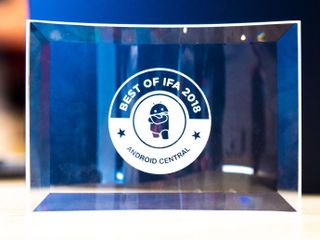 The IFA electronics show isn't typically as exciting as MWC earlier in the year, but IFA 2018 had more than enough announcements to keep us busy. We didn't expect a whole lot, but were blown away by the number of great smartwatches, phones and Chromebooks we saw at the show. Wear OS and Android One were heavily represented, but there were cool new products in just about every area and operating system.
But some announcements stand out from the crowd — they're our Best of IFA 2018 award winners, and you can see them all right here.
Skagen Falster 2 smartwatch
It's true that Wear OS smartwatches are mostly the same on the inside, but what counts in a watch is what the outside looks like — and that's why we love the Skagen Falster 2 so much. Not only does it have a sleek and simple casing that's small enough to fit on a wide range of wrist sizes, but it also incorporates new features like NFC, GPS and a heart rate sensor.
It's also affordable for a full-featured smartwatch, starting at just $250, and the up-charge for nicer bands is about $25. The bands pair nicely with one of the few color options, including a stealthy black, polished stainless steel and matte stainless steel.
The new Skagen Falster 2 and Diesel Full Guard 2.5 are truly gorgeous smartwatches
Casio ProTrek WSD-F30 smartwatch
Unlike Skagen's latest, Casio is all about promoting the rugged capabilities of the new WSD-F30. It's the same basic model as the last two generations, but now it has an upgrade pair of displays that can show you more information while lasting multiple days on a charge — not something most smartwatches can offer.
Though it's still massive, the WSD-F30 also trimmed down in overall size compared to its predecessor. It's the smartwatch for the person that wants to spend as much time outdoors as possible.
Casio's new rugged WSD-F30 Wear OS smartwatch has improved dual-layer display, smaller case
BlackBerry KEY2 LE
The BlackBerry KEY2 is better than the KEYone in every way, but it's also more expensive. Seeing demand at a lower price, BlackBerry has the new KEY2 LE to make this great hardware keyboard more affordable.
It lacks some of the advanced features and higher specs of the standard KEY2, but the LE is every bit a BlackBerry. And with three striking color options, it even has a leg up on the high-end model in one respect.
BlackBerry KEY2 LE hands-on: A $399 ticket to the hardware keyboard party
Lenovo Yoga Chromebook
Lenovo entered the higher-end Chromebook game at IFA 2018 with the new Yoga Chromebook. It's unique because of its huge size, with a 15-inch display, but it's also rocking great build quality and high-end specs. You get a Core i5 processor and 8GB of RAM standard, and an optional 4K display resolution is great to see.
This isn't a tiny portable machine you can take anywhere, but it shows Lenovo is committed to trying out higher end machines running Chrome OS — and we like the trend.
Lenovo Yoga Chromebook hands-on: $599 gets you a whole lot of laptop
HTC U12 Life
HTC doesn't have any hits on its hands at the moment, but the U12 Life shows what the company's good at: bringing good-looking hardware to mid-range phones. The U12 Life doesn't really have any ties or resemblance to the regular U12+, but it's nice looking in its own right.
The plastic back is tastefully done, the screen looks good and the specs make the marks for this class of device. There's nothing particularly "wow" worthy here, but it looks a lot better than most phones it'll be competing against.
HTC U12 Life hands-on: Quite a looker, but in the end it's a mid-range phone
LG G7 One
LG's first Android One phone isn't a total stunner, but the fact that it's based on the LG G7 immediately gives it appeal. It has the same build quality, display and hardware features like its BoomBox speaker, Quad DAC, headphone jack and water resistance — but the frame has a new matte finish and the glass is frosted to a fine texture. It all looks kind of boring, clearly attempting to not outshine the standard LG G7, but it feels solid.
This is all shaping up to be an amazing device, but a few shortcomings cut back the temptation. It has a lesser Snapdragon 835 processor, 32GB of storage and 3000mAh battery, which drops it down a tier. It's also missing LG's unique wide-angle rear camera. Even still, this is easily one of the best Android one phones available.
LG G7 hands-on: This G7 sold its soul for great Android One software
Sony Xperia XZ3
It's easy to burn out on Sony's strategy of releasing a new phone every six months, but the Xperia XZ3 is a worthy refresh from the XZ2. It's ostensibly the same metal-and-glass sandwich as before, but the details make a huge difference — the edges are more finely sculpted and come to a slim point on the side, and the back is more ergonomic. Paired with the new curved OLED screen — much like a Galaxy S9+ — the XZ3 is easier to get a hand around and hold, despite having a 6-inch screen.
The specs are absolutely top notch, too, and Sony continues to not get the credit it deserves for having tons of "must have" features many people look for, like an SD card slot, stereo speakers, wireless charging and more. It's $900, though, which will people will scoff at — but they really shouldn't, because this thing looks great.
Sony Xperia XZ3 hands-on: Damn fine hardware, with potential pain points lurking
Motorola One and One Power
It's hard to get excited by two more mid-range Motorola phones, but the Motorola One and One Power got attention for a few of their styling details that mimic the iPhone X. There's more to them, though — the Motorola One is a nicer-styled Moto G6 that feels a bit more modern and is pretty compact for the hand, while the One Power is an India-specific device with a huge battery and higher specs. And they both have Android One software, which guarantees an upgrade path — something Motorola's phones don't always have.
Neither one is going to change the course of the smartphone industry, but Motorola is going to find success with both of these in the value-focused mid-range.
Motorola One and One Power hands-on: I get it, you think they look like an iPhone X
Huawei Kirin 980 processor
Huawei has (not so) quietly started making some of the best mobile processors in the business with its Kirin lineup — we just don't really hear about them much considering QUalcomm's global dominance in the space. But the new Kirin 980, which will launch in the Mate 20, has a lot to get excited about.
It's the first 7nm processor to be released, meaning it's faster and more efficient for every kind of task. Huawei's claiming big performance increases in gaming, memory access, neural processing and more. The Kirin 970 was hardly a slouch, and the 980 bests it across the board.
Huawei Mate 20 series will launch October 16 with next-gen Kirin 980 chip
Huawei Mate 20 Lite
Huawei is fantastic at making big, value-focused phones for the international market — and the Mate 20 Lite is the latest. For just £379 (or local equivalent) it has a 6.3-inch display with a nice metal and glass body, dual cameras on the back and respectable specs: a Kirin 710 and 4GB of RAM, with a 3750mAh battery.
The Mate 20 Lite is launching before the regular high-end Mate 20, and that means it's coming with EMUI 8.1 … but it's slated for an EMUI 9 update, with Android 9 Pie, as soon as possible.
Huawei Mate 20 Lite launches in the UK: Kirin 710, quad cameras, big battery
Sign up for Black Friday email alerts!
Get the hottest deals available in your inbox plus news, reviews, opinion, analysis and more from the Android Central team.
Andrew was an Executive Editor, U.S. at Android Central between 2012 and 2020.