Motorola One and One Power hands-on: I get it, you think they look like an iPhone X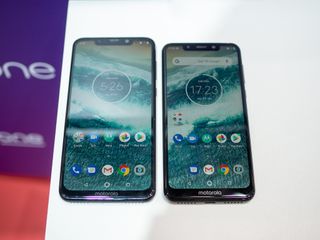 We had quite the run-up of banter around the launch of the Moto P30, particularly around how the device has a striking resemblance to the iPhone X. The global variants of the device, the Motorola One and Motorola One Power, are built on the same basic platform and have very similar design cues ... but it takes just a few moments to see that these are hardly iPhone X lookalikes.
The "iPhone X clone" similarities really come down to just a couple areas: the One Power's camera pod, the One's shiny flat back and gently curved corners, and both phones' bottom edges and display notches. You'll notice that each of those areas is a detail of the design, not a design element or theme itself. Yes when you add them up it's pretty easy to see some design inspiration, but nobody's going to hold or see either of these phones in person and actually think it's a ringer for an iPhone X. The similarities really don't go beyond a handful of easy-to-mock details.
Image 1 of 6
Image 2 of 6
Image 3 of 6
Image 4 of 6
Image 5 of 6
Image 6 of 6
Motorola typically offers different versions of devices for different parts of the world, and these are no exception — the Motorola One, which most of the world will see, is physically different from the India-specific One Power. It's somewhat misleading to call these the "same" phone, and many of the design cues that were pointed out in the Moto P30 are split between the two.
The standard Motorola One is smaller, with a 5.9-inch display, and with a shiny flat plastic back. The frame of the phone is consistently curved with a casual rounding of the corners that, when paired with the shiny back, definitely has hints of iPhone designs. Interestingly, the One looks more iPhone-like in many aspects than the One Power, but the latter is the one with the iPhone X-style oval dual camera system — the standard One has its cameras separated into their own stacks. Build quality is typical mid-range Motorola, very similar to what I saw in the Moto G6 earlier this year. It's solid and built true to its materials, but you're not fooling anyone in thinking it's a Moto Z-level device.
The larger 6.2-inch One Power honestly looks nothing like the iPhone X from the sides or back. Yes there's the elongated camera pod in the top-left corner ... but it's sitting in a gently-curved metal back that's segmented out at the top and bottom where it joins with the frame. With the larger screen and ridiculously big 5000mAh battery, the One Power is really heavy — but the Indian market values the larger screen and battery. Unlike the regular One, the One Power really feels like "specs over everything else" in terms of hardware. The casing is extremely generic with little grab your attention.
People are going to have to come to terms with the fact that there's a difference between following industry trends and "copying" a phone design. The iPhone X, along with a couple other pioneering phones, set a trend with design decisions that have caught on across the industry. At some point, we have to stop comparing every phone with a notch and softly rounded corners a copy of the iPhone X — the phone's been out for a year, and dozens of high-profile phones have been released since then with many of the same cues. Inexpensive phones, like the Motorola One and One Power, have always had simple hardware with little visual flair that's cheap to implement — the difference now is that this particular design has reached the point of being cheap.
Image 1 of 6
Image 2 of 6
Image 3 of 6
Image 4 of 6
Image 5 of 6
Image 6 of 6
The One Power's display looked much nicer than the 720p panel on the One, which makes sense considering its higher resolution and positioning as the better device. Though the One didn't particularly grate on my eyes — I could just tell it was similar to a display from a Moto E5 or G6 Play. Yup they both have a notch at the top, and it's a pretty darn wide one at that — big enough for a camera, flash and a large speaker, with room to spare. But with an 18:9 aspect ratio it doesn't bother me; I'm far more annoyed by the sizable Motorola logo blessing the bottom bezel.
If the Motorola One and One Power weren't running Android One software, there wouldn't be anything that would truly differentiate them from Motorola's recent release of mid-range devices. Though both of these phones have merits as mid-range phones with modern looks, a solid build and good specs, it's tough to pick out much in the Motorola One or One Power that isn't available in Motorola's current range between the Moto E5, G6 or X4 series.
As always, Motorola will likely find a place in its lineup where it can slot these phones in specific markets to complement the entire range. And as we've already discussed, the more modern design helps differentiate from the rest of the competition just that extra bit in the cutthroat mid-range market.
Andrew was an Executive Editor, U.S. at Android Central between 2012 and 2020.
It really does look like a clone of the X minus the bottom chin. These companies spend no money on R&D just wait for Apple's designs and mimic it.

And apple just copies the best Android phones. Apple's notch is just a crappy version of the ph1's notch, which was way before Apple's and it's the style of notch everyone is trying to get (back?) to now. You can't give apple credit for that design, sorry, maybe they we're the first animojis?

Apple has a reason for it's notch given that unlike the Essential, the iPhone X has a Iris scanner.

Iris scanner is the other big name phone company. Not the iPhone X. The justification for iPhones notch was that there's almost no bottom bezel. So while I'm not notch fan, at least it provided that design benefit and a huge change from their antiquated design. These Android copies, including the Pixel 3 XL, are defeating the purpose of the notch by still having bottom bezel and not providing anything beneficial by putting a notch there in the first place. Kudos to Essential for a minimal notch, kudos to Apple for killing the bottom bezel... Everything else is a fail

Um okay... The iPhone X has a Iris scanner and that's the reason for it's notch. The essential phone only has a single camera

The iPhone X uses an infrared sensor as a flood light to illuminate your entire face and map it in 3d for facial recognition known as Face ID. It does not scan your iris. Samsung uses a much narrower infrared sensor that cannot map the face and instead focuses on and scans your iris.

Hi, you're correct that Apple has a much more justification for its notch. It is not, however, an Iris Scanner. To call it that is to diminish what Apple has done. It houses an intricate infrared emitter which allows mapping of the entire face.

I like Motorola and I respect the company. They have certainly fielded some good budget friendly devices this year. I'm not bothered by any design similarities to you know who. So these look good to me. Im almost certain a Moto is in my future although I'm truly an LG junkie. I've almost bought an E5 plus several times but have been hoping against hope LG would put out a new X charge for 2018. Not gona happen I guess.

More ugly notches. Kill it with fire.

These notches gotta go. After all is said & done if you consider this a feature I think your mistaken. No notches for me!

Nobody considers the notch a feature. They consider it a necessary step in moving to taller devices with smaller bezels.

Please, somebody let the 500 pound gorilla we know as Samsung know that...

I do no see how it's needed to make a taller device, you can make a very tall device without a notch. There is no debate that it helps reduce bezel and maximize screen to body ratio. I still think it's ugly and distracting, I've never used a screen with a notch cut out of it, nor seen one before 2017.

The problem is, the notch is essentially a bezel with the corners cut off. Some say it adds real estate, but in reality it takes some away. Every single app you open will have this stupid-lookin' black bump either at the top or at the side... unless the devlopper choses to black-out the corners, effectively taking about 0.200 inches from what was once a massive screen. Might as well just leave the bezel there.

And this is why Apple sues people.

Or may essential should sue Apple? Who in the hell cares who coppies who. I don't. Every OEM takes something from somebody else. Apple coppied widget from Android and improved their notifications from Android. Everybody wins in the end. It's called competition. Question for all you notch haters. Does it come down to someone else thinking you have a iPhone? So what , stupid

There's a difference in copying /adding software features (as long as it's not completely an exact copy) compared to completely cloning /mimicking another manufacturers design /look. There's no originality in a phone like this as it's pretty much an trying to be a iPhone X clone. The only thing preventing this phone and others from looking almost identical is making the screen go to the button bec it's expensive to do. Maybe even patented by Apple. The reason why do ppl care is these X wannabe clones are trying to rip off its design and look.

What I meant that is probably patented by Apple is their design on how they bent the display controller card to put underneath the phone to eliminate the bottom chin. https://bgr.com/2017/11/09/iphone-x-review-part-idk-best-design-feature/

I've yet to see a notch on a 16:9 display. An 18:9 display is not worth the notch that comes with it.

I'm tired of 18:9 as a description. I was taught always use the smallest fraction. 2:1 should be the description. While I'm at it when in the hell did the term "chin" start? Bottom bessel folks. I guess top bessel should be called forehead

So I guess they're not coming to the US. No website wants to even remotely comment on that

Andrew, you're wrong as balls on this screen notch debacle. These are terribly executed, shameless, cheap iPhone lookalikes. They are being dumped into countries where owning an iPhone is beyond aspirational and the mere fact that the phone you own has the iPhone "look" carries enough cache' to motivate a purchase. As enthusiasts and technologists, it is up to us to call the industry out when the decisions they make are not pushing the ball further down the field, but serving their marketing deoartments. Putting a notch on the display but leaving a substantial "chin" at the bottom of the display gets us no closer to full screen displays. I feel bad for you that you have chosen to push that narrative in the face of almost every single Android manufacturer besides Samsung choosing this route. Honestly, I miss Phil's take on issues like these. I'm beginning to think he may have been too honest in his analysis of similar lazy, opportunistic moves by these same manufacturers. Multi-million dollar companies don't desire THAT much honesty...

Your whole comments is wrong.

His first paragraph is pretty much accurate as the reason for these iPhone clones in those countries.

Couldn't have said it better myself John!

Exactly correct John. I use all kinds of different devices. I just purchased 2 new iphones for my wife and I, and bought the 8s because 1. I hate the notch and 2. I hate faceID as a replacement for touchID. When I buy the pixel 3 it will be the non XL version because it has NO NOTCH. It kept me from buying the p20 pro (which I love for the camera side of things since I am starting to blog about traveling with our son who has autism), but the notch killed that one for me. But it's 100 percent everyone is copying it because apple did it.

Have to admit that I'm starting to get desensitized to notches, and the opinions for and against. They're here to stay for a while. Might as well ride it out.

What bands do these use? Is there any chance these could find there way to project Fi? There really needs to be a 636 CPU in the fi line up to fill in gaps for power users on a budget!

The One Power should easily have 2 day battery life and that wonderful Moto software experience. It's a shame it's not coming to North America, but then again Moto doesn't try very hard in Canada anyway. It's a notch. Big deal. There are other devices without it. Buy that one then.

Here's the deal....nobody gives a crap, not anymore. They all look like.

Two more decent Moto options that people won't stop ******** on.

Is this a new design direction for Motorola?

"... the Indian market values the larger screen and battery." If this is indeed the case, these manufacturers need to hire someone to read tech blogs so they can learn the truth that there's a huge group of people globally whov'e clearly stated that if a device were to grow a little thicker to accommodate a battery that can see them through a day or two - or three! - they'd forgo paying their children's university tuition to buy one.

But if you haven't said anything.
Android Central Newsletter
Get the best of Android Central in in your inbox, every day!
Thank you for signing up to Android Central. You will receive a verification email shortly.
There was a problem. Please refresh the page and try again.