BlackBerry KEY2 LE hands-on: A $399 ticket to the hardware keyboard party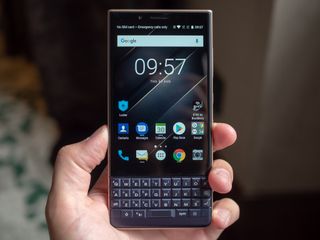 BlackBerry has made it clear that the KEY2 launch has been a success. Rolling out the phone globally over the course of just a couple months, sales have been strong and the reception is positive — but it was a common refrain that people weren't always willing or able to spend $650 on the KEY2.
In an attempt to capture the section of the market that want a BlackBerry — and that hardware keyboard — but are unable to spend the near-flagship money on the KEY2, BlackBerry has a solution: the KEY2 LE.
As the name would suggest, the KEY2 LE offers a familiar size, shape and design. But at $399 (€399 / £349 / $519 CAD) it's a full $250 less than the KEY2, and hitting that price necessitated changes that are evident as soon as you pick it up. The entire body of the KEY2 LE is plastic, not metal, though it has a brushed finish that would convince you otherwise from a distance. It's solid and comfortable regardless, with the soft dimpled back still in tow, but you can't ignore the 12 gram weight difference — this just doesn't feel like the substantial device the KEY2 is, though it helps with one-handed usability in the end.
BlackBerry is moving out of the stark and businesslike color schemes of the KEY2 as well, with three different two-tone looks: a "slate" color with hints of blue and green, a soft gold "champagne" with black accents, and the eye-popping "atomic" red with slate-colored accents. The colors appeal to a younger (and young at heart) audience, and all three are beautiful in their own way — though the atomic is particularly striking. And importantly, all three are launching at once when the phone goes on sale in late September.
The next point of cost trimming is in the keyboard — but don't worry, right off the top I'll tell you it's still a great set of keys to type on if you're into that sort of thing. This is the KEY2's keyboard layout, including the Speed Key, and the same keycaps as well; but the keyboard footprint is smaller, just 10% larger than the KEYone. The keyboard is also just a keyboard — you don't get the capacitive touch function that would enable scrolling, text correction and a whole host of other advanced features. All you get on the KEY2 LE is the spacebar-mounted fingerprint sensor.
BlackBerry KEY2 LE specs
As you'd expect, the KEY2 LE also cuts back on the internal specs. There's a Snapdragon 636 running the show, supported by 4GB of RAM and 32 or 64GB of storage. The battery has also dropped to 3000mAh (from 3500), though it still charges over USB-C with Quick Charge 3.0. BlackBerry is still talking a "full day no matter what" game on battery life, and I'm inclined to believe it given how good the KEY2 is. The rear camera changes to a 13MP main sensor with a 5MP sensor in support purely for portrait mode, which is a strategy we've seen on countless mid-range phones of the last year.
The rest of the phone is, well, a KEY2. The display is the same 4.5-inch 3:2 1080p panel. The software is identical between the two, including all of the advanced battery saving features, DTEK, BlackBerry Hub and all of its pre-installed apps. There's also the Convenience Key, which can now be mapped to use Google Assistant — with a single press to launch, or a press-and-hold to speak to it in a "walkie talkie" sort of mode like the LG G7. That software will be coming to the KEY2 also, which just underscores how much these phones share — and it's good to see these core experience features carry over to the KEY2 LE.
Keeping the KEY2 brand and creating a device with a similar design identity is a purposeful decision on BlackBerry's part. You can expect to see the KEY2 LE in most of the same markets where the KEY2 is available, and many carriers and retailers will be carrying both phones. At $399 the KEY2 LE provides an interesting option for people who want something a little different in the mid-range segment, and also works as a good way to get people in the door to then up-sell them to the full KEY2 experience. BlackBerry knows the KEY2 LE will be an enticing option for companies that plan to deploy hundreds (or thousands) of phones and want to have a BlackBerry but can't afford the KEY2 at that volume.
With so many great phones available in the sub-$400 price range, though, the KEY2 LE is fighting a tough battle in the open market. Much like the regular KEY2, the LE feels a little overpriced for what it offers in specs and hardware — because, well, it's the only phone at either price point with a hardware keyboard, and BlackBerry feels it can charge for that feature.
The KEY2 LE is going to be a good entry point into modern BlackBerrys, particularly for holdouts who have been using an old device and don't have the cash to go all the way to the KEY2. At $399 (€399 / £349 / $519 CAD), or $449 in the U.S. with 64GB of storage, and perhaps with an enticing 24-month financing plan, we'll see a good number of these sold — and BlackBerry is hoping it'll hook them to the idea of a keyboard so their next phone will be a KEY3.
Andrew was an Executive Editor, U.S. at Android Central between 2012 and 2020.
That red one looks gorgeous!! I almost feel tempted to buy despite not really needing the physical keyboard.

Yeah, the red one really pops.

Na it's definitely a phone...

Not flogging a dead horse. Lots of niche phones out there. There are still pkb aficionados who enjoy the Key series.

The whole idea of Android is to have different types of phones for different users. Many companies used BlackBerry, but have moved to iphone or Samsung, but miss the feel of a BlackBerry. If it's not for you, well, it's not for YOU. But there's more than enough of android candy bar phones out there.

Don't want it? Don't buy it. Lots of boring slabs with idiotic notches for you to choose from.

johnny_bravo72
"Don't want it? Don't buy it. Lots of boring slabs with idiotic notches for you to choose from." Couldn't agree more....ALL the major companies are making phones that look the same(little narrow tall things), at least BB is making something that looks and feels different with good performance.

Still waiting on the Priv 3. But this means there's a market for the keyboard

Red model looks hot.
BlackBerry never had apps before... now going to Android, it's just like any android phone with the keyboard.... No more app gap with Android 😁

Exactly. BB Mobile is doing what BB ltd should have done 6 years ago instead of launching the (financial) disaster that was BB10

If they get carrier support and contracts with Verizon, AT&T, and T-mobile, they will gain momentum. Especially if the reps at the store get a decent training and incentives.

Problem is they aren't. I like my s9 ok but I do miss the ability to use a pkb. I was hoping for a revamped priv through Verizon but didn't happen. They aren't carrying the key series either. I'd have probably gone with a key2 when I replaced my priv if Verizon was playing ball

Problem isn't the DOA of this phone, the problem is they can't even get their "flagship" to perform like one much less sell like one. The Key2 is an embarrassment to mid range phones with a camera that performs like a 100 dollar phone and a processor that is truly meant for mid range. So what's this phone low range? Fact is TCL is clueless and ruining the Blackberry legacy, that's what sad. Blackberry software is really good but TCLs hardware ruins their game.

Blackberry ltd's phone cameras weren't any better than what TCL is putting out.

Even though it hasn't been tested the camera is the very reason the LE doesn't get my nod. Was somewhat surprised, considering the price point, the KEY2 lacked in the camera department especially by not having OIS. BB, TCL or whomever has to start to realizing that decent photos play a sizeable roll in business now too and not just social / fun. Of course convincing a BB diehard's of that won't come easy either.

Nope I agree. I'm just a paramedic / EMS administrator but sometimes I need to take pictures to send for various business reasons. Priv was OK but it sometimes lacked

This would be my dream phone in 2013.

"The firm has said it expects the Snapdragon 636 to ship to customers November 2017 so we imagine we'll see devices with the new chip early next year."

I have to admit that I had my credit card out right up until the moment I saw that "no capacitive touch or mouse functions" on the keyboard - and then my wallet snapped shut. A small screen is forgivable IF you don't constantly have to poke at it. Seems that including the capacitive keyboard and upping the price to $449 would've made it a much more compelling phone.

Seems like a KEYone/KEY2 would suit you better then
Android Central Newsletter
Get the best of Android Central in in your inbox, every day!
Thank you for signing up to Android Central. You will receive a verification email shortly.
There was a problem. Please refresh the page and try again.