BlackBerry KEY2: Everything you need to know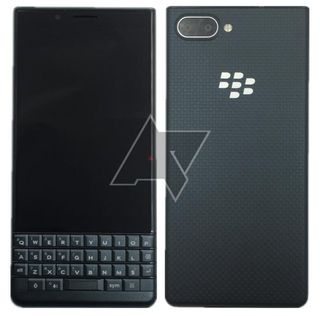 Following a heap of rumors and leaks, BlackBerry finally unveiled the highly-anticipated KEY2 on June 7, 2018. The KEY2 is a direct successor to last year's KEYone and retains the same general design while offering upgraded specs across the board.
There's a lot to unpack with the KEY2, so let's go ahead and get into it.
The latest BlackBerry KEY2 news
August 10, 2018 — BlackBerry KEY2 LE design and specs revealed in new leak
Looks like the KEY2 LE is the real deal!
Our friends at Android Police recently shared a heap of info regarding the phone, including the above picture and a list of its official specifications. As expected, the KEY2 LE looks a lot like the regular KEY2 but trims back some of its internals to allow for a (hopefully) more reasonable price.
The current spec sheet for the KEY2 LE compared to the KEY2 is as follows:
Swipe to scroll horizontally
| Category | BlackBerry KEY2 LE | BlackBerry KEY2 |
| --- | --- | --- |
| Display | 4.5-inch 1080 x 1620 LCD | 4.5-inch 1080 x 1620 LCD |
| Processor | Snapdragon 636 | Snapdragon 660 |
| Storage | 32GB or 64GB | 64GB |
| RAM | 4GB | 6GB |
| Rear Cameras | 13MP + 5MP | 12MP + 12MP |
| Battery | 3000mAh | 3500mAh |
| Dimensions | 151.4 x 71.8 x 8.5 mm | 151.4 x 71.8 x 8.5 mm |
| Weight | 168 g | 168 g |
In addition to the difference in specs, it's also reported that they keyboard will be slightly different. The style appears to be more in-line with that of the KEYone, and unfortunately, it looks like the awesome trackpad functionality won't be available on the KEY2 LE, either.
July 30, 2018 — BlackBerry's next phone will be the KEY2 LE
Earlier this month, a hands-on photo appeared showcasing a new BlackBerry phone that's expected to be a lite version of the recently released KEY2. Following that, an FCC document has now confirmed that this handset will go by the name of the BlackBerry KEY2 LE.
We were previously expecting this phone to be called the KEY2 Lite, but as the branding above shows, BlackBerry is going with KEY2 LE instead.
It's not entirely clear what LE will stand for, but seeing as how we're expecting it to be a more affordable version of the KEY2, Lite Edition is the most likely contender.
All the big details
Read our full review!
The KEY2 doesn't do too much that's different to the KEYone, but it improves everything in either minor or major ways. Three areas, in particular, get focus: performance, keyboard quality, and design.
There's no doubt that the KEY2 is a faster, better-looking version of its predecessor, but how do things like the camera, battery, and typing experience hold up in day-to-day use?
For the full lowdown on the KEY2, check out Daniel's review! 👇
BlackBerry KEY2 review: Just my type
See how it compares to the KEYone
The BlackBerry KEYone was no slouch of a phone, but with the KEY2, BlackBerry made upgrades in just about every area imaginable.
Between higher-end specs, the addition of dual cameras, improved keyboard, and more, the KEY2 is a better gadget in just about every regard.
However, if you already shelled out $550 for the KEYone last year, is it really worth spending another $650 this year? Let Daniel help you out with that dilemma in the comparison below 👇
BlackBerry KEY2 vs. BlackBerry KEYone: Should you upgrade?
The design is mostly the same
One of the main reasons the KEYone stood out so much was thanks to its productivity-focused design. Instead of releasing a glass, all-screen slab like so many other companies, BlackBerry kicked out a chunky, physical keyboard-touting phone.
With the KEY2, that theme is present once again.
The KEY2 measures in at 151.4 mm x 71.8mm x 8.5mm, making it taller, yet thinner, than the KEYone. The screen is once again a 4.5-inch panel with a 1620 x 1080 resolution, and the 3:2 aspect ratio makes a return, too.
You've got access to 35 backlit keys on the physical keyboard, and similar to the KEYone, the spacebar doubles as an integrated fingerprint sensor.
It's got more RAM and a faster processor, but the battery is slightly smaller
Although the KEY2 may look similar to the KEYone on the outside, it's got a lot of improvements under the hood.
Last year's Qualcomm Snapdragon 625 processor and measly 3GB RAM have been replaced with a Snapdragon 660 and impressive 6GB RAM. You also have your choice between 64 or 128GB of internal storage, both of which can be upgraded to 256GB via a microSD card.
The battery is ever-so-slightly smaller at 3,500 mAh compared to the KEYone's 3,505 mAh unit, but thanks to the power-sipping nature of the 660, the KEY2 should still be a battery champ.
BlackBerry KEY2 and 6GB of RAM: Why it's a big deal
BlackBerry steps up to dual cameras
The single 12MP rear camera on the KEYone was fine. It had the capacity to take decent photos, but often struggled in low-light and produced very shakey 4K video.
You don't buy BlackBerry phones for their excellent cameras, but this is another area where the KEY2 should offer some serious improvements.
Around back, BlackBerry's outfitted the KEY2 with dual 12MP sensors. The primary one features a large 1.28um pixel size with f/1.8 aperture while the secondary one touts a 1.0um pixel size and f/2.6 aperture. You can record video in 4K at 30 FPS, dual-tone flash helps to brighten dark scenes, and there's Phase Detection Autofocus.
In regards to the selfie camera, you're looking at an 8MP sensor that's capable of recording 1080p video at 30 FPS.
You'll need to cough up $650 to own one
As you'd expect, the KEY2's many enhancements have resulted in a steeper price tag compared to last year's model.
While the KEYone started out at $550 in the U.S., the KEY2 is $100 more expensive at $650. Elsewhere, the KEY2 will cost €649 EU, £579 GB, and $829 CDN.
Specifics on the U.S. release are still up in the air, but BlackBerry's since confirmed that the KEY2 is coming to Canadian retailers and carriers in July.
Where to buy the BlackBerry KEY2
Updated June 27, 2018: Added our full review of the KEY2.
Sign up for Black Friday email alerts!
Get the hottest deals available in your inbox plus news, reviews, opinion, analysis and more from the Android Central team.
Joe Maring was a Senior Editor for Android Central between 2017 and 2021. You can reach him on Twitter at @JoeMaring1.