BlackBerry KEY2 vs. BlackBerry KEYone: Should you upgrade?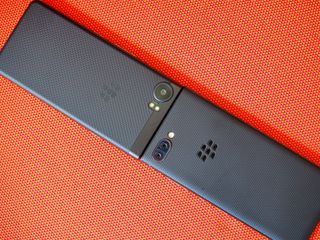 The BlackBerry KEY2 didn't have to overdeliver — it just had to deliver. Instead, BlackBerry Mobile listened to the complaints leveled against the first-generation KEYone and managed to address nearly every one of them. There's something to be said about that.
The KEY2's improvements are subtle but significant, and are uniformly applied — there isn't a single area of the phone that hasn't been affected in some way. At the same time, it's very much the physical and spiritual successor to the KEYone, and will likely attract a similarly-sized audience; when BlackBerry Mobile says it intends to grow the keyboard phone market with the KEY2, it's through evolution, not revolution.
KEY2 vs. KEYone What's the same?
The KEY2 maintains the original's 4.5-inch 1620x1080 pixel IPS display — and I'm not talking the same specs, I'm talking about the same exact display — which limits the phone to letterboxing while watching wide-angle content in landscape.
But that's part of the value proposition of a phone like this: it does things differently. BlackBerry Mobile says that no one, including its most hardcore fan base, complained about the screen, and lengthening it to 16:9, or trying to reduce bezel size, would have been problematic for both aesthetics and usability.
What also hasn't changed over last year is the implementation of capacitive buttons. Again, BlackBerry doubled down on a set of conventions and stuck to them, saying that virtual keys would have forced them to rethink the display or chassis size, and it wanted the phone to be evenly weighted.
The use of capacitive keys isn't fundamentally problematic since Google isn't going to enforce a navigation change to gestures when upgrading to Android P, but it does somewhat limit the KEY2's upgradeability.
Both the KEYone and KEY2 share a textured back, making the phone easy to grip, and both sport headphone jacks, single downward-facing speakers, and USB-C fast charging.
Swipe to scroll horizontally
Category
KEY2
KEYone
Operating System
Android 8.1 Oreo
Android 7.1 Nougat
Display
4.5-inch, 1620x1080
IPS LCD
434 ppi
4.5-inch, 1620x1080
IPS LCD
434 ppi
Processor
Qualcomm Snapdragon 660
4x Kryo 2.2GHz, 4x Kryo 1.8GHz
Adreno 512 GPU
Qualcomm Snapdragon 625
Octa-core 2GHz
Adreno 506 GPU
RAM
6GB
3GB
Storage
64GB / 128GB
32GB
Expandable
microSD up to 2TB
microSD up to 2TB
Rear Camera 1
12MP (1.3 micron) ƒ/1.8
laser+phase autofocus
dual-tone LED flash
12MP (1.55 micron) ƒ/2
phase autofocus
dual-tone LED flash
Rear Camera 2
12MP (1 micron) ƒ/2.6
2x optical zoom
portrait mode
n/a
Video
4K @ 30fps, 1080p @ 60fps
HDR
4K @ 30fps, 1080p @ 60fps
HDR
Front Camera
8MP
Selfie flash
1080p/30 video
8MP
Selfie flash
1080p/30 video
Battery
3500 mAh
Non-removable
3505 mAh
Non-removable
Charging
Quick Charge 3.0
USB-C
Quick Charge 3.0
USB-C
Water resistance
No
No
Headphone jack
Yes
Yes
Security
Front-facing fingerprint sensor (in keyboard)
DTEK security suite
FIPS 140-2 Full Disk Encryption
Android For Work, Google Play for Work
Front-facing fingerprint sensor (in keyboard)
DTEK security suite
FIPS 140-2 Full Disk Encryption
Android For Work, Google Play for Work
Connectivity
Wi-Fi 802.11 ac, 5GHz, Bluetooth 5 + LE, NFC
GPS, GLONASS
Wi-Fi 802.11 ac, 5GHz, Bluetooth 4.2 LE, NFC
GPS, GLONASS
Network (NA GSM)
LTE Band 1/2/3/4/5/7/8/12/13/14/17/20/28/29/30/66
TD-LTE Band 38/39/40/41
LTE Band 1/2/3/4/5/7/8/12/13/17/19/20/28/29/30
TD-LTE Band 38/39/40/41
Dimensions
151.4 x 71.8 x 8.5 mm
149.1 x 72.39 x 9.4 mm
Weight
168
180g
Both phones have roughly the same sized battery, too — 3,500mAh on the KEY2 and 3,505mAh on the KEYone — which should translate into more than a full day on both phones. We've already recounted the epic longevity of the original KEYone, with its battery-sipping Snapdragon 625 platform, and in our tests, the KEY2 performs just as well, if not better.
KEY2 vs. KEYone What's different?
Despite sharing much of the same core design, the BlackBerry KEY2 changes up a significant amount, both internally and externally, from the size of the keys on the eponymous keyboard to the heftier components that adorn the specifications sheet.
For starters, the Snapdragon 660 that powers the phone is more than double the speed, both in single- and multi-core tests, of the KEYone's Snapdragon 625. That phone was notorious for unwelcome slowdowns and stutters, and despite a fairly good reputation with other phones, the Snapdragon 625 is aging itself out these days.
Conversely, the S660 is newer, faster, and better-equipped to handle the considerable multitasking allotment that KEY2 owners are going to ask of the phone. In day-to-day use, the KEY2's performance is much more consistent than the KEYone's, and though I experienced a bit of slowdown, it wasn't enough to adversely affect my enjoyment of the phone.
BlackBerry KEY2 review: Just my type
Add to that the 6GB of RAM that comes standard in the KEY2 — double that of most KEYone models — and the newer phone has the potential to rival many flagships for overall peppiness. (It also does somewhat justify the $100 price bump over the original.)
The faster processor and RAM also support the new camera system. To accommodate a second camera — a 12MP sensor with an f/2.6 lens at twice the focal length of the main one — BlackBerry Mobile had to change out the primary sensor for a smaller one than was in the KEYone.
Image 1 of 2
That particular camera, though not best-in-class by any means, boasted the same module as the first Google Pixel, which had the best camera of 2016. The sensor, a Sony IMX368, boasts 1.55-micron pixels, which affords better low-light photography, has been replaced by one of identical resolution Samsung ISOCELL module (the same one that was in the international Galaxy S8), with smaller 1.28-micron pixels. On paper, that's not a huge difference, but the KEY2's low light performance is considerably worse than the KEYone's, and somewhat counteracts its excellent daylight performance.
Of course, having a second sensor means the KEY2 can perform tricks the KEYone couldn't dream of, like portrait mode and, more useful, telephotography. The rear camera also boasts the ability to capture 1080p video footage at 60fps, an ability earned by the more powerful Snapdragon 660 processor.
The KEY2's design is considerably more modern-looking than the KEYone's, with angular brushed aluminum sides, a front boasting more integrated sensors, and less frustrating button placement, with the power button now located on the phone's right side nestled between the volume rocker and Convenience Key.
Looking at the two side-by-side reveals a number of small tweaks, too: the phone is ever-so-slightly taller and narrower, making it easier to paw one-handed, and it's around 8% lighter, too.
The keyboard keys, now matte instead of glossy, are 20% taller than those in last year's phone. The keys' size, and improved clickiness, are among the most important upgrades to the KEY2, and they're really good. In fact, this is the best BlackBerry keyboard I've ever used.
The newer phone also sports a Speed Key, which operates as a de facto shortcut key to anything the phone can do. It's located where the right-side Shift button is on the KEYone, and I can't say I'm going to miss the old design much.
Image 1 of 2
KEY2 vs. KEYone Should you upgrade?
The KEY2 costs $649 USD and $829 CAD, and will be released in Canada on July 6 and the U.S. on July 13. It's $100 more than the KEYone, which is a bummer, but there's a lot of value here. Given the slow creep of phone costs in general, some price bump was expected, but $100 seems pretty sizeable. At the same time, the internal specs align much more with flagships we're seeing from Samsung, Huawei, LG, and others, and BlackBerry Mobile understands its demographic well enough to know that those willing to spend $550 on a KEYone will easily spend $650 on its successor. I mean, the Pixel 2 costs $650, as well.
Whether that successor is worth upgrading to, though, is not my decision to make. While we still don't know whether the KEY2 will be sold directly at U.S. carriers, the version that's coming supports both AT&T and T-Mobile; it doesn't seem like BlackBerry will be releasing a CDMA-compatible model at the moment. (There is a Verizon/Sprint-compatible KEYone (opens in new tab), if you're interested in picking one up at a discount.)
If you love BlackBerry phones and were holding off buying a KEYone, the KEY2 will sate your hunger for a keyboard phone running Android. If you have a KEYone, you should probably wait until the company rolls out Android Oreo before deciding whether the KEY2 is a worthy upgrade, since there will be some inevitable software improvements coming to the older model. If you're in the larger camp that's loudly scoffed at BlackBerry's return — are you hate-reading this? — the KEY2 may not convince you to change your mind, but picking one up will offer a much better first impression either way.
Android Central Newsletter
Get instant access to breaking news, the hottest reviews, great deals and helpful tips
Daniel Bader was a former Android Central Editor-in-Chief and Executive Editor for iMore and Windows Central.
650 dollars and the ridiculous lag from the K1, my 15 employees told me what to do with myself when I suggested this, so they've got what they want, All new OnePlus 6's!

OnePlus 6 Facing Embarrassing Software Problems........This vulnerability allows an attacker with physical access and a tethered connection to a PC to take control of the device. If the boot image is modified with insecure ADB and ADB as root by default, then an attacker with physical access will have total control over the device…. exploiting this vulnerability does not require the user to have USB Debugging already enabled. That means that an attacker only needs to get their hands on the device—and nothing more—to gain full access to it if they exploit this vulnerability on the OnePlus 6.

Yes but who's going to hand their phone over unless your completely retarded. The patch fix will be out soon. OnePlus is working on it

Key words "physical access"

Lol, so they have to be in posetion of the device for the hack to work? Lol

You're full of it! And the OnePlus 6 is no where near a secure device.

The KEY2 may be the most efficient and all-around best phone in the world - it has the memory, power & speed, it has the security, it has the battery life, it has a physical keyboard (far, far more efficient than a 'virtual-board), it has the HUB, it has the storage, it has Android's best ...and it is one of the sharpest looking devices available. WILL be purchasing for personal use. Our office purchased several Keyone's and received mixed reviews (due to the ram and lagging issue), while several wanted something that didn't look like all of the iphone/galaxy clones. The KEY2 is on the budget for third quarter this year with considerable excitement.

Best all around phone? Perhaps best all-around phone with a physical keyboard. Speed, with that processor, will definitely not be top of the heap, but you still have to deal with a small dim screen, no water resistance at all, and a mediocre camera. It is definitely the phone to get for physical keyboard fans, just not everyone.

I don't know about it having power.

Fantastic comparison and good info. Definitely a buy. The wannabe iphone like the 1+6 can get the duck sick.

Key One was terrible, apart from sound quality and kind of perfect size. Well, that's not the point here.. the phone had low RAM. lags all the time, and was released in 2017, just last year. Later to make an upgrade after few months with more RAM, Pathetic. I was a loyal and huge fan of BB.. they literally now smell awful after K1 Never gonna buy BB

Great article. Lots of good info. Thanks!

Spec vs price doesnt match current market. Too expensive and only hardcore BB fans or enterprises would buy this A few changes would have it a good buy 1. SD 845 or even 835
2. 5.5 inch screen with a slideout keyboard..a la Priv.
3. Price at $650 with the above changes They've got most things right, it's just about a few minor upgrades and they a winner on their hands. BB security is a big plus they have over other Android phones and I love their interface. Hope BB comes out with a Priv 2 soon.

I am very happy with my K1 Black Limited Edition. No plans on upgrading anytime soon.

Price is way too high. $600 should have been the price for the 128gb model and $500 for the 64gb version. If they're going to charge $735 for the 128gb version it needs to have the latest top tier processor, screen, and camera.

As the word gets around from user experience I think the KEY2 will prove more and more attractive.

Yet, they didn't listen to the mass majority of its hardcore fan base at CB . Those terrible capacitive nav buttons are the only thing that really grinds my gears. They could have fixed the weird aspect ratio by extending the display down to the keyboard and removed those nav keys. And it would have just looked so much sleeker. Oh well . Key3 I guess

I would argue they did listen to the community. The moved all the buttons to the right hand side, offered both silver and black variants (due to a 50/50 split on a CrackBerry poll), improved the keyboard significantly, added more grip, made the device lighter. Shall I go on? Months ago there was a fairly lengthy survey that asked customers to rank their wants/needs. The KEY2 is quite obviously the result of the MAJORITY of the survey results.

I have a Blackberry KeyOne Black Edition and have not experienced any lag... You can keep your snapdragon 845 and I'll keep my two day battery life...

Price tag is tough to swallow for us Canadians, especially when I'm typing this on a perfectly fine Pixel 2XL...

Personally, I would have rather seen a successor to the Priv, rather than the Keyone. But I like the look of the one, with the more rounded bottom corners, compared to the 2. But looks like the processor, the boost in RAM, as well as the camera upgrade should make this a decent successor.
Android Central Newsletter
Get instant access to breaking news, the hottest reviews, great deals and helpful tips
Thank you for signing up to Android Central. You will receive a verification email shortly.
There was a problem. Please refresh the page and try again.