The new Skagen Falster 2 and Diesel Full Guard 2.5 are truly gorgeous smartwatches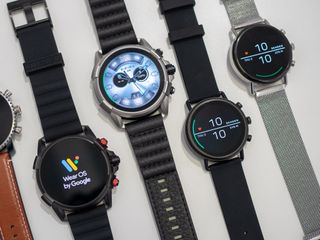 Google has a new version of Wear OS to put on display, and though it's coming to many older smartwatches it's always fun to pair it with some brand new hardware.
Fossil Group obliged, launching the new Skagen Falster 2 and Diesel Full Guard 2.5 smartwatches at IFA 2018 — they're both truly beautiful, but also completely different in their design approaches. One is small, sleek and understated, while the other is big, bold and extremely unique among smartwatches. Both come from brands we know from the mechanical watch world, but the designs have adapted well to smartwatch functionality.
Skagen is clearly extremely proud of this design, even though it isn't dramatically changed from the original Falster that was launched at the start of the year. But there are critical updates here that mostly come down to the new model being standardized on the same platform as the rest of the Fossil Group portfolio. The Falster 2 is now swimproof, has an advanced heart rate monitor, has NFC for Google Pay, GPS for activity tracking and two programmable side buttons.
None of those additions took away from the stated goal of the Falster 2's design: simplicity. This watch is downright gorgeous, and I loved how it looked and felt on my wrist. It's extremely small by smartwatch standards, with a 40 mm case and 20 mm lugs, and the stainless steel case just feels solid even with the understated lugs poking out of either end. The design works particularly well in the matte black finish when paired with a black band, but there's also a two-tone polished/black, two-tone gold/black, and matte grey. It's tough to overstate just how small the watch felt on my wrist, even compared to the 42 mm Galaxy Watch I've been wearing this week. The rotating crown felt great, as did the two side buttons that operated with a satisfying click.
I was only able to put on the versions with a silicone strap and the new magnetic stainless steel mesh, but there's also a deep cognac leather that looks like it would really class up the whole look. Moving up from the standard silicone band to one of the mesh bands is only a $20 up-sell from the base $275 price, which is totally reasonable considering the quality of the bands.
On the opposite end of the design spectrum, we have the new Diesel Full Guard 2.5. This is the kind of polarizing look you either love or hate, and that's exactly what Diesel is going for — and why there are other more understated options available from other brands. It's built on the same basic platform as the Falster 2 in terms of battery and capabilities (heart rate, NFC, buttons, interchangeable bands), but the entire casing is obviously unique.
I was actually surprised by how thin the Full Guard 2.5 was in person after looking so massive in photos. Perhaps it's simply because the case is so wide and tall (47 mm wide and 56 mm tall), owing to the 1.39-inch display, that the thickness doesn't seem as much of an issue, but it works. But yes, it's definitely large and will definitely be too big for some people — you shouldn't be checking out a Diesel watch if you wanted something small and simple. The metal casing has strongly contrasting colors, lots of texture and a mixture of multiple metals, meaning there isn't a dull angle on this thing — particularly in the black and orange color scheme I'm showing here.
Once again there are many band options that stand out just like the casing does. Depending on the combination you choose you'll be paying around $325-375 for the Diesel Full Guard 2.5, which creeps up into the range that fewer people will be interested in unless, once again, they really like the unique design.
Both watches are running on the same basic internals, which means you're getting 512MB of RAM, 4GB of storage and the Snapdragon Wear 2100 processor. That last bit is what's grating on some people as they see a couple beautiful watches that have a processor due to be replaced on September 10. Unfortunately, this is just how product cycles work — these watches have been in development for months, well before the company had any idea when they can expect a new processor.
Fossil Group will be supporting these watches with upcoming software just as long as it would any other product, so there isn't much to worry about there. It's also a positive sign that Google is showing off the brand new Wear OS update on watches that are still running the Wear 2100 processor. Until we know exactly what the real-world benefits will be with the new processor, let's hold at least part of our judgement.
Andrew was an Executive Editor, U.S. at Android Central between 2012 and 2020.
they do look good and have a lot of features, but man, only having SD 2100 is a deal breaker, esp with the new one coming out very soon!

I think people are expecting too much from the new processor. I think at best you are going to see better battery life. I don't think the GA or anything else will work noticably better than on the 2100. We haven't see substantial gains in processing power in mobile for the last two years. Nothing that a regular user would notice. Why are we expecting that a new chip with even a 25-50% gain in computational power is going to make that much of a difference. Wear OS is lightweight. The bigger news here is the UI update. I guess we will find out if I am wrong shortly.

It's going to make a difference because the 2100 was a 2 year old chip design when it came out 2 years ago. People are hoping the new chip will use the current chip technology to make a 4 year improvement, whether Qualcomm does that is what we are waiting to see.

Still thinking we will be underwhelmed with the new SD. Anything mind blowing will be very $$$$. It may be great, but the 2100 is pretty great already. I get your point that the 2100 was a 2 year old chip/design. Are you saying that because of the architecture of the chip?

Nothing beats my S3 Frontier because I have Samsung pay not even the Galaxy watch!

Tech hippsters and their love of Fossil and skagen. smh. Mall fashion watches

Mall fashion with the same capabilities as a TAG, or my LG, or Huawei, or OG Moto 360, or even the new Casio.

Battery life is still half the Galaxy Watch. I'd buy this watch if it would last 2 days easily I'd consider it. My Galaxy Watch I just bought lasts 2.5 days with moderate to heavy use with AOS.

Nacho1545 thanks for the news man. I need to know only battery life. Noting more noting less. Because I have used some smartwatch. Due to 1 day charge I had to feel difficulty in my daily life. So I sold them. Now using amazfit stratos. Now looking for good battery life yet reasonable price smartwatch.

Well, the year old Huawei watch 2 Sport will get you the new wear OS and two days of battery life. And you can swim with it.

I personally don't understand this. Don't you just put it on charge every night anyway?

Apparently that's too difficult in life for him to do...

I'm sorry to hear that you are...

I just bought one of these today. It took me an hour to realize this thing doesn't have a speaker. I did a bit of googling and there is t one single mention about it lacking a speaker. It's disappointing. Great watch otherwise.
Android Central Newsletter
Get the best of Android Central in in your inbox, every day!
Thank you for signing up to Android Central. You will receive a verification email shortly.
There was a problem. Please refresh the page and try again.