Casio's new rugged WSD-F30 Wear OS smartwatch has improved dual-layer display, smaller case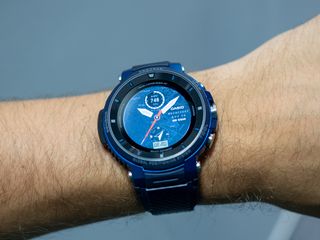 (Image credit: Android Central)
Casio has made some of the most unique-looking smartwatches in the business, and is iterating its lineup with the new rugged WSD-F30 running Wear OS. At a glance it looks very similar to its predecessors, but it actually has some important changes both externally and internally to keep it compelling heading into 2019.
The WSD-F10 and -F20 models were unabashedly large, which kind of fit with their capabilities, but was a serious hinderance to anyone who wanted to wear the Casios on a daily basis. The WSD-F30 is still easily the biggest Wear OS smartwatch, but it's smaller than its predecessor — 3.9 mm narrower, 0.4 mm thinner and now under 90 grams including the strap. It's still larger than the LG Watch Sport, which was regularly ridiculed for its size, but the WSD-F30's large case — along with the chunky design and bold colors — kind of fits the persona of the device.
On the wrist it doesn't feel as big as it looks, probably because it's flattened out a bit and the weight is well distributed over a large space. The band has also been redesigned for greater flexibility, and there are more holes for size adjustability, so I was able to get it wrapped around my wrist comfortably. The size of the watch will definitely be a hinderance to wearing long sleeves or gloves, though, especially if you're trying to wear it with casual clothes rather than technical outdoor gear.
Image 1 of 5
Aside from the size, Casio has notably improved its unique dual-layer display technology. Like its predecessors the WSD-F30 has a pair of screens — one monochrome, one color — stacked together, so you can use the monochrome mode to save battery and the color mode for more advanced functions. Casio's new monochrome screen is capable of showing more information — like atmospheric pressure and compass information — while extending battery life dramatically. The color display is now OLED, with an improved 390x390 resolution, for finer detail on this 1.2-inch circular screen.
That color display can be used in a new Extend Mode to show an offline color map and provide GPS tracking for three days (8 hours of screen and tracking use per day) without charging — another great tool for those multi-day excursions without a charger. Timepiece Mode is still here to use just the monochrome display without any smartphone connection for up to a month of battery life as a regular watch. The standard battery life with all of the usual smartwatch functions enabled is rated at 1.5 days.
As you'd expect the WSD-F30 is extremely robust. It's rated for water resistance up to 50 meters, and has a MIL-STD-810G rating. And just look at the thing ... it can clearly handle the abuse of being out in the wilderness (or whatever other punishing terrain) with you.
Image 1 of 5
The WSD-F30 is our first opportunity to see the new Wear OS interface as well, and in my few minutes poking around with a demo version it seemed just as intuitive as it did at first glance. The interactions are all the same across any Wear OS device, so what you see here will translate directly to other Wear OS devices that get the update. The only differences in the software you see here are what the extra hardware buttons are used for — in Casio's case it's outdoor-related tasks like mapping.
Casio hasn't yet detailed the exact specs of the WSD-F30, so we can only assume that it's still running the same basic internals as the last generation and not the new processor Qualcomm is teasing for a September announcement — but we'd love to be proven wrong in that assumption. Also yet to be announced are pricing and availability details.
Press release:
Casio to Release PRO TREK Smart with Color Maps Usable for Up to Three Days
Tokyo, August 30, 2018 — Casio Computer Co., Ltd. announced today that it will release a new addition to the PRO TREK Smart series of wrist devices for outdoor enthusiasts. The WSD-F30 enables use of offline maps and GPS log recording for up to three consecutive days.
In 2016, Casio marked its entry into the smartwatch market with the release of the WSD-F10 wrist device for outdoor enthusiasts, with water resistance up to 50 meters and environmental durability built to military specifications. The WSD-F10 was built to run Google's Android Wear (now Wear OS by Google) and the device and OS have been evolving together. The following year, Casio released the PRO TREK Smart WSD-F20 with GPS, which is winning over outdoor enthusiasts and other users with its wearable map functionality.
Extend Mode for using color maps and GPS offline up to three consecutive days
The new WSD-F30 comes with Extend Mode which enables use of offline color maps and GPS for up to three days on just a single charge. In Extend Mode, time and measurement data is continuously shown on the monochrome display, and a color map can be displayed with a push of button. Extend Mode also conserves energy by switching the operating system to energy-saving stand-by mode on a schedule set by the user. It also ensures optimal power management based on the activity plan, allowing the user to track his or her current location on an offline map and record tracks during activities longer than a single day.
New and improved dual-layer display
The WSD-F30 features a new and improved dual-layer monochrome and color display. The new color display employs an OELD that shows maps and data in finer detail. The layout of the monochrome display now shows more than just the time; it also displays atmospheric pressure/altitude and compass bearing, as befits the PRO TREK outdoor gear brand. The wrist device also comes with Multi Timepiece Mode, an evolution of the popular Timepiece Mode that allows only time data to be shown in monochrome while toggling off smartphone communication and the color display. In addition to the time, Multi Timepiece Mode now shows measurement data such as altitude and atmospheric pressure in monochrome, while still extending battery life without a charge to about a month, like its predecessor. This feature provides useful information for outdoor activities at a glance while conserving energy.
Smaller, thinner case for enhanced wearability
The inner components have been rearranged to realize a watch case that is 3.9 mm narrower and 0.4 mm thinner than before, for a more compact profile that also looks good on trim wrists. Nano treatment gives the resin bezel a metal-like luster for a luxury feel. The watchband has been improved and is now more flexible and has more holes for greater adjustability and fit.
Sign up for Black Friday email alerts!
Get the hottest deals available in your inbox plus news, reviews, opinion, analysis and more from the Android Central team.
Andrew was an Executive Editor, U.S. at Android Central between 2012 and 2020.